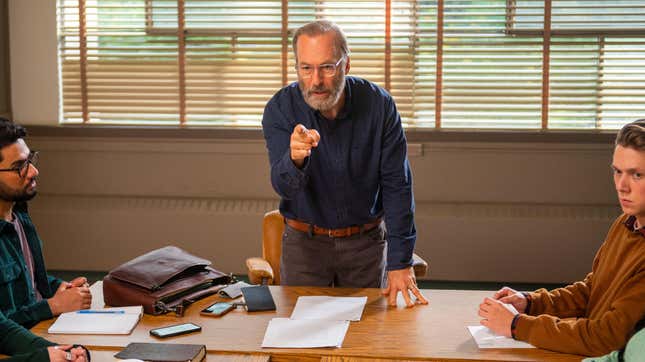 Bob Odenkirk has a glorious meltdown less than five minutes into Lucky Hank. Well, his on-screen character does, that is. Odenkirk plays Hank Devereux Jr., a fed-up English professor who, as the show opens, lets go of some pent-up frustration by yelling at his students in class. They complain about his crystal-clear dissonance from teaching; Hank's outburst in response perfectly depicts his state of mind. He tells the group they'll never make it, making sure at least one of his students knows he's nowhere near the "next Chaucer." Why? Because they're all stuck at Pennsylvania's Railton College, a.k.a. "mediocrity's capital." With that, Lucky Hank launches into its protagonist's dilemma.

Mireille Enos on working with Bob Odenkirk and "Lucky Hank"
Hank might be the English department chair, but it's not necessarily his dream job (or so he thinks). The prospect of being demoted once his outburst goes viral thrills him. Series co-creators Paul Lieberstein and Aaron Zelman tell The A.V. Club this big opening moment wasn't initially in the script. "We wrote a lot of versions of the pilot, but not this scene. We had been writing Hank for a while though and kept asking ourselves what he's like in the classroom," Lieberstein says. Zelman adds that they cracked it once this monologue came around: "We realized, 'Okay, it's working.'"
Lucky Hank is based on Richard Russo's acclaimed 1997 novel, Straight Man. Odenkirk recently told The A.V. Club that the biggest challenge of adapting it was blending dry humor with sincere drama (the latter of which he perfected during six seasons of Better Call Saul). Lieberstein and Zelman agree. "The tricky part was telling a visual story about a passive protagonist. We were stuck on that because it's easier to explore it in a novel by writing about what's in his head," Zelman notes. "So we had to have him actively avoid things as a guy with a dry, jokey voice."
One of the reasons the show succeeds, though, is its lead actor. "Bob wasn't on our list as we were developing the show because he was unavailable, but then Aaron was getting to know him for something else, and they announced Saul's last season," Lieberstein shares, "So, of course, we asked him."
Lucky Hank's premiere gradually unravels Hank's existential crisis, which impacts his decades-long marriage with Lily (Mireille Enos). Lieberstein and Zelman make it clear that the show is also about her own career problems. The episode establishes that with Hank potentially free of Railton, Lily could expand on her professional goals that she's put off for years if they could move cities. By the end, however, Hank, initially voted out as the chair, regains the position. So not much might change. "But the fantasy is already in her head," Lieberstein teases. "How does she shut it off now? Should she?"
Zelman adds: "The pilot allows Lily to finally ask him a version of, 'What were you doing?' That's just the beginning of our story. We want to keep telling it as slowly as possible. Stuff like career changes take time and are a big deal for couples—I mean, it takes my wife and me a long time to get a dining table. It's very alienating for me when a character makes a decision, and it's quickly done. With Lucky Hank, exploring indecision was wonderful."
While the show's humor is subtle and scathing, it's different from Odenkirk's sketch comedy background on Mr. Show and Saturday Night Live as well as Lieberstein's experience. He worked on The Office as a writer, showrunner, and actor (playing Michael Scott's worst enemy, HR manager Toby Flenderson). His NBC sitcom co-star Oscar Nuñez even recurs on this show. Zelman refers to his creative partner's background as his "secret weapon."
Lucky Hank is not a workplace comedy by any means. The show mixes a marriage story and a family drama with Hank and Lily's daughter, Julie (Olivia Scott-Welch). It also dives into Hank's friendships, including with his best pal Tony (Diedrich Bader). But Lieberstein knows the workplace setting was unavoidable. In fact, the academia portion of the book is what drew him in. "We know people in that world, and it seems rife for a workplace [examination]." Hank often clashes with his colleagues (played by actors like Suzanne Cryer and Cedric Yarborough), especially in the premiere, when everyone's pissed off about him dissing their employer in the viral video. They vote to try and get him replaced as Chair, only to give him the same position again by accident.
"When we're doing those group scenes in Hank's office setting, all of a sudden, I do feel like I'm in my sweet spot where the coworkers argue, and each has their own agenda, and we can be funny with it." Lieberstein jokes, "Lucky Hank is The Office, but smarter. Oh God, that quote will be everywhere now, isn't it?"