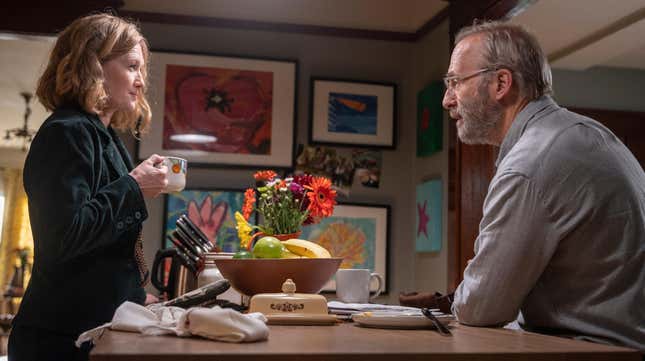 Bob Odenkirk stands reborn in Lucky Hank, his third AMC series, as the spitting image of George Saunders: his gray beard practically gerrymandering a stoic gaze, rumpled woven button-downs and thick frames, his austere blazer stark against a leafy campus. (We're talking about the real George Saunders, not the depiction of the writer on this show, but more on that later.) The key difference is that Hank's only novel isn't even available in his own college bookstore.
When the show premieres March 19, we find Hank firmly entrenched, feeling not so lucky to be so, within the cloistered confines of academia, an English department chair and professor at the fictional Railton College. In this world of higher education and sandy Volvos, "de-chairing" is used as a threat, spots on "sabbatical wait lists" are used like barter, and a mention of "the accused" gets a knowing "we watch that in my gender analysis film class." Despite the "sad forgotten town" Pennsylvania locale, there is a feel of ivy and Phillip Roth frustration, of John Williams' Stoner and middle age wistfulness, of Michael Chabon's Wonder Boys and autumnal cardigans (and, maybe to a less romantic degree, of Netflix's The Chair). Here is a look at existence somehow both bucolic and bureaucratic, both achieved and frustrated. The production practically smells like tweed, tenure is seen almost as something of a prison sentence, and everything feels just a few quotidian losses from a slip downstream into the campus disenchantment of Who's Afraid Of Virginia Woolf?
Based on Richard Russo's 1997 novel Straight Man, the story is very much the feel of a longtime college English professor writing, yes, a longtime college English professor. Or, in the TV adaptation, it feels like smart people making up words for smart characters, with the resultant kind of chatty, zingy banter reminiscent of so much Clinton-era self aware indie. In the first scene a student challenges Hank's aloof reticence, and pays the price, as a PG-version of the classroom evisceration scene in Tár sets the syllabus for a forthcoming midlife crisis and frustrated break with the efforts expected of him.
What did Hank do to end up so unlucky, uninspired in "mediocrity's capital"? He is resigned to the notion that "being an adult is 80 percent misery," and unable to see he has a pretty decent way to experience a midlife crisis, as far as these things go. There is his loving, supportive, successful wife (Mireille Enos), the type of spouse to blow bedroom argument stress by going for a late night run. The couple live comfortably, amiably, in an HGTV-tasteful open concept house. There is a good friend with whom to wack racketballs, philosophize on libido, watch field hockey (Diedrich Bader, born to play the good-natured pal). Even most of his peers at Railton, if not fully supportive, seem at least engaging, challenging (especially Cedric Yarbrough, a revelation of pent up spleen, making it easy to wonder why he hasn't been more widely utilized since Reno 911!). Of course, one poet-in-residence does stab Hank's nose with the metal rings of her notebook of "original work." But still, his life's actual crisis points remain whether to move to New York City or not, and the fact that their twenty-something daughter wants to borrow money and has a slightly dumb boyfriend. Also, it would seem Hank needs to figure out teaching, the eventual act of a second novel, and the daddy issues resulting from an estranged literary critic father. He could also maybe just use a gratitude list.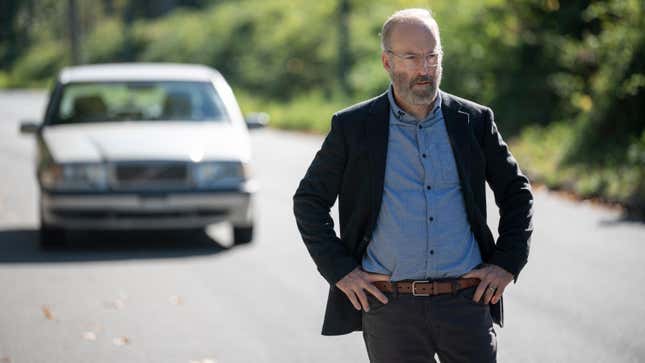 More important may be the question: What viewers did to deserve another glimpse of Odenkirk staking another claim on prestige TV a mere seven months after the finale of Better Call Saul and less than two years after suffering a heart attack (and not long since he alluded his next creative chapter would be in the vein of Jackie Chan)? It feels like an undue and too soon bonus to get to witness this ongoing career reconstruction. Consider the transformation from writing "I live in a van down by the river" for Chris Farley, to playing, say, an upbeat rapist on Mr. Show, to now, in the first episode, half-heartedly defending himself against de-chairing with bitter sarcasm: "The kid that I yelled at, he killed my governess, years ago, and I vowed my revenge, and it feels empty in the way novels predict." With this he offers barely a half-smirk, one almost imperceptible, entirely to himself, the shoulder weight of his 50-some years glimpsed alongside the everyday wit needed to carry so many injustices and disappointments. You can see it too in an agitated finger tap on the table, when asked, "What keeps you from writing?" It's a performance of subtlety and self-containment, showing a built-in history with simple, elegant beats.

Most of the show's plot exists between such existential beard strokes, everything simmering and bobbing along with Odenkirk in his peppery stew of midlife malaise. The kind of Updike and DeLillo. And, yes, of George Saunders, who shows up in episode two, played by Brian Huskey. Hank and Saunders resume a friendship-cum-rivalry, equally magnanimous and condescending, for an onstage conversation and campus visit in which the famed writer is treated like a former Beatle. See, in his forgotten past, Hank published one well-received, brilliantly titled book, A Table For Cowards. And since, Saunders has become, well, Saunders.
In this meeting, the show seems to begin its focus, namely the whittling of the absurdity of literary pursuit. "What is it about writing that attracts so many dickheads?" Hank wonders. "A lot of this is habitual. If you want to be excellent you have to reject the habitual. That is where mediocrity lives," advises Saunders. "What sort of paper do you write on?" queries a precocious student. It might seem a little inside baseball, a glimpse within this realm of English department striving and proving and rhetorical penis wagging of the world of Russo and, as his surrogate, Hank. But it could also feel universal to anyone who signed up for a four-year contract of servitude, one supposedly guaranteeing an upper middle class or at least a white collar life. "Trust that your taste is good and have that good taste exert itself onto your prose" a class hears and jots down in notebooks. It is nearly a parody of advice, quotable proof for people who think that artists are mostly just weirdos in berets, as the real George Saunders once described them. It is also precisely the type of thing an earnest English professor might say.

In other words, writing is mostly bullshit. Especially the teaching of it. Odenkirk immerses himself in the physical vexation of just this: the hemming and the hawing, the brow furrowing, the self-loathing, the facial hair scraping, the removing of the glasses, the looking at of the hands, the muscly gumption it takes to stare down an empty page, to struggle to be worthy of an author biopic, to validate existence, to pontificate, uniquely if that's possible, on a "rich inner life."

"Why is it so fun to draw a dick?" Hank wonders in voiceover while writing. But then he actually breaks down the question. It smacks beautifully of Charlie Kaufman in Adaptation, of exactly the kind of haywire synapse fire and subsequent tangent that makes it so hard, damn near impossible sometimes, to put the first word on the blinking cursor of a Word document.

And so it goes with any stories about writers, wherein reviewers cannot help themselves, see themselves, and maybe should not be trusted to stay objective on such matters. There is too much of an endlessly resonating chord of recognition, especially when the telling is done by someone as capable and accomplished as Russo.

But there is an evergreen romance to the campus story, to the ivy and the brick, the first flashes of freedom echoing against syllabuses and studying sessions, the endless coffee-shop discourse, and, perhaps, the glimpse of the last time in life you might be seen as special, as having potential. In story form, it can be greatly sentimental, especially when soundtracked by Kevin Morby, and fun even, especially when guided by a professor as profoundly human as Odenkirk's, to go back to college, to see what you would do differently if you could play the game all over again. Or if you'd even want to play the game at all.
---
Lucky Hank premieres March 19 on AMC.