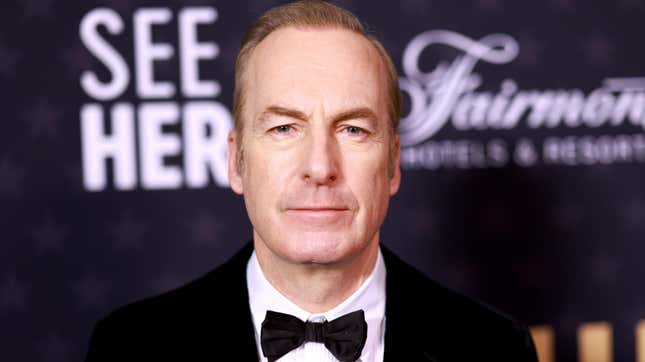 Oh hi! The iconic midnight movie The Room is getting a makeover. As reported by Slashfilm, Bob Odenkirk is stepping into the role made infamous by the cinematic visionary Tommy Wiseau and playing Johnny in a new version of the cult classic. The remake comes courtesy of the charitable organization Acting For A Cause and will be raising money for amfAR, the Foundation for AIDS Research.

"I tried my best to SELL every line, as honestly as I could...and I had a BLAST," Odenkirk writes on Twitter.
Acting For A Cause founder Brando Crawford shared a first look at the remake featuring Odenkirk on a green screened version of the rooftop that is one of The Room's most recognizable sets. While the Better Call Saul star isn't sporting a long black wig, he'll presumably be tossing a football around with the same je ne sais quoi as Wiseau.
Variety reports that The Room's writer/director/star Wiseau was not contacted about licensing for the remake and that the enigmatic auteur was not aware about it until this week. However, a behind-the-scenes tease shared by Crawford reveals that original co-star Greg Sestero is involved in some capacity. Crawford is seemingly playing Mark, the role Sestero originated, with Bella Heathcote co-starring as Johnny's fiancée Lisa. Arturo Castro of Broad City fame is also attached.
Ostensibly a tale of betrayal and romantic intrigue, The Room became a sensation following its 2003 release for its truly bewildering dialogue, production design, continuity errors, and pretty much its whole deal. It has become a staple of midnight shows where viewers participate in rituals such as throwing spoons at the screen and drinking scotchka, a beverage served in the movie that is exactly what it sounds like. Wiseau and Sestero have continued to make appearances at screenings over the years, and Sestero's memoir about the production, The Disaster Artist, was adapted into the 2017 A24 film of the same name starring James Franco. While Acting For A Cause's previous projects have been focused on digital releases, hopefully fans will be able to experience the remake of The Room in theaters whenever it's released. Go! Go! Go!