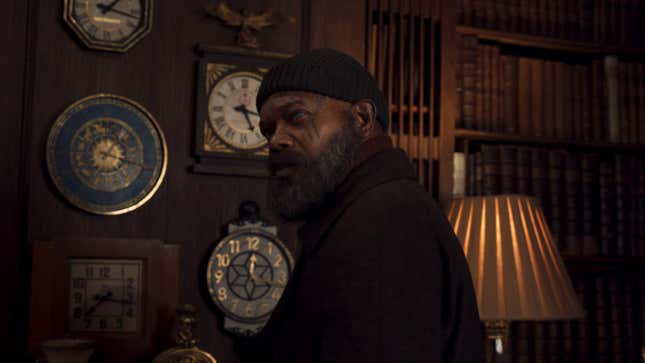 After Ant-Man And The Wasp: Quantumania hit theaters last month, Marvel Studios is gearing up to explore a very different corner of the comic book universe with Secret Invasion. Vanity Fair has a new look at the upcoming Disney+ series, which sees the return of Samuel L. Jackson's Nick Fury after he was last seen on a spaceship in Spider-Man: Far From Home. He's teaming up again with his buddy Talos (Ben Mendelsohn), a shape-shifting alien called a Skrull who was first introduced in the '90s-set Captain Marvel as his people sought refuge from a war with the Kree.

"[Fury] told the Skrulls they were trying to find them a place to live," Jackson tells Vanity Fair. "He promised them they were going to find them a planet or somewhere they could be. And that's not going so well."
After the Tenor GIF database suggested that Emilia Clarke would be playing S.W.O.R.D. leader Abigail Brand, the Game Of Thrones actor's character has now been confirmed to be Talos' daughter G'iah, briefly glimpsed as a child in Captain Marvel. As an adult, she finds herself at odds with her father about how to get along with those pesky humans.
"These people promised a lot of stuff a long time ago, and not a lot has happened. So understandably, a certain amount of resentment has been built," Clarke describes. "There's a lot of emotions that live within her, and there's a lot of confrontational aspects to her character that have come from circumstance. You understand why she has the feelings that she does."
G'iah has joined a faction of Skrulls led by Kingsley Ben-Adir's Gravik, who have been staking a claim on Earth by disguising themselves as humans. Secret Invasion executive producer Jonathan Schwartz cites Homeland, The Americans, and the work of John le Carré as influences on Marvel's latest twist on a paranoid spy thriller, which looks like quite a globetrotting adventure.
Another new star joining the Marvel Cinematic Universe is Oscar winner Olivia Colman, who previously shared that playing a Marvel villain was on her wishlist back in 2016. With the trailer already showing her to be a menacing force who's willing to get her hands dirty, Vanity Fair reveals that she's playing an MI6 agent. Of course, this is a story about shapeshifting aliens, so there could still be more to this role.
Secret Invasion will also see the returns of Don Cheadle as James Rhodes, Cobie Smulders as Maria Hill, and Martin Freeman as Everett K. Ross, who fans have theorized was replaced with a Skrull in Black Panther: Wakanda Forever. This is Marvel, so there's a strong chance that some other familiar faces will show up. However, don't expect the Avengers to assemble again just yet.
"What [Fury]'s not doing is calling in his super friends. So that's part of the whole dilemma," Jackson says in the Vanity Fair interview.
Head over to Vanity Fair to check out the new images. Secret Invasion will premiere on Disney+ later this year.