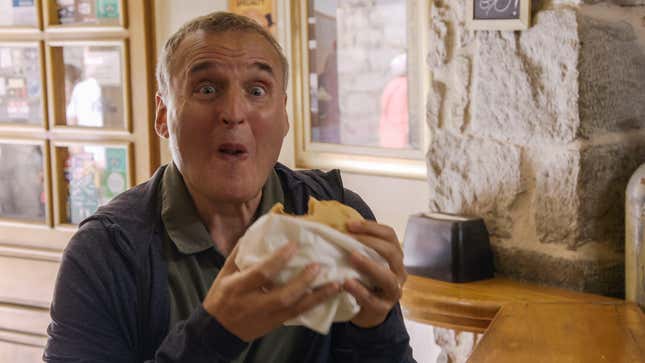 It's a generally accepted bit of wisdom these days that Netflix shows don't last. The streamer more-or-less runs on churn at this point, with even the most successful of shows tending to tap out at about three seasons, all the better to be replaced with something new (and, usually, cheaper).

Netflix plans to make you freeloaders finally cough up the dough
Thus our surprise (although not an unhappy one) at news this weekend that the service has renewed Phil Rosenthal's charming, good-natured food/travel show Somebody Feed Phil for a nearly unprecedented seventh season on the air. If you haven't seen the show, the whole concept is pretty much right there in the title: Rosenthal (who made his name in TV as the creator of Everybody Loves Raymond) wanders the planet, and then people feed him. Repeat each episode (along with time for Rosenthal to have a phone call with one of his famous buddies to talk about his day, a role that was previously filled by his parents, before their deaths).
Rosenthal's been in the "wander the planet with your mouth open while cameras film you" game for fully eight years now, having originated the concept on PBS with I'll Have What Phil's Having. It's not hard to see why the show has persisted for so long, either: Rosenthal is an engaging host, approaching each city, dish, and person he meets with game enthusiasm. (Also, it doesn't seem like it's an especially pricey show to make, which probably doesn't hurt.) No word yet on which cities will be shoving food in his head for the show's next season, although in his most recent outing, he toured Philadelphia, Croatia, Chile, and more; the show's producers also recently released a book, Somebody Feed Phil: The Book, which collects anecdotes, photos, and—most importantly—recipes from his travels around the globe.