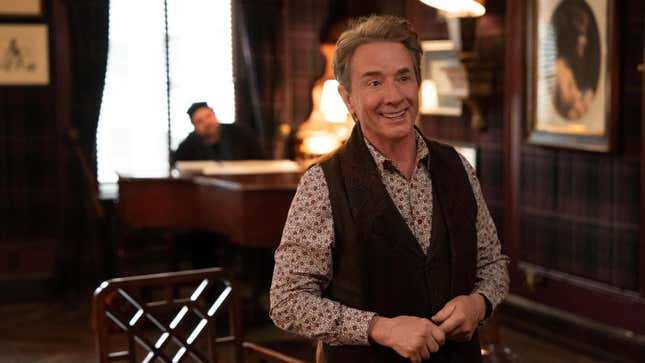 Our favorite Only Murders In The Building trio went through a disheartening friend breakup in last week's episode. It was obviously going to be temporary, but it's still a relief to see at least two out of the three pals patch up by the end of this week's "CoBro." And it's all thanks to Matthew Broderick(!). OMITB has severely leveled up its guest appearances in season three. Long gone are the days of the Hulu comedy relying on Amy Schumer, Cara Delevingne, Sting, and Michael Rapaport. We've been graced with Paul Rudd, Meryl Streep, and Ashley Park so far this season—and now Broderick joins the lineup. Naturally, he's a pretty ace choice.

Matthew Broderick says John Hughes wasn't the chillest dude
Broderick plays a heightened version of himself as Charles' (Steve Martin) replacement in Death Rattle Dazzle, impressing Oliver (Martin Short) and the mother-son producing duo of Donna (Linda Emond) and Cliff (Wesley Taylor)—who don't share a peck in this episode, for anyone keeping count. As a bonus to Oliver, Charles is miffed and constantly snooping around. It's not the first role Broderick has taken from him: Yeah, Charles auditioned for Ferris Bueller. Oliver's gloating doesn't last too long because he makes one grave error: He agrees to take Broderick's suggestions, leading to incessant rehearsals. It's non-stop because the actor "commits" to every character seriously. "For my role in Election, I started teaching high school and dating students," he says with a hilarious straight face. "CoBro" drops great references into Broderick's past performances, and he's clearly enjoying playing a slight psycho opposite Short.
Soon enough, Oliver gets tired of his new lead star. What else do you expect because Broderick refuses to go home, keeping his director up late into the night as they rehearse the same stuff over and over? Eventually, Oliver has no choice but to kick him out and fire him for being a maniac. Here's when Charles' prying helps. He's hanging outside Oliver's door, overhearing everything. It allows both men to finally confront and apologize to each other in their own ways as Broderick looks on. Charles straight-up says a heartfelt sorry. Oliver runs his mouth while praising his best friend. "At least the set is fun with Charles around," he declares. Cue the awws. I also don't know if Broderick will ever return, but if not, this was a really fun way to bring him in.
So, Charles and Oliver are back to normal now, with Charles taking his rightful spot as the Death Rattle Dazzle lead. Still, they have a third Musketeer to bring back into the fold. They decide to lure in Mabel with Loretta's (Streep) scrapbook. Oliver finally reveals he has it to Charles and tells the truth about why he rubbed off the "Fucking Pig" message. His friend assures him that despite these clues, he doesn't think Loretta has it in her to kill. Oliver and Loretta's romance might be safe for now, according to Charles, and they're also invested in solving Ben's murder again. Except, they're a little too late.

Mabel is missing her buddies but finds two new partners in Tobert and Theo Dimas (James Caverly, welcome back!). Let me be honest: I thought season two did a good job establishing Theo and Mabel's chemistry, so it's nice to see they're still seemingly tight friends. He's helping her move out of the Arconia, and even says he'll miss the apartment, an indication they've been hanging out. I would've personally loved to see this friendship develop a little more to add credence to it, instead of Theo showing up all the way in episode seven, giving Mabel some lingering looks while learning about her relationship with Tobert. Is a love triangle about to form? Or do we not read into the note Theo writes Tobert, saying he hasn't figured Mabel out yet either?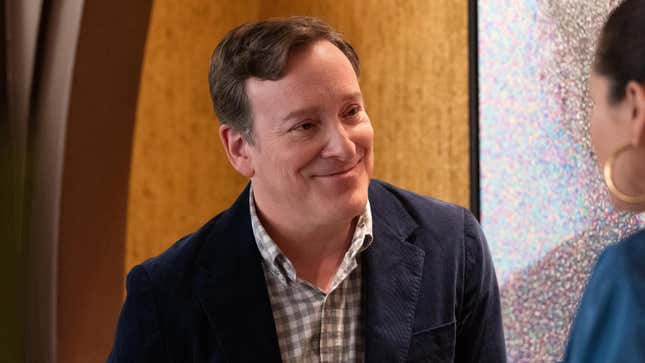 Using their help, including Tobert's fancy podcasting setup, Mabel launches a new season of the podcast on her own. It's titled Only Murders In The Building (#BloodyMabel). She announces to the listeners she's going solo this time to investigate Ben's death because she wholeheartedly believes Greg (Adrian Martinez) didn't do it. The cops have the wrong guy, she says, and there's more to the story than anyone knows. Her confidence stems from a conversation with Dickie (Jeremy Shamos) earlier. It took OMITB long enough to shed some light on Ben and Dickie's brotherly bond, but we finally have some unsurprising nuggets.
If you read The A.V. Club's staff roundtable last week, you know Dickie is a person of interest to us. Something's off about him. His relationship with Ben seemed strained. As he holds a silent auction of Ben's things in his apartment, we learn that he's the one who came up with the idea for CoBro, Ben's million-dollar superhero franchise, when they were kids. His brother basically stole the idea, turned it into a blockbuster, and kept all the profits while Dickie ran around as his assistant. Another fun fact: Dickie is adopted! Their parents didn't think they would have a child, and then bam, Ben was born. He became the golden child, so Dickie took a backseat to let his younger sibling thrive. Resentment is as great a motive as any.

Jeremy Shamos hasn't had much to do yet, but it was interesting to see Dickie get so serious. He shuts down Mabel's questions by saying "It's gross to take advantage of my brother's death." That opens up a huge can of worms about the rise of true crime in general. I don't know if OMITB has a fleshed-out take on it considering the show hasn't been much of a genre satire in season three—in fact, it's the first time we see anyone actually actively working on the podcast. And it's enough for everyone, even the police, to immediately tune in to hear Mabel's theories. Dickie is one of the said listeners. Slumped against the wall looking sullen, he's holding onto Ben's handkerchief, revealing himself as the person who purchased it from Arconia's resident klepto, Uma (Jackie Hoffman).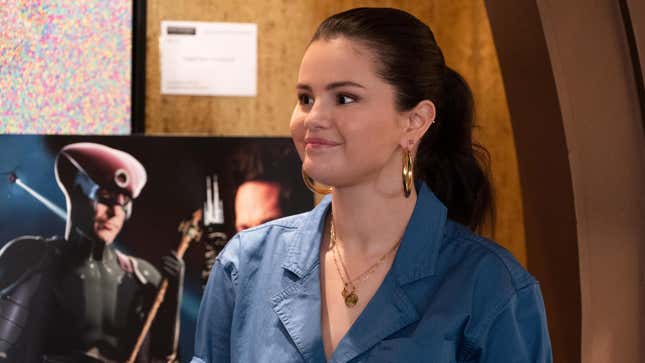 Did you think I forgot about Uma? Of course I didn't. "CoBro" opens with a small, sweet flashback of Uma and Bunny (Jayne Houdyshell, welcome back to you too!) at the Pickle Diner, splitting their usual sandwich. In a world without Bunny, Uma continues the tradition of placing half the food on a plate for her. It's really lovely. We also learn she has a closet in her apartment full of stolen items because people might leave, but things don't. That's one explanation for being a hoarder, I guess. And one of the things she's held onto is the hanky Ben had on him when he fell to his death in the elevator.

I keep forgetting it wasn't just Charles, Oliver, and Mabel who witnessed Ben's body drop down. Uma was there, but her presence was played off for laughs. I like OMITB bringing this arc around because a.) Hoffman is a delight, and b.) like Howard (Michael Cyril Creighton), Uma has been around since the beginning and has seen a lot. Including her in the main suspense just makes logical sense. Still, we are nowhere close to actually solving the case. With only three episodes left, "CoBro" leaves a trail of crumbs and clues. Dickie, Loretta, Greg, and Kimber (Park) are on top of the suspect list, but what about Tobert? Or could it be someone else altogether? There's so much left hanging that I'm getting nervous OMITB might drag out the case to next season. (Is that even in the realm of possibility for the show, which has so far taken on a new case each time?)
Stray observations
In case you were wondering after Uma and Charles' debate about their ages, Jackie Hoffman is 62 and Steve Martin is 78.
I love that Theo Dimas' return in season three is an episode helmed by Cherien Dabis, who directed his standout season one episode, "The Boy From 6B."
Oliver's reaction to Matthew Broderick's pitch-perfect audition: "I've had sex dreams about this moment."
Broderick and Cliff DeMeo became friends after seeking shelter at the Ritz-Carlton for two weeks during Hurricane Sandy. The bond is unbreakable after they had to survive without the help of room service.
There really are two kinds of people when it comes to superhero movie fans:
Mabel: "People really love this dumb superhero movie. Isn't it just a snake that fights crime?"
Theo: "It's actually about shedding the labels that society puts on us."
The book Charles is consistently reading in "CoBro" is Ray Asher's How To Talk To A Woman. Joy's departure is hitting him pretty poorly, huh?
Some of the things Dickie says Ben loved are boba with green tea, funny dog videos, and being fashionably late.
I enjoyed the many season-one throwbacks, including a mention of gut milk and Mabel reminding Tobert they suspected Sting of killing Tim Kono.
We already got Theo and Bunny back in "CoBro," and it sure looks like next week's episode features the return of Da'Vine Joy Randolph's Detective Williams. Yay!