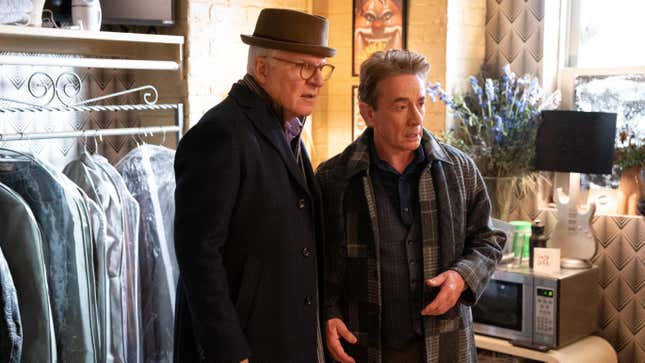 Only Murders In The Building has been a consistent delight since it premiered in 2021. The Hulu series stars Steve Martin, Martin Short, and Selena Gomez as residents of the swanky Arconia building on Manhattan's Upper West Side who start a true crime podcast after one of the building's residents is murdered. Now in its third season, the trio is tackling another mystery. This time, the victim is Ben Glenroy (Paul Rudd), the star of Oliver's (Short) Broadway play. After a fake-out in episode one in which Ben appeared to die onstage, he briefly came back to life, only to get pushed down the elevator shaft at the Arconia. It's a classic case for Mabel (Gomez), Charles (Martin), and Oliver, even if they're all a little bit more distracted than usual this season. Episode five just dropped this week, which means we're halfway through the season. We asked a few A.V. Club staffers for their thoughts on this season so far—and if they have any wild theories about who killed Ben.

Jessica M. Thompson on "The Invitation" and everyone's favorite horror trope
---
How are we feeling about this season so far? What's working? What's not working?
Jen Lennon: I'm kinda missing the Oliver/Charles/Mabel dynamic, to be honest. I feel like they've been too separated so far.
Cindy White: I'm definitely feeling that. It's a little slow, and I feel like they've gotten far, far away from the original true crime podcast concept.
Mary Kate Carr: These are good points. Going into the third season, they needed to freshen up the concept somewhat—I love that they did a fake-out with Ben's death in the theater before bringing him back to the Arconia so that his murder was actually In The Building. Seems like the show is feeling out how to exist outside the structure it created for itself, but there've definitely been bumps along the way.
Saloni Gajjar: I'm still enjoying the season a lot, as evidenced by my recaps, haha. I like that they've embraced the theatrical nature of almost everyone in the cast and turned it into the main concept for this season. Death Rattle Dazzle, Meryl Streep, and Paul Rudd are great additions for me. But yes, I do think Charles, Oliver, and Mabel haven't had as much screen time or banter together. I do miss it, but I'm intrigued by the approach for Mabel's arc and her loneliness. She feels that separation, too, and I kind of want season three to explore that more for her.
I agree with MK that they're experimenting with how to navigate beyond the scope of Arconia/true crime podcasts without eliminating it completely (see: Cinda's return, which I'm sure will lead to something by S3's end). And I'm okay with that because it seems like the only way OMITB could continue.
CW: I should have started off by saying that I'm actually enjoying the season, too. And I love the experimentation that you guys mentioned.
I just loved the first season so much and I miss a little of what the show used to be. It's nice that they're letting the characters grow a bit, but Oliver isn't at all interested in solving the murder. So I miss their trio dynamic, which I think has to be intentional.
JL: Yeah, that's a really good point about the show reflecting Mabel's loneliness, Saloni. And it makes sense to me that Oliver is less engaged with the murder plot this season; he's got so much more on his mind, and this is directly messing up his big comeback chance. I feel like it makes sense why the season is more separated and it's probably for the best in terms of character development, but I still miss the trio doing their thing together.
SG: Totally fair, but it's kind of obvious why Oliver's interest in crime-solving has dwindled. He'll miss out on his next big shot at fame considering the main suspects all seem to be involved with his play, including the woman he's falling for. I think he's thinking short-term but right now, Death Rattle Dazzle/Loretta are what's on his mind, and I'm thankful that OMITB is investing in fleshing those things out for him, or else it would feel like an empty storyline. Also: He's got those health problems to worry about!! They need to circle back to that bit soon to remind the audience lol.
JL: Yes! He never even told Charles and Mabel about his heart attack, right?
CW: I don't think he's told anyone yet. That has to come into play before the end.
SG: He has not. And that adds to the schism in their usual dynamic a bit, too, but I'm pretty certain it'll lead to a big emotional moment between them. So I'm okay with this little break in their banter because I feel like it'll pay off later.
CW: I think I could forgive it all for a few more musical numbers, though. Come through, Pasek and Paul!
MKC: I also think it's interesting how they're highlighting the very thing that makes the show work—what makes these three people friends? Will they still hang out if there's no crimes to solve? Are they able to expand their codependent bubble beyond the trio and accept new people in their lives?
JL: Their one attempt at a casual Pickle Diner hang-out this season got ruined. By Ben's body falling through the roof of the elevator, but still.
CW: They haven't been hanging out long enough to get too co-dependent yet, I don't think. The second season picked up right after the first, and then we had the year of the play rehearsals, but it feels longer to us than it has been for them.
SG: Yeah, what makes them friends outside of murder is a really good S3 throughline. It gives the show a stronger leg to stand on beyond the lighthearted stuff. It was interesting that Cinda and Tobert both question Mabel about what her life is outside of the two older men she's befriended, and what else they've got in common. I mentioned this in one of my recaps, but Oliver and Charles clearly have a life of their own, people they care about, etc. Mabel doesn't really have that. So using their separate time to ponder it is fascinating (for them as characters and for us as fans).
MKC: Yeah, even if it hasn't been that long, Mabel still calls them her "best buds," which was a really cute moment from the most recent episode. And speaks to how isolated she typically is!
SG: It probably hasn't been too long, but I would suspect everything they've been through would bring them really close. Trauma-bonding is really effective.
CW: They never followed up on Mabel's answer to Cinda's offer, did they? I wonder if we'll find out at the end of the season that the voiceovers have been part of her solo podcast.
What do we think of this season's case?
JL: I'm with Mary Kate, I loved the fakeout so the murder actually happened in the building.
CW: I wonder if that was always the plan or if they realized they had to retcon it after the end of season 2. I also liked it because it means there might be two different culprits, the poisoner and the pusher. I know you've been hoping for two killers over on The Afterparty Saloni, but I think you might get it here instead!
MKC: The two killers theory is really fun, and just makes sense since they all HATED Ben. I'm a sucker for when Paul Rudd plays against type and goes full jackass. I also love how meta the case is playing out so far. The characters have outright stated that it would be played out for the culprit to be another lady killer, which makes me want to rule them all out as suspects.
SG: I don't have too strong of an opinion yet on the case itself, but neither does OMITB. It's only been five episodes and they're certainly taking their time laying out potential culprits & dropping hints about Ben's own past/more info about the night he died. I do think he's a compelling victim, which is crucial. He's so irksome, no wonder everyone wants him dead. It just means they can get away with all kinds of red herrings and fake-outs (like Kimber and the handkerchief, maybe Loretta and her scrapbook). Are you all leaning towards a particular person or theory about who it might be so far?
CW: I'm keeping my eye on Ben's brother Dickie. If the theory that Ben was talking to a plate of cookies in the video is true (and I like it!) then Dickie would have known that Ben couldn't resist them.
JL: So I have a few things. I'm fully on board with the two killers theory. I don't know who poisoned the cookies (also fully on that train), but I DO think I know who pushed Ben: Cliff. Like, his name is Cliff. Ben didn't get pushed off a cliff, but getting pushed down an elevator shaft is pretty close.
MKC: Wow I love reading into the names right now, that's some detective work right there.
SG: Yeah, the biggest theory in my recap comments is that Ben isn't talking to a person in his green room, but he's telling a plate of cookies to get the hell out AND that he wrote "fucking pig" to himself.
MKC: Agreed, poison cookie seems like a solid lead, but everyone knew his thing about cookies so it doesn't necessarily narrow down suspects!
CW: True, but Dickie also picked up Loretta as a client really quickly after Ben was gone. That's suspicious.
SG: I like those theories, they're fun, but they're also too simplistic. If all of us caught onto it, maybe that's where the writers are trying to trick us?
CW: I don't actually think Kimber is the murderer, but wouldn't it be a clever trick to get us to write her off early on when she's been guilty the whole time?
JL: Definitely seems like something they would do. Also, all the questions around Loretta—it feels like purposeful misdirection.
MKC: I want it to be Loretta because I want Meryl to be the crazy murderer! But yeah, can't ignore that 1) it would be so obvious at this point, and 2) we'd be doing the "one of our main characters is in love with the lady killer" thing again. But if it is two murderers, maybe one is really obvious and one will surprise us!
CW: As much as I think Meryl would knock it out of the park, I agree that a murderous Loretta would be a repeat of Jan, which I don't think they'd do twice.
SG: I don't want it to be Loretta. Meryl would pull off being a crazy murderer, sure, but she's perfect as the goofy weirdo who blows smoke into Oliver's mouth on their first date. Like, that was kind of hot, you guys. So I'd want to let them be. I want it to be someone we already know and so we'd legit be shocked, like Howard or someone.
CW: Noooo not Howard!
SG: Howard has been around since s1, and they've inculcated him more into the core group, so it would be a shock to Charles, Oliver, and Mabel too. I just think it would be risky, so I hope that happens, but I don't think it will.
JL: Yes! Why is he being so protective of the theater key? Howard would be an excellent pick for the poisoner.
CW: He's dating Ben's understudy, right? So he could have done it to get his guy in there.
JL: Yup! Plus with that shadiness with the doctor—I'm into it.
CW: I could buy him as the poisoner, if someone else was the pusher.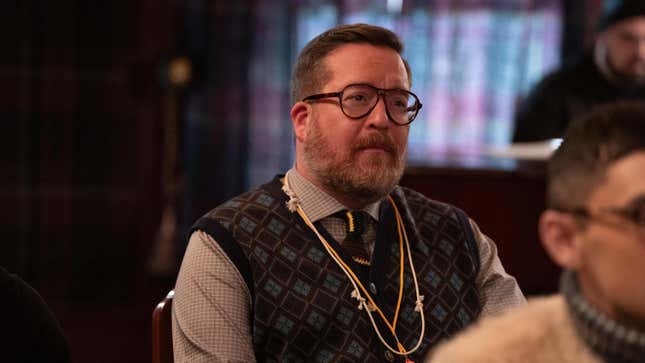 What else are we hoping to see past this halfway point?
CW: I'd love to see Theo Dimas again! I think Mabel should end up with him instead of Tobert, who is clearly using her.
MKC: Well, I've been loving Andrea Martin. I think she absolutely nails the kookiness but also brought the pathos in that last episode. Even though she was the narrator we didn't really get to see her full POV—I guess now that's a missed opportunity, but I hope they keep fleshing out her character!
SG: Andrea Martin can really do no wrong. (Brief sidetrack to say everyone needs to see her in Paramount+'s Evil as a nun. It's a … joy. Okay, we can move on now).
JL: Yeah, Andrea Martin is always wonderful. I want to see more from her, too. Also Dickie—I feel like he's a huge piece of this puzzle that hasn't been explored yet.
CW: I already mentioned it, but I'd like to see more musical performances. It's my pet peeve when they have someone who can sing in a musical thing, and don't have them sing. Andrea Martin was in Pippin on Broadway! Selena Gomez is Selena Gomez!
SG: I'm personally hoping OMITB keeps digging into Charles, Oliver, and Mabel's psyches and how the true-crime stuff has affected their trust issues. I don't really care about anyone new they've introduced except for Loretta. (Tobert is a sight for sore eyes, I can't deny that). So, now with five episodes left, I don't want them to suddenly go all in on them with so little time. I do agree Dickie is a missing piece of the puzzle as Ben's brother, so I'm hoping we learn more about his relationship with Ben, but that's it.
There's also lots of dangling threads left besides "who killed Ben" that I hope get the spotlight over the many random characters, like Cinda's arc or if Oliver's play will ever be seen by an audience, or his health issues.
JL: Separately, I just love that OMITB is finally getting the guest stars right this season. Paul Rudd and Meryl Streep are perfect, as they always are, but it feels particularly good after the weird/bad cameos in the first two seasons.
MKC: I agree—the new cast is really gelling great with the OGs, where someone like Cara Delevigne felt misplaced last season. And the new guys have given us some of the season's best moments, like the musical one with Meryl and Ashley Park.
I guess my biggest hope for the back half of the season is that there's either a clear path forward for the show (that either grows beyond, or settles into, the original concept of the Only Murders pod), or that it ends for good in a satisfying fashion. I know no one wants to see this show end, but I'd rather it go out strong than spin its wheels about what it's trying to be.
CW: Yes! Frankly, I'm surprised they've been able to sustain it for as long as they have. It doesn't seem like a premise that could go on for more than one season, let alone three. But the writing has been smart and the cast is so great together. If they can bring it full circle by the end of the season I'd be okay with it being the last one.
JL: I agree, I'd be okay with this being the last season, too, if they pull it off right.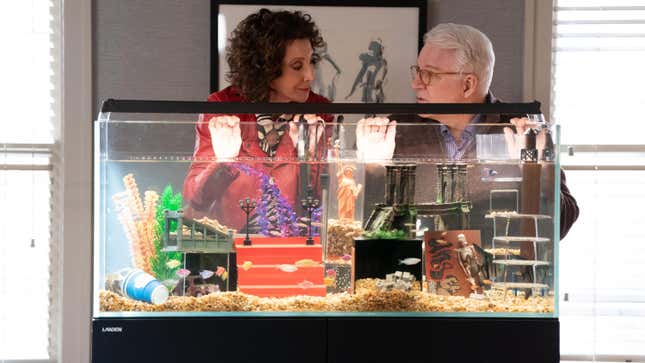 One last question: How many fish is too many fish?
SG: In my house? Even one fish is one too many. Sixty-two is definitely a lot, it's crazy fish lady levels, but who are we to judge?
MKC: I think that there are a lot of people like Joy out there and more power to ya. But double-digit fish ... that's so many fish!
CW: It's not so much the number of fish as the naming and shaming of the fish that creeped me out.
JL: The bad fish's name is President McKinley. What was McKinley notable for? Is that a clue? Guess we'll have to keep watching to find out.