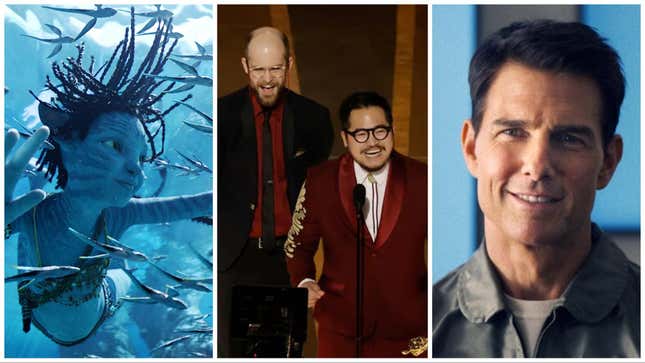 Maybe it was folly but, going into the 95th annual Academy Awards, many fans held out a glimmer of hope that either the universally loved Top Gun: Maverick or the mostly loved Avatar: The Way Of Water would take home the Best Picture Oscar. That remote possibility helped boost the ratings for Sunday's Oscars telecast on ABC, which attracted 18.7 million viewers, a disaster-averting 12% boost from last year's lightly watched affair. And a statuette for either film would further inject some life into an Oscars ceremony that has recently appeared intent on alienating its last remaining viewers by giving its top prize to films like Nomadland and Parasite, which were head-scratchers for middle America. This year, it looked like the Academy had finally accepted the stark reality that if it doesn't start throwing some serious hardware at films that people have actually watched, the Oscars' slide into oblivion, accelerated by the all-you-can-stream buffet of IP-rich, couch-potato content, will be irreversible.
So who can blame the Academy for bestowing Best Picture nominations onto two films that each grossed over $1 billion worldwide, especially given the reward of a ratings bump? The last time the Oscars rested comfortably on their culture-defining perch as lovers of populist entertainment was when The Lord of the Rings: The Return Of The King, the highest grossing film of 2002, won Best Picture (more recently, the Academy swung and missed on opportunities to reward Black Panther for the Best Picture of 2018 and Joker for the Best Picture of 2019.).
But neither Top Gun: Maverick nor Avatar: The Way of Water won the big honor. Per usual for the Oscars, the biggest films of the year only took home craft awards; Maverick won a single trophy (for Best Sound) as did Avatar: The Way Of Water (Best Visual Effects), while fellow box office hit, Black Panther: Wakanda Forever also mustered a single statue (Best Costume Design). So the Oscars' desperate play for survival only worked halfway. While the Academy made effective use of the additional five Best Picture slots added in 2009 to ensure more popular films earned a Best Picture nomination, the evening's four-quadrant hits struck out in the categories that mean anything to the average moviegoer. All of which could anger the millions of halfway-out-the-door Oscar viewers who hoped that a Maverick or Avatar triumph for Best Picture would win them back.
Does Oscars' future lie overseas?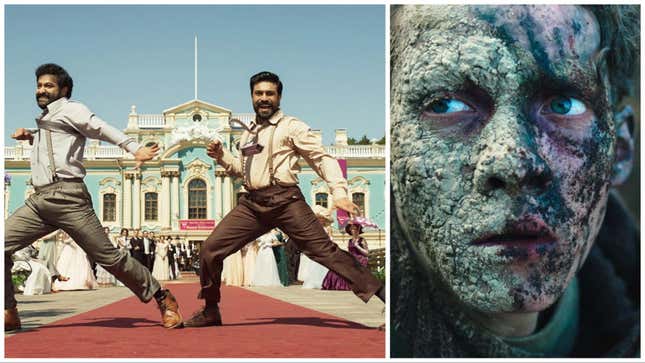 If one's takeaway from the evening is that nominating the top two highest-grossing films of 2022 for a headline-grabbing Best Picture prize is the start of a positive trend, a closer look at the 95th Annual Oscars proves that the Academy will continue struggling to give non-craft awards to major films. Consider the four Oscars won by Germany's All Quiet On The Western Front and the Best Original Song Oscar won by India's RRR. While Netflix certainly mounted an effective campaign for All Quiet, its strong showing, and the triumph of RRR's Telugu-language hit, "Naatu Naatu," hints at the voting strength of the Academy's recent influx of new members, specifically members from foreign countries.

Since the #OscarsSoWhite controversy in 2016, the Academy began a concerted and painfully overdue effort to diversify its membership. In 2020, it extended invitations to 819 potential new voters. What could be most telling in terms of who wins a future Oscar is that 49% of those memberships were from abroad, representing 68 countries. In 2021, 53% of new invitees were from 49 countries outside the United States, while in 2022, 50% of potential new Oscar members were from overseas. Currently, approximately 20% of the Academy's entire membership, which numbers around 10,000, are not American. These world-class filmmakers are products of the cultures they're from and are not necessarily enamored with Hollywood blockbusters nor are they lining up to give Lady Gaga another Oscar. And since international members now comprise a big enough block to skew any category towards more international or indie fare, the possibility of smaller films winning big awards only increases which, in turn, could drive away more Oscar viewers.
Don't count out the power of Everything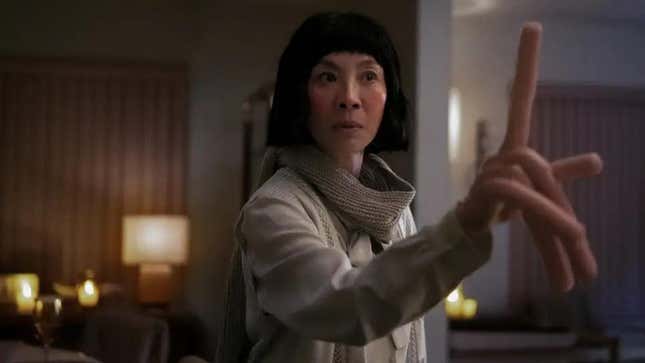 Oddly enough, while Top Gun: Maverick and Avatar: The Way Of Water lost Best Picture—which could further convince casual fans that the Oscars celebrate movies that just aren't for them—the win for Everything Everywhere All At Once offers some hope. The film's box office take may be one-tenth of Maverick's, but the genre-heavy cast, multiverse milieu, and overcaffeinated pacing skews heavily towards a younger demo and Academy members of that youthful vintage will spend the next few decades voting for Best Picture Oscars. Plus, in the recent past, the Academy has thrown a bone to populist fare with Joaquin Phoenix's Best Actor Oscar for Joker dethroning Heath Ledger's Best Supporting Actor win for playing the same character in The Dark Knight as the most prestigious award given to a modern genre film.
All these calculations were never necessary when popular tastes aligned more consistently with Oscar's tastes. Those happy days culminated during the 70th Academy Awards ceremony in 1998 when box office champ Titanic was rewarded with 11 Oscars, including Best Picture, in a telecast that drew over 57 million viewers curious to see how James Cameron's disaster epic would fare. Twenty-six years later, with Oscar feigning interest in awarding blockbusters only to shower its highest praise onto smaller films unseen by a vast majority of the planet, we're looking at a turf war between younger Academy voters and a large group comprised of older voters and those living in countries far removed from, and largely disinterested in, Hollywood's superhero factory.
As long as this fight for the soul of the Academy continues, the Oscars will try mightily to salvage its cultural relevance by backing whichever blockbusters they're least embarrassed to nominate while crossing their fingers that voters will send home a couple of big-ticket trophies to satisfy what's left of their viewing audience. In the meantime, the Oscars may have won the battle in nominating a pair of billion-dollar hits for Best Picture, but, if the 95th annual Academy Awards have taught us anything, it's that the war is far from over.