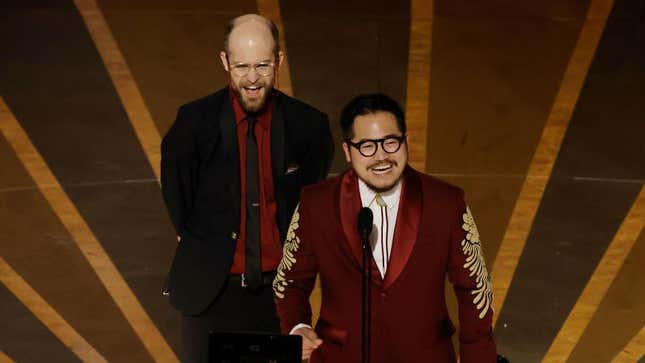 Every year there is an obvious tension when the Academy Awards roll around. Mostly because it showcases a terse relationship between what's being celebrated (CINEMA!) and where it's being celebrated (TELEVISION!). ABC's telecast needs to think of itself as something to satiate viewers worldwide—many of whom, as the box office returns of a few high-profile nominees attest—may not have seen, let alone heard of. It's no surprise that year in and year out, the show's producers lean into celebrating "the magic of the movies." That's precisely how the 95th Academy Awards began, with a montage that, without a hint of irony, showed clips from non-nominated films like NOPE and The Woman King. And arguably how it ended, with Harrison Ford reminding us that "movies can transform our lives" before handing out the Best Picture Oscar to the big winner of the night, Everything Everywhere All At Once.
The A.V. Club's 5 last minute Halloween costume ideas
The Daniels managed to keep each of their three visits to the stage fresh and exciting, closing out the night with a message about how stories up on the big screen can shelter us from the chaos around us. It marked a fitting end to the unlikely awards run the Academy Awards has gifted us, especially after the whiplash years of Green Book, Parasite, Nomadland, and CODA. It was all a reminder that those behind the Oscars show can only work with the nominees (and winners) they're given, so it's always hard to quibble with either when assessing whether the telecast was a success.
And so, whether you agree that Jamie Lee Curtis gave the best performance in her category (one of the first to be awarded), you can't deny the power of her speech, one which embraced the spirit of cinema as a collaborative endeavor, as the kind that builds relationships across screens, between actors and fans, between filmmakers and viewers. "WE WON AN OSCAR!" is a perfect line to capture the way many of us should think about awards. Not as an individual achievement but as a group endeavor. Not only in that parasocial way in that genre fans of Curtis' can now bask in her win, but in the sense that publicity teams, critics, voters, managers, designers, handlers, and the like are all part of this awards ecosystem. One where wins say more (and less!) than what we'd want to believe.
But if the Scream Queen's speech, dovetailing nicely with the heartfelt one offered by fellow Everything Everywhere All At Once co-star Ke Huy Quan ("Mom, I won an Oscar!"), set the tone for the start of the evening, it was in its ebullience. This was a show that featured David Byrne singing with hot dog figures, the RRR "Naatu Naatu" dancers giving it their all, a "Happy Birthday" serenade in lieu of an acceptance speech, a Cocaine Bear cameo, a "drag is a threat to NO ONE!" call out, a Carpenters shout out, and arguably one of the best one-liner opener moments of any speech in recent memory—that'd be Sarah Polley, winning the Best Adapted Screenplay award for Women Talking: "I want to thank the Academy for not being mortally offended by the words 'women' and 'talking' being put so close together like that."
Corporate Synergy Wins Again (We All Lose)
Not all was perfect, though. It can never be.
The shamelessness with which Disney used the telecast to premiere the murky-looking CGI-heavy trailer for their live-action The Little Mermaid film coming out later this year was yet another reminder that we live in a corporate hellscape. One where, yes, as host Jimmy Kimmel joked at the top of the show, Hollywood has seemingly run out of ideas (it's why Steven Spielberg had to make a movie about … Steven Spielberg, the joke continued). It's an odd message to receive from three hours where an action comedy flick featuring sex toy fights and a Ratatouille spoof won the biggest award of the night.
But still, it's hard to shake off—especially when a montage celebrating Warner Bros.' century leaned heavily on its contemporary franchises and obscured the many original films it produced during its first few decades. The fact that said montage looked not unlike the Rolex and Walt Disney Studios ads that aired during the telecast suggests we may be dealing with bigger questions about the way Hollywood sees and chooses to mythologize itself. See also: the way Janet Yang used her moment on stage to push the Academy museum. We can look back, but ultimately, it'll be to those films that made money, not the quiet ones that made history (so seldom are they one and the same).
And yes, we'd be hard-pressed not to mention the fact that corporate synergy is what brought us yet another year of Kimmel hosting. Sure, we don't know what movie stars would, in this day and age, take up this most thankless of Hollywood gigs (and that was before we all saw what happened to Chris Rock last year!), so, we should be thankful we got Kimmel, as gifted a host as we'd all want for a breezy if aggressively efficient awards show. The late-night staple, after all, is someone who can make a joke like "My Banshees are caught in my Inisherin" in earnest and get a laugh, make a line like "L. Ron Hubba Hubba" sing—all while inserting a Nick Cannon joke into an extended Avatar bit, making Malala have to think about the endless Don't Worry Darling press tour, and yet again feeding his fake feud with Matt Damon. Kimmel did Kimmel, and if he'd made one less slap/Will Smith joke maybe I'd be more inclined to sing more of his praises.
Art Deco Realness
Instead, I'd rather spend some time examining what truly worked in a telecast that only went over for a handful of minutes (imagine that!). So much of what one takes away from nights like these has to do with who wins and who loses (and what those wins/losses tell us about the Academy, Hollywood, the films, and the actors themselves) that it's easy to dismiss the small details that help make these hours move gracefully. Take this year's set design, which opted to utilize screens to give the stage an Art Deco look that was both modern and retro in equal measure, seamlessly working as a stylish backdrop to the various speeches and helpful setting for some life-sized dioramas for a few of the craft categories (love every time the ceremony actually showcases the costume designs on stage!).
The blend proved to be a bellwether for the many wins of the night, some of them harkening back to "old school" Oscar-ey films (see: the talky and make-up heavy drama of The Whale; the booming war staging of All Quiet On The Western Front) and others clearly looking toward a groundbreaking future (Ruth E. Carter becoming the most rewarded Black woman in Oscar history shows both how far we've come and also how low the bar remains; Guillermo del Toro's win further reminding us that animation IS cinema, and not kids' fare, for instance).
Another often unsung aspect of these telecasts is the clips. THE CLIPS! Remember when that pandemic Oscars deprived us of any kind of scenes from the nominated films? I loved that ceremony for the way it sent us back to Old Hollywood, a time when the awards were for those in the room, but one thing I couldn't get past was its refusal actually to showcase the nominated films. This year, opting less for "Oscar clips" than "Oscar montages" for each nominated performance, for instance, I found myself tickled by the producer's decision not to succumb to that most mocked of awards show clichés; you know, that thing where you watch a film and you immediately assume that's the one they'll use if that actor/actress is nominated. Instead, this year you got to see a wider range from each performance. It was a novel way of reinventing the wheel and making it feel ever so slightly new.
That same energy was present in the original song performances, which felt particularly affecting and well-thought-out (so many years they feel like filler, or like intermissions for what's actually going on elsewhere in the show). Gaga, for instance, in close-up, showing off a natural look was an inspired way to celebrate her Top Gun: Maverick song (a performance that, remember, we all thought wasn't going to happen as soon as last night!) while Rihanna, as if continuing her disdain for the ground level from her Super Bowl performance, lifted herself up in a tender rendition of the Black Panther: Wakanda Forever tune.
Everything Everywhere All At Wins
But all of that was a backdrop to the real story of the evening.
Going in, we knew the Daniels' multiverse family lofi sci-fi comedy could eke out several wins (it had 11 nominations, after all). But given that the Michelle Yeoh-fronted flick was as rare an Oscar frontrunner as you're likely to find, many of us (rightly?) worried that the ever-surprising Academy would ultimately find ways of undercutting this wildly bonkers cinematic achievement.
One of the main complaints last year was the way the show sidelined some of the below-the-line categories, awarding them ahead of time and only showing edited clips as interstitials during the actual ceremony. Such an approach kept the evening from flowing organically. This year, though, with all categories back in play, it really seemed like All Quiet On The Western Front (and the behemoth that is the Netflix marketing machine) would and might give Everything Everywhere All At Once a run for its money when it picked up four awards almost in quick succession (Score, International, Production Design and Cinematography). Would this year's awards be remembered for looking forward and rewarding a truly original vision, or would it embrace tradition and anoint a remake of the Best Picture winner?
We needn't have worried. Those early acting wins set the stage for a sweep the likes we haven't seen in a long time (you have to go back to the Slumdog Millionaire year to find a similar haul for the Best Picture winner!). And boy, is that a refreshing stat to have standing next to such a fabulous film, one which allowed Michelle Yeoh a historic win in her category, made the Daniels only the third directing duo to win for directing, and made A24 boast two Best Picture wins in their short history so far.
The love in the room for the film was palpable. And it was made all the more enjoyable given the way its cast and crew made a point of celebrating one another and their fellow nominees. Rather than feeling like self-anointed winners, the scrappy underdog SXSW-premiering film felt like, as Jamie Lee Curtis had put it, a win for all of us. A win for moms and daughters. For film fans and Angelenos. For outright weirdos and anxious storytellers. For immigrants and genre nerds. For those who can find solace in hot dog fingers and everything bagels.
Was that feeling undercut by Kimmel's final "slap" joke at the tail end of the ceremony? I like to think not. Because ultimately, it's the winners and their teary-eyed speeches you remember; may those tasteless jokes be forgotten by next week. But Everything Everywhere All At Once's wins? Those are forever.