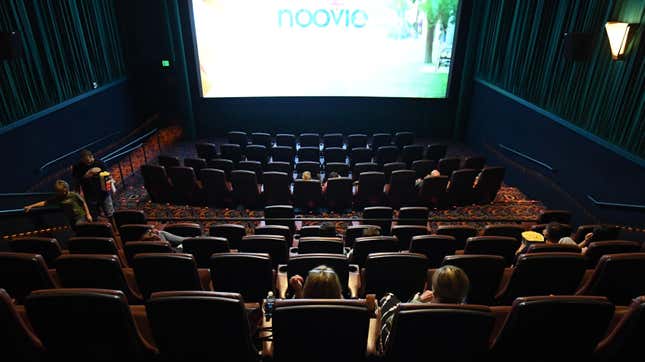 It feels as though the last decade has been spent (by some) in a perpetual state of handwringing over the State of Cinema. Blame theater monopolies, blame the rise of streaming services, blame Marvel and the superhero industrial complex, most especially blame a never ending pandemic that made it unsafe to gather in enclosed spaces. Whatever scapegoat you choose, and whichever side of the argument you fall on, we can all agree that theatergoing isn't what it used to be. But perhaps some new Oscars rules from the Academy of Motion Picture Arts and Sciences could give the industry a bit of a boost.
Current rules for eligibility for the Best Picture category state that a film has to be screened for at least a week in one of six qualifying U.S. metro areas (Los Angeles, New York, San Francisco, Chicago, Miami). According to a new report from Matthew Belloni for Puck, the Academy is considering a significant change to those requirements: in a plan reportedly favored by Academy C.E.O. Bill Kramer, Best Picture hopefuls would have to screen in 15 or 20 of the top 50 markets in the U.S. The Academy's Board of Governors meets in late April and will supposedly make a decision on the change then.
Theatrical evangelists will likely encourage this move (according to Belloni, some of them are even pushing for stricter requirements). The only feathers that might truly be ruffled at this point are over at Netflix, which has remained steadfast in its business model to reject the theatrical release even as it has increased its push for Oscars glory. Other streamers have embraced theaters more; Apple's theatrical plan for Martin Scorsese's Killers Of The Flower Moon earned it a spot as an official selection for the Cannes Film Festival in May.
The desire to return to theaters isn't exclusive to industry insider cinephiles, either. According to a new UTA survey (via Vanity Fair) which polled 2,000 Americans between the ages of 15 and 69, 75% said they wanted to maintain or increase their moviegoing, and 33% said they'd go to movies more if there were more films available they were interested in seeing. A gentle push in the right direction from the Academy could be a good start to making the theatrical experience once again appealing to a wider audience.