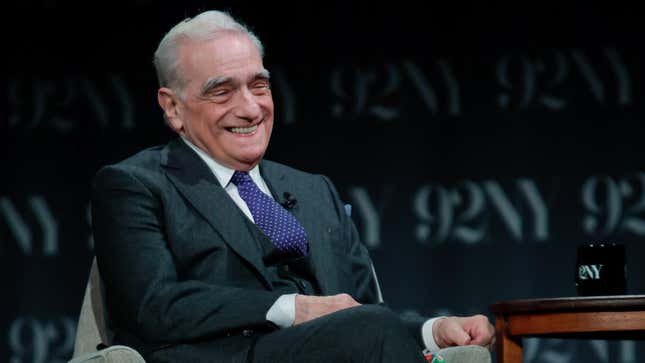 It's official: Martin Scorsese is headed back to the Cannes Film Festival. His new Apple Originals film Killers Of The Flower Moon was long suspected of being part of the lineup, but The Hollywood Reporter now confirms that the hotly anticipated drama will indeed have its world premiere at the esteemed French festival before it hits theaters in October 2023.
Robert De Niro to double our pleasure in upcoming film
Scorsese's last film to screen in official selection at Cannes was After Hours in 1986, for which he won the award for best director. He previously took home the Palme d'Or for best film for Taxi Driver. The venerated director's latest entry is not yet confirmed for competition; the section will be announced with the rest of the festival lineup in mid-April.
Killers Of The Flower Moon, adapted from David Grann's book by ​​Scorsese and Eric Roth (Dune, A Star Is Born), is about a spate of serial murders of members of the Osage Nation in 1920s Oklahoma. It stars Leonardo DiCaprio, Robert De Niro, Lily Gladstone, Jesse Plemons, Cara Jade Myers, JaNae Collins, Jillian Dion and Tantoo Cardinal, all of whom are expected to attend the festival alongside former Cannes judge Scorsese, per THR.
Though the full lineup has not yet been announced, there are already some buzzy selections on the menu for this year's jaunt on the Riviera. Wes Anderson's Asteroid City, which just debuted its star-studded first trailer, and Indiana Jones And The Dial Of Destiny are both flying to France. The Weeknd's controversial new series The Idol is also set to premiere out of competition. Ruben Östlund, who was recently nominated for Best Director at the 2023 Academy Awards, will serve as president of the jury for this year's festival.
Scorsese's Killers Of The Flower Moon, in partnership with Paramount Pictures, will have a limited theatrical release starting October 6 before opening wide on October 20, after which it will stream on Apple TV+. Cannes has clearly made peace with Apple because of its commitment to theatrical release, which is more than can be said for some other streamers we could name.