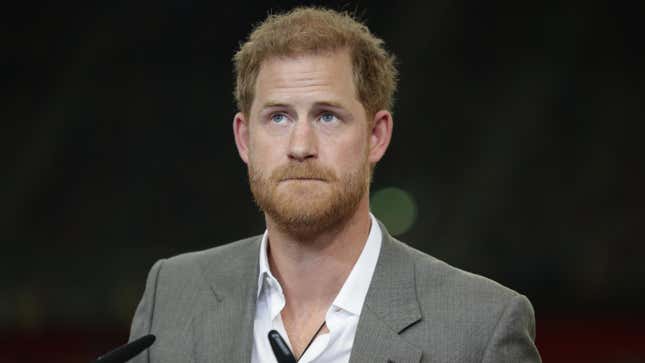 Prince Harry knew what he was doing when he titled his memoir Spare—that is, stirring up drama and pissing off his family. As such, the book was likely already destined to be a bestseller, but why stop there? Every other Tom, Dick, and Harry releasing a book would also embark on some sort of promo tour, and so this Harry will do the same with two new tell-all interviews airing on Sunday, January 8, ahead of the book's release.
In the United States, the Duke of Sussex is set to speak with American royalty (of the Vanderbilt persuasion) on CNN's 60 Minutes. In a teaser for the interview, Prince Harry tells Anderson Cooper why he's decided to air out the family laundry despite expressing a desire for more privacy. The answer boils down to "they did it first": "[Every] single time I tried to do it privately there have been briefings and leakings and planting of stories against me and my wife," he says. Further, he implies hypocrisy on the part of his family who are the ones doing the leaking and planting. "You know, the family motto is 'Never complain, never explain.' It's just a motto."

In clips from his U.K. interview with Tom Bradby on ITV, Prince Harry states that "I want a family, not an institution," though curiously claims also to still believe in the monarchy. He says his family has shown "absolutely no willingness to reconcile," casting doubt on whether he'd even attend his father King Charles' coronation. "The ball is in their court. There's a lot to be discussed, and I really hope they are willing to sit down and talk about it," he adds.

Loyal monarchists are sure to react very normally to all the tea Prince Harry is spilling (maybe he really is becoming an American), and it'll only get worse once the new book hits shelves. In an excerpt published by The Guardian, the spare accuses the heir of physically attacking him during an argument about his impending nuptials to Meghan Markle. Prince Harry writes that Prince William claimed to be "helping" him by warning him about Markle, leading to a heated argument that turned physical.
"He set down the water, called me another name, then came at me," the passage reads. "It all happened so fast. So very fast. He grabbed me by the collar, ripping my necklace, and he knocked me to the floor. I landed on the dog's bowl, which cracked under my back, the pieces cutting into me. I lay there for a moment, dazed, then got to my feet and told him to get out."
The family feud will continue with the publication of Spare on January 10, 2023.