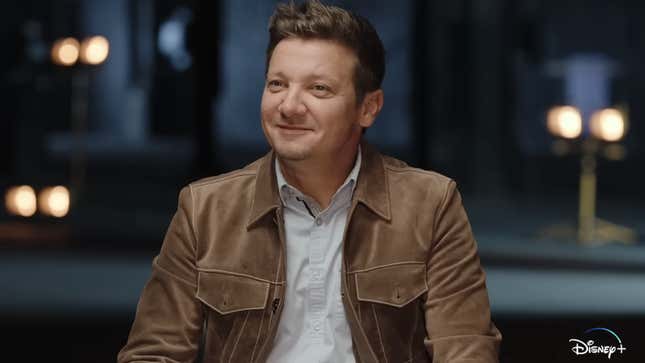 Jeremy Renner may still be in recovery, but Rennervations is full steam ahead at Disney+. The streamer announced that the new series will premiere on April 12, just four months after the actor sustained critical injuries in a snow plot incident. (Filming for Rennervations had wrapped prior to the accident.) "We are all so very proud and excited to share with you all finally!!! Love you all," Renner shared in an Instagram post alongside a first look at the show, adding, "[I'm] coming back very soon."
Rennervations is a four-part series that takes place across multiple cities: Chicago, Illinois; Cabo San Lucas, Mexico; Rajasthan, India; and Renner's hometown of Reno, Nevada. In each, Renner will get to enjoy his niche hobby of "buying these decommissioned government vehicles to help reimagine them to serve the community again, just in a different way." In practice, that looks like super speedy construction projects to transform trucks and buses into things like a mobile rec center or a water filtration system.
Along the way, he's joined by celebrity pals like Vanessa Hudgens and Anthony Mackie, who jokes that he didn't actually know what his co-star was getting up to with this project. "There's a lot of concern on Avengers family chat, like, 'What is Renner doing? He's going a little off the rails,'" Renner himself acknowledges.
"I've been on this journey for many years, and I started in my community by building vehicles for people in need. But a few years ago, I thought: How can I plus this up and create a bigger impact on a whole community? And that's what this show does," the star said in a statement (per The Hollywood Reporter). "This is one of my biggest passions and it's a driving force in my recovery, and I can't wait for the world to see it."