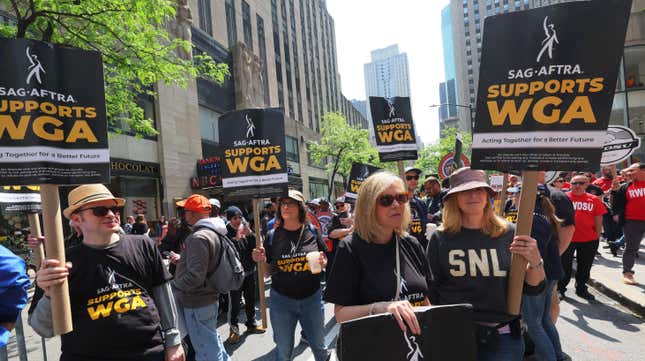 A (perhaps) lesser-known aspect of making a movie is that productions have to pay for insurance that works like every other kind of insurance except it applies to making a movie instead of a car or a house or healthcare. Movies are very expensive, and insurance makes sure the studio or the filmmaker has some protection in the event that someone gets injured, or a camera explodes, or something even more dramatic that makes it impossible to finish the production at all. (Film insurance became a talking point for a bit after the Rust shooting, unsurprisingly.)
Basically, unless the producers are comically wealthy and don't care about spending money or worryingly cheap and care a lot about spending money, movies—particularly independent movies made outside of the major studios—don't really get made without insurance. So take it as an especially ominous sign for the future of Hollywood that the companies that normally insure indie movies are so spooked by the potential of a SAG-AFTRA strike that they have reportedly forced at least one project go on hold indefinitely.
That's according to Deadline, which says director Pawel Pawlikowski's The Island—starring Joaquin Phoenix and Rooney Mara—has had to pause production "on the eve of shoot" after finding out that they couldn't get insurance for the project. Apparently, the threat of a SAG-AFTRA strike, plus the ongoing WGA strike and a possible DGA strike, may have made the idea of filming a movie too risky.
The possible repercussions of this are huge, because if indie movies can't get insurance, then they can't start production until the insurance companies figure out how to handle what could be three strikes all at once. If they can't start production, attached directors or stars might have to leave for other projects. If directors and stars leave for other projects, those indie movies might not get made at all—even extending past the strike(s).
But, to be clear, the villain in all of this is not the creative-types on strike (or potentially going on strike). This may be a shock, but it's actually the AMPTP, the coalition comprised of all the major studios, a.k.a. the same companies that were already the villain in all of this. As Deadline points out, the AMPTP studios all self-bond, meaning they insure/finance their own projects, so they won't actually be impacted if the bond companies don't want to insure any productions.
That means their refusal to agree to favorable conditions for writers and maybe actors and maybe directors—all of the people who make the things that make them money—could literally and completely shut down the entire movie business for who knows how long and cause lasting damage to the independent film community. And these are the people who think they have and deserve all the power in Hollywood!