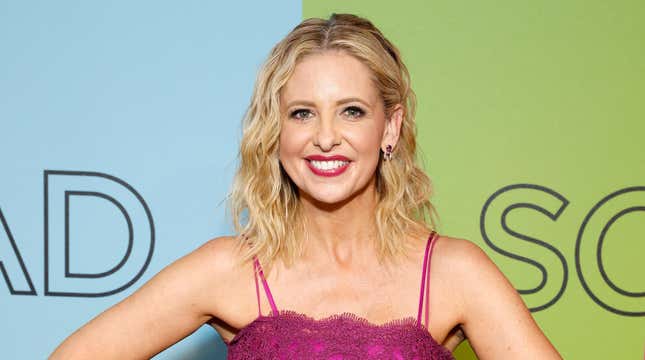 Everyone seems interested in Sarah Michelle Gellar's thoughts on reviving her previous projects, and with a new installment of I Know What You Did Last Summer on the way, Gellar's shares an update on her potential involvement.
The A.V. Club's weekly film round up
"That's funny, I heard that news as well," Gellar tells ET. "And one of my best friends [Jennifer Kaytin Robinson] is directing it. It's interesting, isn't it?"
Robinson recently recruited Gellar for a small role in the '90s teeny-bopper homage Do Revenge, calling back to another well-known Gellar character: Cruel Intentions' Kathyrn Merteuil. But, when it comes to Gellar making any reappearance as Helen Shivers in another IKWYDLS film, there's one major roadblock in the way.
"As I explained to Jennifer, I am dead. I am dead dead. On ice," Gellar reminds everyone. "She's like, 'Are you sure you're dead dead?' I'm like, 'It's soap dish dead. I don't have a head. You can't write for someone that doesn't have a head. I'm dead.'"
It's an undeniable fact that in the IKWYDLS universe, Helen is stone-cold dead and has been for a long time. However, her co-stars Freddie Prinze Jr. and Jennifer Love Hewitt reprised their roles for the sequel, I Still Know What You Did Last Summer, before jumping ship ahead of the third installment, I'll Always Know What You Did Last Summer.
The two are now slated to return for the "pass-the-torch sequel," and according to Gellar, Prinze will soon be talking about the original movie on his new podcast.
"My husband is starting a podcast going over old horror movies and the first one that they're doing on his podcast is I Know What You Did Last Summer," Gellar says. "So he was at the house watching it and I honestly don't think that I'd seen it since it came out. I was watching that scene when she's like two seconds away from getting to the party and then they get her... I know."