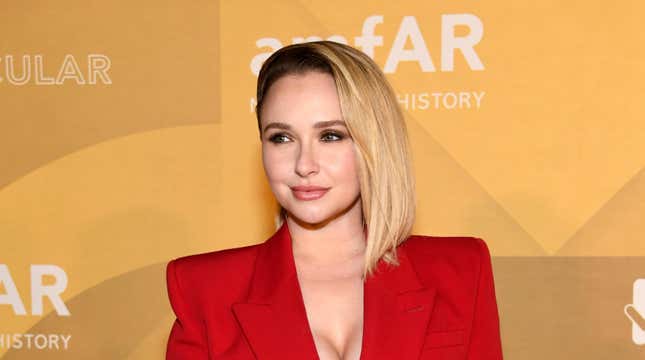 The journey getting Hayden Panettiere into Scream VI (which should obviously be called Ghostface Takes Manhattan) has been weirdly complex. First, executive producer and original writer Kevin Williamson suggested that she "sort of disappeared" after making 2011's Scream 4 with the Scream team, chalking it up to the idea that she doesn't have an agent and is therefore unreachable, despite the fact that she was on a hit TV show for several years right after that (though, to be fair, it's not like the name of that TV show might've offered any hints about where to find her).
Jack Champion on "Scream VI" and working with James Cameron
Now, Courtney Cox—the only remaining original Scream star after David Arquette's Dewey got killed in the last one and Neve Campbell decided not to tolerate a bullshit lowball paycheck—has offered up another explanation for why they thought they couldn't bring her back: Everybody was pretty sure she died in Scream 4. She got double-crossed by a teen misogynist who stabbed her in the stomach a few times, he left her to bleed out on the sidewalk, and then… she died. Right? That's how movies work: Someone gets stabbed, and if you don't see them walking around later in the movie, it's because they died. Hell, this YouTube video called "Scream 4 Kirby Death Scene HD" has 54,000 views.
Regarding Scream VI, Cox said to Variety that it's "so interesting how people came back" to the series, specifically Panettiere's Kirby, adding, "I have to remember. I thought she died! I get so confused." 54,000 or so people agree with you, Courtney Cox! But no, an Easter egg in Scream 5 (a.k.a. Scream) confirmed that Kirby survived the events of Scream 4, and in Scream VI she's some kind of anti-Ghostface cop in New York City (not much call for it usually, but everyone will be glad she's there when Ghostface takes Manhattan on March 10).