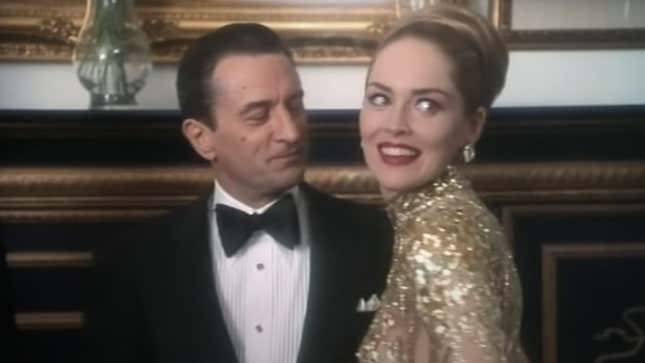 An unfortunate side effect of being a woman in the world, is the current run-ins with misogynistic men who infantilize, dehumanize, and generally scorn women as they walk through the world. Basic Instinct's Sharon Stone is no stranger to this experience and says she worked with plenty of misogynistic co-stars during her days as a leading lady. However, she exempts her Casino co-stars Robert De Niro and Joe Pesci from this characterization.
"I've worked with some of the biggest stars in the business, who will literally talk through my close-up, telling me what they think I should do," Stone tells Variety. "They're so misogynistic—now, that is not Robert De Niro. That is not Joe Pesci, that is not those guys. But I have worked with some really big stars who will literally talk out loud through my close-up, telling me what to do."
She continues, "They just will not listen to me, and will not allow me to affect their performance with my performance. That's not great acting. I mean, I get that you're great and everybody thinks you're wonderful. But listening, being present for those fractured moments, is really the human experience."
Stone starred opposite De Niro and Pesci in Martin Scorsese's 1995 film Casino, where she plays Ginger McKenna, a gorgeous yet erratic hustler who catches the eye of both De Niro and Pesci's characters. For much of her career, much of the roles offered to Stone involved playing the psychosexual femme fatale.
"I don't get called upon to play these parts—I get called upon to take off my clothes and play these crazy sociopathic characters because I played one [in multiple past films]," Stone says. "I don't get called upon to play thoughtful, sensitive characters. I'm a painter—I have two shows coming up—and I'm a songwriter, I've had three number ones in other countries. But I'm never going to get Basic Instinct off of my head. I came into this world looking like a Barbie, so it's complicated for people to allow me the opportunity to be anything else."
Back in 2009, Stone talked about working with Scorsese and De Niro in the years after her Basic Instinct fame, and how the role of Ginger came up for her at the right place and the right time.
"Finally I got together with Marty and Bob and they were like, 'Give it all to us, baby, just let her rip if you've got it, we want it, let's see what you can do,'" Stone told The Guardian. "I got up to bat with my dream people, the one actor that all my career I strived to work with, that was the apex for me, and then Marty, to get the pat on your back from your peers is always pretty great. You know, you don't get a lot of that."
Stone most recently joined singer Sam Smith on SNL for a performance of their single "Gloria."