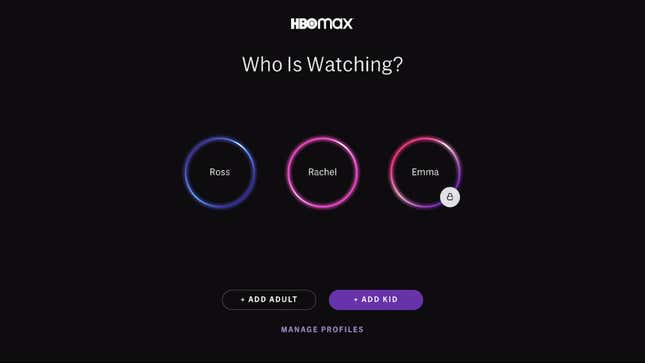 HBO Max, the much-hyped, industry-decimating streamer that promised to save us from the sheer boredom of lockdown during the COVID-19 pandemic and give Warner Bros. a chance to dump a year's worth of blockbusters without selling a ticket, has died. As confirmed by Warner Bros. Discovery's rebrand, the streamer died of dismemberment after its three front letters were violently removed from its body by Warner Bros. Discovery CEO David Zaslav, known by some as "the butcher." It was three years old.
Tomorrow, HBO Max will drop the HBO, presumably because Sean Parker told Zaslav that it's cleaner, and become "Max." Along with death and taxes, rebrands are a fact of life. Every product awaits its first rebrand, spinning itself into a chrysalis and metamorphosing into a butterfly. Dunkin lost the Donuts and gained a Ben Affleck. If that's not proof that a rebrand can change lives, we don't know what it is. And, to be fair, HBO Max was always kind of a mess that probably shouldn't have happened to begin with.
HBO Max's demise came after a whirlwind of expectations and disappointments. Initially, it sought to disentangle the streaming knot left over by previous owners, Time Warner and then AT&T. Who could forget the halcyon days of HBO Go and HBO Now, two separate streamers that did the same thing but couldn't be used interchangeably? Despite the universal acclaim of HBO's programming, the channel's creaky tiptoe into streaming showed its age. This was a legacy brand, and like almost all legacy brands, it struggled to win over those pesky millennials and zoomers, who would rather share passwords than pay $795 (estimated price) for cable. We want "a la carte" television, we screamed in the early-to-mid 2010s. What we got was a mess.
By the time HBO Max hit television in 2020, it was a confusing time in the streaming wars, when unlimited growth was still a distant possibility, and Disney+ made Star Wars enjoyable again with the release of The Mandalorian. We all knew HBO had the best library. Its offerings could be confused for a listicle of the best shows ever. Sopranos, The Wire, Six Feet Under, and that episode of The Newsroom where a character tells a pilot U.S. special forces plugged Osama Bin Laden were finally under the same roof. If that wasn't enough, AT&T locked several exciting hubs that were truly industry-shaking moves. The Studio Ghibli hub included, for the first time anywhere on streaming, the masterworks of Hayao Miyazaki—something many thought impossible—though Warner Bros. never did much with that licensing coup. Still, during the darkest moments of lockdown, HBO Max was beginning to look like a lifeline. Just not a lifeline for most people.
It took seven months for HBO Max to hit Roku. According to The Verge, Roku accounted for 44% of all set box top viewing time—meaning Roku accounted for nearly half of all streaming on television sets at the time. Unfortunately, things were only slightly better for those with Apple TV. Among other anecdotal interface issues, an app update broke HBO Max for a week for Apple TV users the following year.
All of it paled in comparison to HBO Max's original legacy: The controversial day-and-date release cycle. Beginning with Wonder Woman 1984 in December 2020, all of Warner Bros.' biggest movie releases were going to theaters and streaming on the same day. The move put more eyeballs on Zach Snyder's Justice League: Justice Is Gray, but the makers of Dune, Godzilla vs. Kong, and The Matrix Resurrections weren't happy about the deal. After all, those who make these movies benefit from healthy theatrical releases, both monetarily and culturally. "There is absolutely no love for cinema, nor for the audience here," Dune director Denis Villeneuve wrote in an op-ed. "With HBO Max's launch a failure thus far, AT&T decided to sacrifice Warner Bros.' entire 2021 slate in a desperate attempt to grab the audience's attention." Just as Scarlett Johanssen didn't spend a decade in The Avengers to become a TV star, neither did Legendary Entertainment or Village Roadshow. Like Johanssen, Legendary settled, and Village Roadshow ended up in court.

However, HBO Max wasn't just a way to dump blockbuster tentpoles with no hope of recouping the money and pissing off creators in the process. It also opened up avenues for creators that would otherwise never have an opportunity on HBO. The idea for the streamer was a "younger and more diverse HBO," tweeted writer/director Corey Deshon (Netflix's The Night Agent, ABC's A Million Little Things). "They went out of their way to seek out creatives and develop projects to fit that. Then one overpaid underseasoned turkey breast comes along and destroys it." Max will be free to include all the different hubs, keeping the stink of Fixer Upper and 90 Day: The Other Way from touching the crown jewel of television. HBO is a prestigious brand that, apparently, is too prestigious for the likes of Gordita Chronicles and Batgirl. But it also pushes the diversity initiatives of the last few years to appear like another one of those tax write-downs Zaslav used to make his nut last year. So ultimately, WBD found a way to water HBO down and turn the whole thing into another max: Cinemax. As a result, Max will be home to all the content that HBO deems unworthy of its special letters, the ones pushing the younger and more diverse creators to the edges.
Why WBD would want people to forget AT&T's stumble into streaming makes sense. HBO Max probably should never have existed to begin with. HBO Max becomes Max tomorrow. Who knows what TV will be after that?