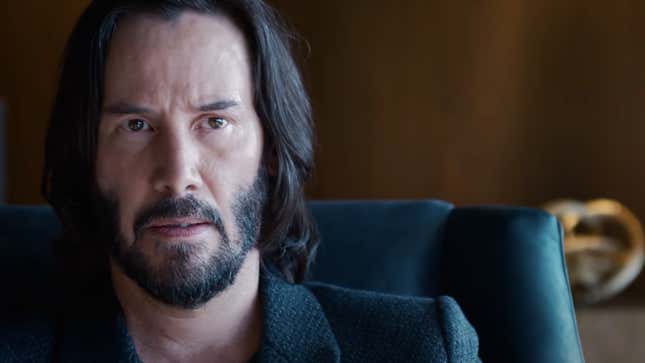 In a new lawsuit over the dual release of new films, production company Village Roadshow is suing Warner Bros. over the HBO Max release of The Matrix Resurrections in December. Village Roadshow is alleging that Warner Bros. deliberately harmed the box office release in order to benefit HBO Max.
Hollywood tees up more James Bond
"WB's strategy not only ensured that The Matrix Resurrections would be a bust at the box office, but it also inflicted serious harm to the entire Matrix franchise," the suit alleges. "There can be no doubt that the abysmal theatrical box office sales figures from The Matrix Resurrections dilute the value of this tent pole franchise as a film's lack of profitability generally prevents studios from investing in additional sequels and derivative films in the near term."
The suit claims Warner Bros. not only released the film on HBO Max to drive consumers to the streaming platform, but to also jeopardize Village Roadshow's ability to pay their contract to maintain the rights to The Matrix Resurrections. The production company had worked with HBO as co-financier previously on The Matrix trilogy, Joker, and the Oceans series.
The suit also alleges HBO did not consult Village Roadshow on the theatrical/HBO Max co-release, and did not offer any compensation to the company. Despite working out "acceptable accommodations" with Keanu Reeves, Carrie-Anne Moss, and director Lana Wachowski, Village Roadshow claims HBO "shut down negotiations with one of its longest-term relationships."
The Matrix Resurrections grossed $153 million at box offices worldwide, merely a fraction of the what the previous three installments earned. As a result of poor ticketing sales, Village Roadshow states they are at risk of losing the rights to the film because it cannot make its contractually obligated payment to Warner Bros. It is seeking a declaration from the court that Warner Bros. breached its agreement.

In response, Warner Bros. cites an arbitration case against Village Roadshow filed last week.
"This is a frivolous attempt by Village Roadshow to avoid their contractual commitment to participate in the arbitration that we commenced against them last week," HBO says in a statement. "We have no doubt that this case will be resolved in our favor."