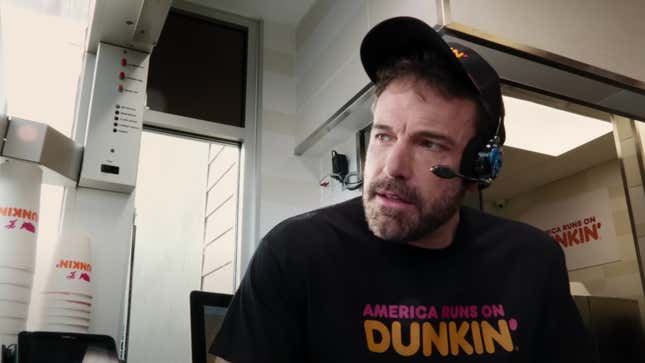 It's often been advised never to meet your heroes—apparently, meeting them across the drive-thru ordering window of a national coffee company doesn't change that. When Ben Affleck took over a Dunkin' drive-through for a meme-honoring Super Bowl LVII spot, unsuspecting customers' reactions ranged from flabbergasted to, per Affleck himself, fed up.
According to Affleck, some Dunkin' patrons who encountered him weren't too sold on his "inept" service. "It's Boston, after all, so we had some rather coarse and agitated people who were willing to voice their displeasure in a colorful way, and I'm still lobbying to include the most interesting of those in some of the edgiest social spots," Affleck shares.
Per The Wall Street Journal, Dunkin' had originally pitched a Super Bowl LVII ad in which Affleck stopped in at the company's corporate boardroom; it was Affleck's idea to film both a scripted ad and unscripted drive-through portion with his new production company, Artists Equity. (Whether it was Dunkin' or Affleck's idea to include Jennifer Lopez's talents in the ad remains unclear; kudos to the responsible party.) Dunkin' will reportedly air the scripted ad in the coming weeks.
Affleck didn't just use the Super Bowl as a reason to commandeer a Dunkin' shift; the big game also featured a trailer for Affleck and Matt Damon's upcoming Nike biopic Air, which follows the footwear company's lucrative and historic deal with hooper Michael Jordan. Affleck, who also directed the film, stars as Nike CEO Phil Knight, while Damon plays Sonny Vaccaro, an executive from Nike's basketball division who, tasked with revitalizing the brand, decides to recruit a young Jordan in a move that would alter both of their careers. The film premieres April 5.