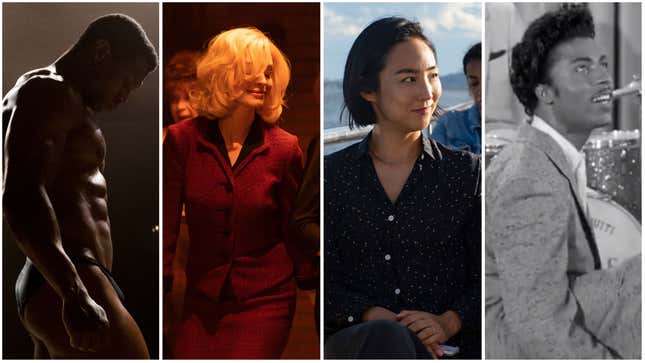 The back-and-better-than-ever Sundance Film Festival has featured almost too many indie stars to count in its opening days here in snowy Park City. Brooke Shields and Michael J. Fox were on hand to support their revealing documentaries, Pretty Baby: Brooke Shields and Still: A Michael J. Fox Movie. Fans crowded Gael García Bernal before his Roger Ross Williams film Cassandro, based on real-life luchador Saúl Armendáriz (who attended the premiere in gorgeous makeup and practically upstaged the star playing him). Emilia Jones and Nicholas Braun were among those promoting their buzzy adaptation Cat Person, and Oscar winners Anne Hathaway and Jennifer Connelly introduced Eileen and Bad Behaviour, respectively. And the cast and creators of Theater Camp, including Molly Gordon and Ben Platt, revealed an unforgettable surprise following their premiere: a live original musical number led by the ultra-talented child stars in their film.

Anne Hathaway and Jeremy Strong on their real-life inspirations for "Armageddon Time"
Jonathan Majors' Magazine Dreams debuted at the fest to strong reviews for his performance as a bodybuilder, but a wider conversation is also brewing. Jurors for Sundance's U.S. competition category walked out of Friday night's premiere following an apparent failed attempt to provide adequate accessibility for deaf audience members like juror Marlee Matlin, spurring other filmmakers to provide open captioning at their upcoming premieres. Read on for The A.V. Club's gut-reaction thoughts on Magazine Dreams and more Sundance premieres.
Little Richard: I Am Everything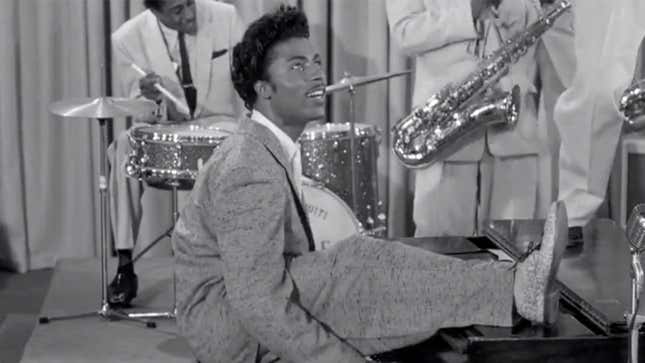 Director: Lisa Cortés

Much like the performer himself, Little Richard: I Am Everything is a spirited, often grandiose examination of a genre-defining rock superstar who lived a tumultuous, multi-faceted life. Making clever use of sound design, editing, and stand-in performers, Lisa Cortés crafts a reverent portrait of the outspoken pioneer, acknowledging and respecting Richard's frequent jumps between a rock-n-roll lifestyle and a zealous dedication towards religion and gospel. Beyond exploring the salacious ups and downs of his personal life, though, I Am Everything also dedicates much of its time to reclaiming the narrative of early rock-n-roll and highlighting the constant lack of recognition and appropriation by white artists that plagued Richard's professional career.
Featuring interviews from former wives, music legends, and queer icons, the documentary is just as much a testament to Richard's trailblazing attitude and persona as it is a chronicle of his life and career. Though at times the persistence of the astronomy-inspired metaphors and visual motifs feels a tad heavy-handed, I Am Everything is a much-needed and long overdue celebration and recognition of Little Richard's undeniably instrumental influence in not just the early days of rock, but the music industry as we know it. [Lauren Coates]
Magazine Dreams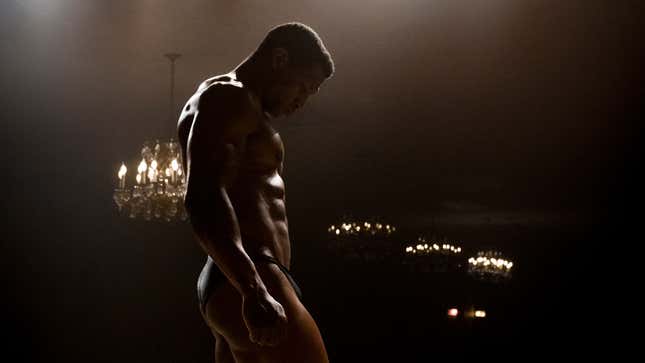 Director: Elijah Bynum

Cast: Jonathan Majors, Taylour Paige, Haley Bennett
"Do you see me now?" yells Killian Maddox (Jonathan Majors) at an intense moment late in the film Magazine Dreams. This is a portrait of a loner, someone who's almost always not seen. He's an obsessive bodybuilder who spends all of his time working to achieve his dream of winning competitions and perhaps appearing on the cover of a men's magazine. His days consist of eating and working out, and in between, he works as a cashier in a grocery store and takes care of his grandfather. He's taciturn, brusque, and unable to form any human connections. Most alarmingly, he's prone to violent rages because of the steroid injections he thinks will help achieve his goal.
Majors, using his elastic face to convey a multitude of emotions, gives the type of physically transformative performance that gets people talking about awards. Writer-director Elijah Bynum keeps the audience guessing; at every point you think you have this story figured out, it swerves. That also means it can feel unfocused, with too many themes and some that feel shoehorned in. For example, there's an eerie shot where Majors' face is pushed down on the asphalt by the police that so resembles real news footage—certainly blood-boiling, but an idea never further explored. Magazine Dreams is visceral and intense but ultimately feels like only a half-realized portrait. [Murtada Elfadl]
Past Lives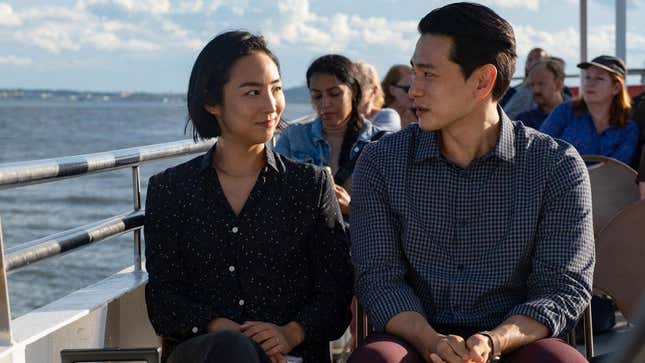 Director: Celine Song

Cast: Greta Lee, Teo Yoo, John Magaro
When two childhood friends reunite as adults in A24's Past Lives, there's a lingering shot of the two of them staring and smiling, as if drinking each other in. Are they seeing a ghost or meeting a new person? Or some melancholy thing in between? Writer-director Celine Song's camera drifts between them, in no rush to characterize or simplify this moment. You don't have to have emigrated from Korea to New York for such a scene to resonate; Song, in transposing her real-life immigrant experience onto the screen, has made a film (her first!) that speaks to anyone who's ever left home, caught up with an old lover, or contemplated the versions of themselves they've left behind in time or space.
Even as you don't know where this story will lead, there's a sense of the impossibility of these old friends having a romantic future, a refreshing certainty this story isn't going in the direction of some torrid affair. With a performance that proves she should have been trusted with leading roles long before now, Greta Lee plays Nora, who reconnects with her schoolyard sweetheart from back in Seoul, Hae Sung (a mesmerizing Teo Yoo) first over Skype and years later in person in New York, where she lives with husband Arthur (John Magaro, compelling as ever). Cohering wonderfully with her actors, who remain utterly present and alive throughout Past Lives, Song evokes the dreamy specificities of reckoning with bygone eras to spellbinding effect. [Jack Smart]
Eileen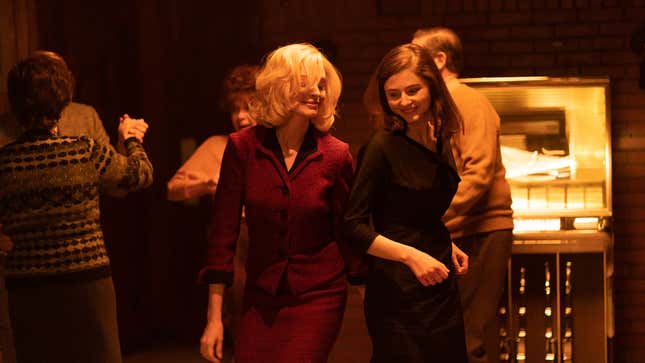 Director: William Oldroyd

Cast: Thomasin McKenzie, Anne Hathaway, Shea Whigham, Marin Ireland, Owen Teague
Eileen is a movie that will launch both endless debates and deep devotion. It's bound to divide people, as evidenced by the stunned silence of its audience at the end of its Sundance premiere. Based on Ottessa Moshfegh's acclaimed novel, the story starts quite conventionally. The eponymous character (Thomasin McKenzie), who works at a prison for adolescent boys in 1964 Massachusetts, becomes intrigued and consumed by a new counselor: Anne Hathaway, styled like Cate Blanchett in Carol, dripping with blonde perfection and glamour. No wonder Eileen looks at her like she's craving candy. But there's something sinister beyond this flawless surface.
Directed by Lady Macbeth helmer William Oldroyd and adapted by Moshfegh and Luke Goebel, Eileen is a stylish and wild ride that never lets up from its first frame to its shocking finale. Oldroyd keeps the tension alive, cinematographer Ari Wegner fills the frame with beauty and color, and McKenzie, Hathaway, and Marin Ireland (in a smaller role as the mother of one of Hathaway's patients) scorch the screen with psychologically complex performances. Expect to be enthralled. [Murtada Elfadl]