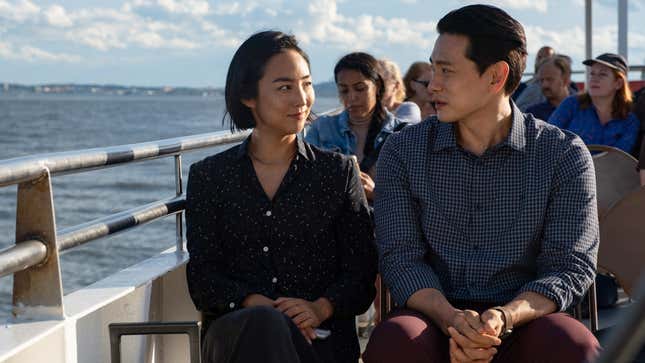 Following Past Lives' triumphant run at Sundance, A24 has shared the trailer for playwright Celine Song's filmmaking debut. Starring Greta Lee, the intimate drama follows Nora, a married New Yorker whose world gets shaken up when a friend from her childhood in Korea comes to visit. After reconnecting with Hae Sung (Teo Yoo) as an adult, she's forced to confront how her life could have been different if her family hadn't immigrated to the U.S.
"He was just this kid in my head for such a long time, I think I just missed him," Nora tells her husband Arthur (John Magaro).
Based on Song's real experiences, Past Lives follows Nora and Hae Sung's relationship from childhood to their early 20s and mid 30s. While the duo wonders if they could have ended up married if Nora hadn't moved away, don't expect Past Lives to be a dramatic love triangle.
"The very flat interpretation of the movie would be: which guy is she going to go with?" the writer/director describes in a press release. "The film is about real people. The boring version is about a war between these characters. But it's more complex as to why these two men love Nora. Both of them have to respect Nora for them to love her well."
In a review from Sundance, The A.V. Club writes that Lee delivers
"a performance that proves she should have been trusted with leading roles long before now" in the "spellbinding" film. The Russian Doll actor is also known for her scene-stealing appearances in projects including New Girl, High Maintenance, Miracle Workers, and The Morning Show. In June, Lee will be heard reprising her role from Spider-Man: Into The Spider-Verse in Spider-Man: Across The Spider-Verse.
Past Lives will be released later this year.