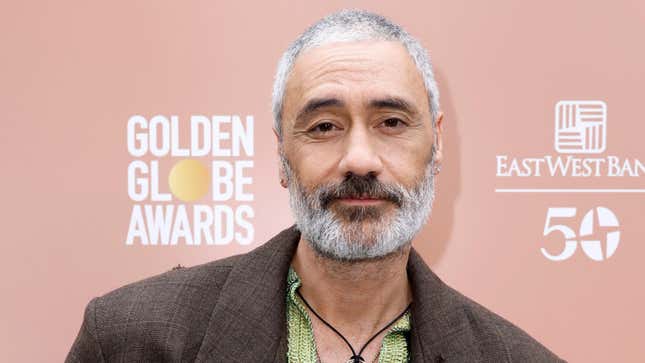 Of all the Star Wars projects that have been announced in the last few years, it seems a relatively small percentage has made it past the brainstorming stage. Now that a full slate of releases has been announced, the film side of the franchise might finally gain some momentum again. This doesn't seem to have incentivized potential Star Wars director Taika Waititi to move any faster, but hey, at least he's still in the mix.
Why Christian Bale would love to be friends with Burt Berendsen
"I've got a really good idea for it," Waititi tells The Hollywood Reporter of the Star Wars script he's been working on for three years now. "It's just as with all films, it's this middle part. You're like, 'What's going to happen?' And then you look at all of those films that are so great, you're like, 'Well, I guess they can't meet some smuggler with an alien sidekick.'"
A certain degree of secrecy is involved in all of these major franchise development situations, so let's give him the benefit of the doubt for not sharing any more details. Even so, it doesn't sound like he's much further along in the process than he was a year ago. "I'm trying to write the Star Wars idea at the moment," the filmmaker told the New York Times in June 2022. "I've got to see how that goes, because once I submit it, that might determine when it gets made or if it gets made, even."
One can extrapolate from his most recent comment that he still hasn't submitted anything, although that hasn't hurt his chances: "We're going to make that one day," Star Wars big boss Kathleen Kennedy declared in April of this year. When that day will come is anyone's guess. In fairness to Waititi, he's a busy man. Between executive producing several television projects, writing and directing Apple TV+'s Time Bandits, adapting Klara And The Sun (as is rumored), and promoting his latest feature Next Goal Wins, he probably doesn't have a ton of time to be tinkering with his Star Wars script.
And that doesn't even account for his latest ambition, which is following his wife Rita Ora around, as he explains to THR. "Just be her little tour toy boy and hang out with her and just watch her perform and get her a cup of tea backstage." Star Wars, you'll have to wait!