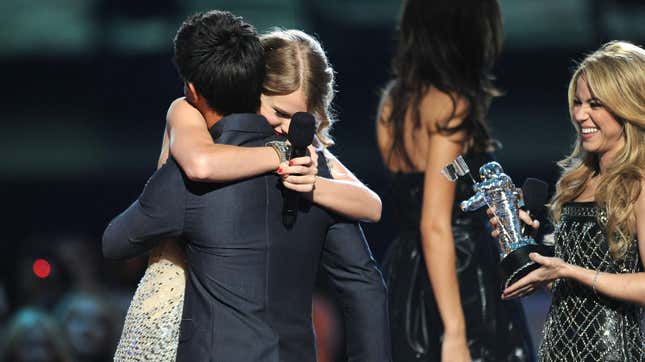 Within the Taylor Swift cinematic universe, there are two main categories of supporting players: her long list of ex-lovers and her (possibly longer?) list of enemies. Taylor Lautner belongs to the former category, but you may have forgotten he was actually a first-hand witness in the most significant event in the latter. Yes, Swift's ex-boyfriend was actually the one to present her with the prize at the infamous awards ceremony in which Kanye West jumped on the stage.
In a TikTok excerpt from their new podcast, Lautner was asked by his wife (also named Taylor, just to add some confusion to the tale) what moment in his life he'd return to if he could. He chose the 2009 VMAs, citing that he was "unaware" that the interruption was "not a skit."
"I presented the award to her, so I gave her the award. I took five steps back and was standing five feet behind her. And yeah, in the middle of her giving her thank you speech, Kanye jumps up onto the stage," he explained. "I can barely hear it. I can't see them. I'm just assuming this whole thing was a practiced and rehearsed skit, because why else would Kanye West be jumping on the stage interrupting Taylor Swift? It just didn't make sense."
"If you look back at it, I'm actually caught laughing and like, giggling at it. I'm like, 'I can't hear them, but this is probably really funny right now,'" Lautner admits. "He jumped off. She finished. The second she turned back around and I saw her face for the first time, I was like, 'Oh. No. …That wasn't good.'"
Lautner must be forgiven for not realizing his lady friend needed a knight in shining armor at that moment. After all, just last year saw another shocking awards show interruption that many audience members, both present and watching from home, didn't realize was unscripted until Chris Rock himself confirmed it. The times when celebrities veer from the pre-planned script tend to take on a surreal and almost mythological quality looking back at it.
G/O Media may get a commission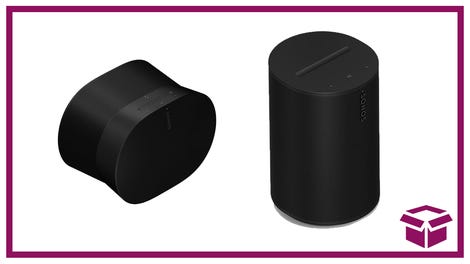 Sonos
Sonos Era 300 + Sonos Era 100
Such is true for the 2009 VMAs: it made an indelible mark on pop culture at large and on the careers of the two artists at the center of the scandal. Swift sweetly immortalized her relationship with Lautner ("Back To December") and the event itself ("Innocent") on her Speak Now album, but her later lyrical nods to Ye developed a bitter, even vengeful edge. Ye, meanwhile, kickstarted a villain arc that has since reached disturbing new heights. If Lautner could go back in time to that moment, one wonders how he might change things—and how different the pop culture landscape might be as a result.