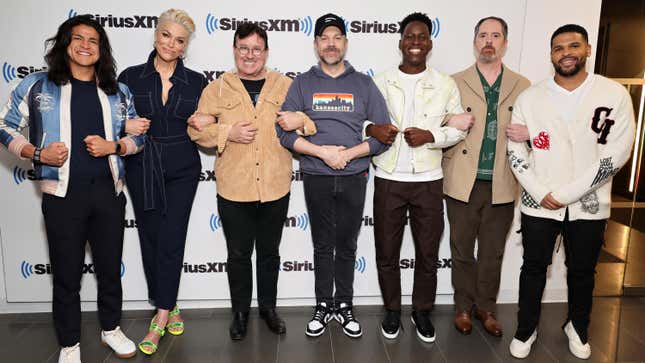 Ted Lasso is bringing his fish-out-of-water charm to another place he doesn't belong. He will at least be returning to his homeland, but instead of inspiring from the sidelines, this time he'll be inspiring from the Oval Office. That's right: Jason Sudeikis and the cast of the award-winning Apple TV+ series are meeting up with President Joe Biden to talk about mental health.

"Ted Lasso" gets into the (video) game
Sudeikis (a former Biden impersonator for Saturday Night Live) will be joined by castmates Hannah Waddingham, Brendan Hunt, Phil Dunster, Brett Goldstein, Jeremy Swift, Toheeb Jimoh, Kola Bokinni, Cristo Fernandez, Billy Harris, and James Lance for this very special field trip. In a statement about the event (per Variety), Apple said, "Ted Lasso has inspired the world through its universal themes around optimism, kindness, and determination and the Lasso philosophy to 'believe.'" To emphasize the message, Biden's official Twitter shared a photo of the show's "Believe" poster hanging above the door of the Oval Office.
The group will "discuss the importance of addressing your mental health to promote overall wellbeing" with the President and First Lady Jill Biden, a White House official informed the Associated Press. Mental health has been a prominent theme in Ted Lasso, particularly focusing on the titular character's panic attacks and his therapy journey with Dr. Sharon Fieldstone (Sarah Niles). The topic has also been a talking point for President Biden, who said in a statement in October (per NBC News), "Mental health affects all of us. We can and must do more to transform how we address mental health in America."
The Bidens have seen "some of" Ted Lasso, the White House official hilariously confirmed to the AP, and are familiar with its "message of positivity, hope, kindness, and empathy." The cast are just the latest guests in a long list of celeb visitors to the White House. Biden alone has hosted everyone from TikTok comedians (like Benny Drama's "Gen Z intern") to actor-activists (like Angelina Jolie) to mega popstars (like Olivia Rodrigo and BTS). Most recently, he hosted ex-One Direction member and The Voice judge Niall Horan as part of the White House's St. Patrick's Day celebration. Clearly, Ted & Co. are in good company.