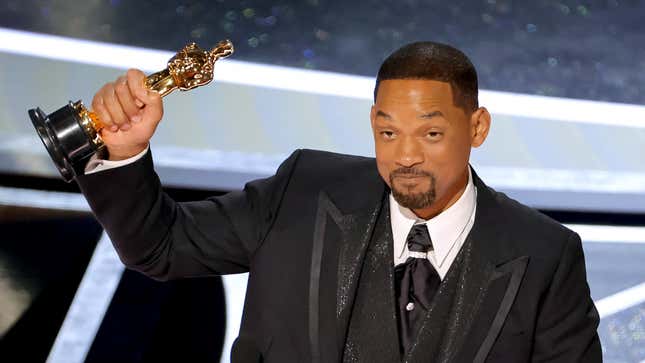 The Academy of Motion Picture Arts and Sciences' melodramatics surrounding Will Smith slapping Chris Rock at the 2022 Oscars continue, with president Janet Yang decreeing that Smith can finally get his status engraved for his King Richard win.
"He earned the Oscar," Yang tells The Hollywood Reporter on its Awards Chatter podcast. He certainly did, and is far from the worst person to ever receive an award from the Academy.
"I don't know if he should personally come. But yeah, we can arrange," she adds, as if Smith poses some continuous threat to society.
Usually, the winners attend the Governors Ball following the Oscars ceremony where they receive a nameplate for their award. However, following The Slap, Smith did not make it to the secondary location and has since been banned from Academy events for the next ten years.
Yang goes on to recount The Slap (meaning: when Smith got fed up with Chris Rock poking fun at his wife, Jada Pinkett Smith) from nearly a year ago. Since then, the incident has been a relentless talking point of the Academy and Jimmy Kimmel, who took plenty of opportunities to joke about the slap while hosting the 96th Oscars.
"Like everyone else, in the beginning when Will walks onto stage, we're like, 'Oh, this is a funny bit. He is going to pretend he slaps him, and then Chris is going to act stunned,'" Yang explains. "And then it was like, 'Ok, well that's over.' And then he goes back to his seat and then he starts shouting—that's when, of course, everyone said, 'Oh my God, this is real.'"
Oh my God, it was real. Over the last year, Smith has done plenty of apologizing and groveling to the fragile sensibilities of his fellow actors and the Academy, while still being revered as some deranged psycho for slapping another grown man. He won the award, just engrave it, and then we can all move on and stop acting like it's the most violent thing that's ever been displayed on American television.