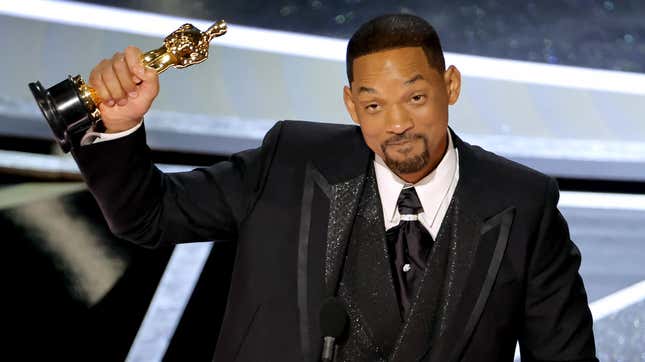 The Academy of Arts and Science is upping security measures to keep Will Smith's wife's name out of everyone's fucking mouth. In an interview with Time (via Variety), the Academy of Motion Picture Arts and Sciences CEO Bill Kramer announced a "whole crisis team" at this year's ceremony to protect attendees from the response to jokes about G.I. Jane.
Why Benedict Cumberbatch Plans To Take A Break
"We have a whole crisis team, something we've never had before, and many plans in place," Kramer said. "We've run many scenarios. So it is our hope that we will be prepared for anything that we may not anticipate right now but that we're planning for just in case it does happen."
Several weeks ago, Academy president Janet Yang said they weren't fast enough to stop Will Smith from slapping Chris Rock. Though one has to imagine even with a crisis team, Smith, who was being coronated as the Best Actor of the year, still would have walked on stage to "slap the shit" out of Chris Rock. However, that's not the point. The point is that the team has "run many scenarios," which allows them to put out a statement sooner. The slap "opened [their] minds to the many things that can happen at the Oscars," including on-stage assaults. Through the crisis team, the Academy can produce a statement much faster.

"This is the group that we have to gather very quickly," Kramer said. "This is how we all come together. This is the spokesperson. This will be the statement. And obviously depending on the specifics of the crisis, and let's hope something doesn't happen and we never have to use these, but we already have frameworks in place that we can modify."
Now that they know that attendees and audiences disapprove of random acts of violence caused by a stupid joke, they can act much more quickly. So next time someone gets slapped, the Oscars can be there, within a moment's notice, to denounce it.