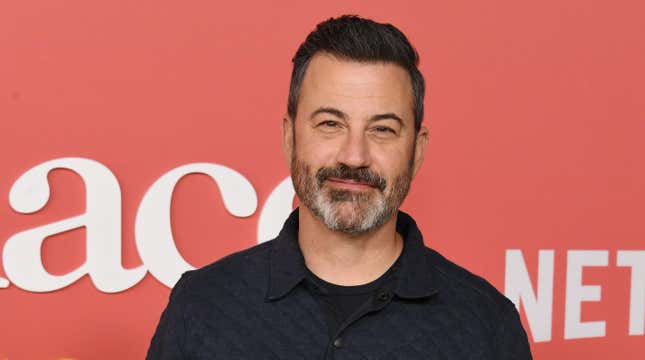 The Oscars are back this Sunday and literally anything could happen. While that may sound like a bit of nifty marketing hyperbole, it has proved undeniably true over the past year of wild award show moments like Beyoncé's Grammy lateness, upcoming Oscar host Jimmy Kimmel's little stiff as a board stunt during Quinta Brunson's Emmy speech, and of course, the Slap heard 'round the world. The likelihood of shenanigans is so high, in fact, that the Academy has assembled a whole crisis team to prevent any future mishaps, be they Will Smith-related or not.
One person who definitely seems to be rooting for a chill night is Jimmy Kimmel, who is presumably planning to remain vertical for the majority of the show. In a recent interview with The Hollywood Reporter, the three-time host bemoaned the fact that the last Craziest Oscar Moment—the Moonlight-La La Land mixup, which occurred during his first hosting gig in 2017—had been unseated.
"Yeah, we got knocked down the list. It's disappointing in a lot of ways," he said. "If you're gonna be part of a fuckup, it might as well be the biggest fuckup ever. Being part of the second-biggest fuckup doesn't carry as much cachet."
Presumably, that would imply that if there were to be yet another fuckup this Sunday, it would have to be the Craziest Of All Time—even bigger and better than the first slap. But don't worry, folks: Kimmel is a man with a plan. When asked what he would do if another Slap were to occur, he responded: "Well, I size them up, and, if I'm bigger than they are, I beat the shit out of them on television. And if it's the Rock, I run."
As for having to harp on the reason for his downfall in clout during the monologue? "Well, whatever I say about it, it's going to have to be great, right?" he said. "I obviously don't want to make the whole monologue about that, but it would be ridiculous not to mention it."
See, crisis team? Everything is under control.