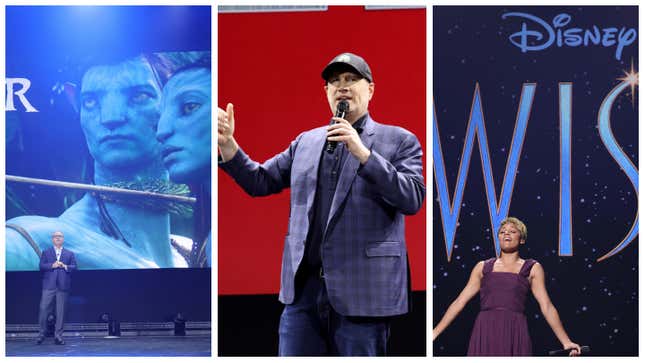 If you're anything like the myriad of people who looked at me baffled after I told them that I went to Disney's D23 Expo last weekend, you're probably wondering what the heck D23 is. Disney's fan club "D23" stands for Disney '23, referring to the year the animation studio started, and this year, the company that values its past more than any other, celebrated at its yearly fan event and product launch.
Being at D23 is akin to being at Comic-Con or the product launch for a tech event or television upfronts. Instead of pitching ad executives, investors, and theater groups to buy stocks and continue to put their faith in Disney, the corporation invites fans to be the center of attention. Across three days, the company trots out stars, executives, and cartoon characters to remind the fans who they make this for: Them.
This type of fan service is the least they can do. Disney doesn't report crowd sizes, but The Orange County Register reports that 65,000 people came out in 2013. The Anaheim Convention Center, in beautiful Anaheim, California, blocks away from Disneyland, holds about 7,500 (this doesn't count the thousands that didn't get a seat) in their biggest halls, which were packed to the rafters for Disney's biggest announcements, and no two attendees had the same Disney shirt.
So what did Disney have in store for these faithful, patient, and adoring fans? Well, let's get into it.
Best: Indiana Jones and Avatar can't come soon enough

After months of reports of how badly the visual effects artists are treated by Marvel and Disney, it's harder than ever to excuse the lack of care being placed on special effects. To find out that CGI looks janky because of Marvel's alleged toxic working conditions explains a lot, but shouldn't make anyone feel better.
Obviously, effects aren't everything, but aside from a few exceptions (Black Panther: Wakanda Forever and The Marvels), nothing in their presentation stood out. Ant-Man, Ironheart, Armor Wars, and Captain America: New World Order all either looked and/or felt like something we've seen before, using the same aesthetics that have turned the MCU into a pile of green and purple mush.

But some moments did break through the noise. Harrison Ford's heartfelt assertion that this was his last time in the fedora was chief among them. For those of us who grew up on prickly Ford comments about acting and his participation in these populist franchises, it was stunning to see him so emotional and whistful about the franchise. Also, it didn't hurt that the trailer really did look like a lot of fun. Nevertheless, the way Ford said, "I will not fall down for you again," really did sit weirdly with the audience. Harrison Ford is 80. We as a society have to find a better, less aggressive way of showing appreciation for our aging stars.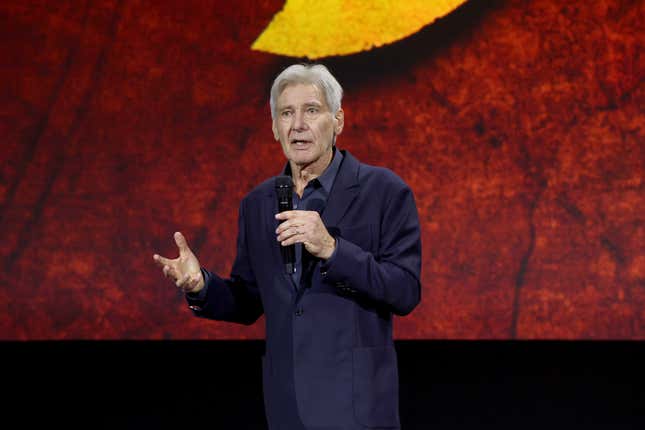 Avatar: The Way Of Water was something totally different. Sure, the character designs are the same as in the last movie, and maybe it's because it has been so long since a movie's visual effects actually wowed someone, but the energy in the audience when the Avatar footage was palpable. Coupled with its state-of-the-art 3D technology, the world Cameron is creating looks immersive and believable. It certainly won't convince haters, but for my money, it was the highlight of the weekend. The footage didn't just excite the audience for Avatar 2, but for Avatar 4, when Cameron's had another couple of years working with this technology.
Worst: Send The Little Mermaid to the bottom of the sea

By far the most disappointing footage of the weekend was The Little Mermaid: Murky, lifeless, and awkward footage of poor Halle Bailey, who has to endure some of the most repugnant, racist backlash to her casting so she could appear as Ariel in such a bland-looking remake. Disney really puts their actors on the frontlines of a hostile culture and then lets them down with these things, forcing them to withstand near-constant abuse for a lazy exercise in brand management.
After Pinnochio and, well, all of the other Disney remakes, we know not to get our hopes up. Considering the technical and logistical obstacles of this one, it would've been nice to see some effort put into lighting these digital spaces, so the audience can enjoy their time under the sea. To be fair, the effects don't look completely done, but compared to the Avatar footage from the weekend, it looks like we've got yet another forgettable remake on how hands.

But the worst part of the night was the sales pitch for Wish. "We've been talking a lot about our 100th anniversary," said Frozen director and Disney Studios CCO Jennifer Lee. " You might be wondering what our 2023 feature film could possibly be. A few years ago, my fellow directors and I started talking about our 100, our legacy, and we thought, what better way to celebrate expensive storytelling than to tell an original story with original characters and songs inspired by the legacy of films?"
Lee cut to a supercut of Disney characters wishing upon a star as "When You Wish Upon A Star" played over the soundtrack. What could it be? Are they adapting Kingdom Hearts?

"How to deal with these star upon which so many of our beloved characters wish come true?" she asked. They landed on an origin for the "wishing star," which is what happens when there is nothing more in the public domain for a studio such as Disney to plunder. We await the company's patent filings for the very idea of "wishing" coming soon.

To be fair, the movie looks interesting, boasting an original (imagine that) animation style that could pay off. It's just the very idea that seems so repugnant.

Most surprising: Peter Pan & Wendy and Yaddle make an appearance

Not all the remakes look like The Little Mermaid—though, the jury is out on Snow White until we see how creepy those dwarves look. At least one of Disney's upcoming reimaginings has some spark to it: David Lowery's Peter Pan & Wendy. Lowery is no stranger to the Disney remake game, having already made the most creatively successful version of these things with the gentle and lovely Pete's Dragon.
With Peter Pan & Wendy, Lowery looks to be bringing some of the grounded fantasy aesthetic that made The Green Knight such a powerhouse. During the presentation, Disney exec Sean Bailey played a brief sizzle reel of footage, most of which looked unlike anything else Disney was showing off. Lowery's shooting looks handheld and fish-eye heavy, giving this a life that all the fancy rear-screen projectors at ILM can't fake.
The cast—Jude Law, Ever Anderson, Alyssa Wapanatâhk, and our new Peter, Alexander Molony—did their best to sell the plot, promising a Wendy with "depth," an "expanded role" for Tiger Lily, and a deeper connection between Peter and Captain Hook. Though it remains to be seen how well this new revisionist takes stacks up against the numerous other stabs at the character in recent years. It'll have to stand above P.J. Hogan's wonderful Peter Pan from 2003 and the mostly forgotten Pan from 2015.
Unfortunately, while Peter Pan & Wendy looks the most compelling and interesting, it's also not going to theaters. Disney giveth and Disney taketh away.
What, no Star Wars?
Star Wars famously had its own product launch a few months ago, so most of the Star Wars announcements were either regurgitation announcements from May, showing new trailers, or reminding us that Andor premieres this month. The most exciting moment for this writer is that my "Glup Shitto" is returning in the animated Tales Of The Jedi. You heard it here: Yaddle and her weird head of Jerry Seinfeld hair are back, baby.