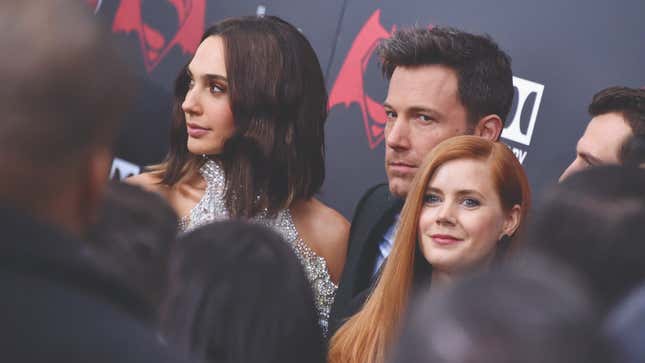 Ben Affleck emphatically does not work for DC anymore, so what does he care if he undermines a big reveal? The actor is returning one final time for The Flash movie, and apparently so is Gal Gadot as Wonder Woman. In fairness, this cameo was apparently already spoiled by a line of Funko Pop toys, but the appearance hadn't been confirmed by DC Studios. Now, during an interview on the Smartless podcast, Affleck went ahead and confirmed it himself.

Ezra Miller may still return to the DCU
Chatting on the pod, Affleck shares a scene in which he finally, truly connected with Bruce Wayne. "I don't wanna give a spoiler," he says before absolutely giving a spoiler, "but it was a scene where I get caught, I get saved by Wonder Woman during a conflagration with some bad guys. And she saves me by—I mean, I'm sure the spoiler, DC assassins are gonna get me, but […] she saves me with the Lasso of Truth. And so what happens is that Batman divulges some of his real feelings about his life and his work... I was like, 'Wait a minute, I got it!'"
Affleck is, in his own words, only in The Flash for about "five minutes." So it sounds like now we pretty much know what happens in those five minutes, and that Wonder Woman is with him. Sadly, he'll now have to spend his life on the lam to evade the DC spoiler assassins. This kind of leak would never happen under Marvel's watchful eye!
In any case, it sounds like Affleck's five minutes as Batman in this movie consists of his best Batman performance, as he previously suggested to The Hollywood Reporter. "I finally figured out how to play the guy… I was like, 'Hold on, am I– Is that– I quit, I know I quit, and I know came back, but I got it now,'" he says now on Smartless (via CBR). "It's like, you know when you do the audition, and you're on your way home, you're like, 'Ooh.'" We'll see how the Battle of the Batmans pans out when The Flash premieres on June 16.