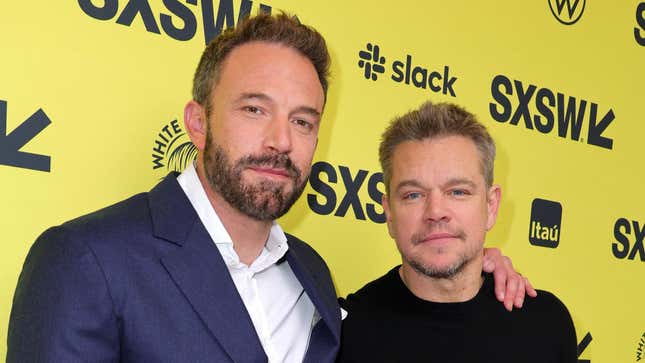 While we all love to check up on our favorite characters from time to time, some movies (many, many movies actually) simply do not need a sequel—especially films with (in this writer's opinion) a perfect plot and a perfect ending like Good Will Hunting. We all know the best part of Ben Affleck's character's day is the 10 seconds he thinks he'll never have to see Will again. Hasn't the guy been through enough already?

George Clooney: Johnny Depp and Mark Wahlberg "regret" passing on "Ocean's Eleven"
Luckily, the minds behind the movie are as smart as the character they created and shut that possibility down before it was even really a possibility. (How could you possibly do a Good Will Hunting movie without the late, great Robin Williams? Or Elliott Smith, for that matter?) On the red carpet for the collaborators' newest project, Air, Matt Damon revealed that Ben Affleck had received a "serious" pitch for a "flat-out sequel" to Good Will Hunting as recently as the past few days.
"I shit you not, that happened," Damon said through laughter. "He told me today. It's top of my mind because he's like, 'you're not gonna believe what I heard."
Affleck was, of course, immediately questioned about the absurd proposition and revealed that A) we really weren't supposed to know about that in the first place (oops!) and B) it's absolutely not going to happen.
"Matt is always telling stories that he should not be telling. [The sequel] is not one we're going to pursue," Affleck said before attempting to give a summary of the pitch that he couldn't even finish.
While we may never know the details of this person's fan-fiction version of Will and Skylar cavorting around California, Damon assured his interviewer that there would be more ridiculous pitches coming soon. (And with his track record, we'll likely hear about almost all of them.) "Now that we have a studio, ask me next year," he said. "I'm gonna have even better ones for you!"