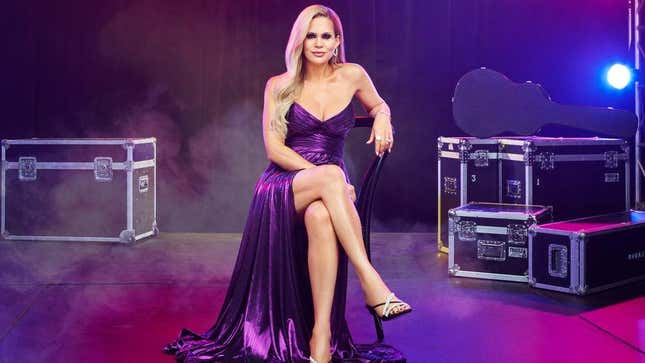 "It is so refreshing to see these bitches get the sticks out of their asses and have some fun!" Dolores Catania proclaims during this week's episode of The Real Housewives Of New Jersey. And she's right—watching "the pride of New Jersey" Jackie Goldschneider take down a bunch of Dublin natives in a Guinness-chugging contest ("She's like a college girl that just opens her mouth, if you know what I mean," Melissa Gorga quips) and a tipsy Jennifer Fessler eat it on the Irish cobblestones before the ladies even get to their second pub of the night is refreshing. In between all of the cattiness and cruelties, it's easy to forget that, every once in a while, these women are actually friends.
But the good vibes of Teresa Giudice's bachelorette weekend don't last long. By the next morning, the jolly drunkenness of the night before has been quickly replaced with recycled drama. Over breakfast, Rachel Fuda declares that she was actually having a good time with feuding frenemy Danielle Cabral during the trip, only to be told by Melissa that Danielle had dubbed her "a rat" for gossiping with Margaret Josephs. "There's a lot that you can call us that we don't get offended by in New Jersey. You can call us a c*nt,' you can call us a 'motherfucker,' but 'rat' is probably the number one thing you don't want to call someone," Dolores explains. Rachel's response? "I am so caught off guard. Instead of being a woman and sitting me down and asking me to have a conversation, like, 'Let me just go down to anyone that will listen and run my mouth.' That's rat behavior!"

When Danielle joins the women at the breakfast table and inquires about the ingredients in blood sausage (girl, it's better if you don't know), Rachel confronts her: "I heard it's rat blood." And the same fight that we've been listening to for weeks starts up yet again between the RHONJ newcomers, with Marge popping in every so often with a "I think you're a professional fucking shit talker!" jab at Danielle.

St. Dolores, the voice of reason, sums up all of our feelings: "The same thing has been said about 50 times and we've ruined yet another Irish meal." She mercifully cuts the screaming match short by announcing their plans for the day: shopping.

But even the promise of retail therapy can't distract these housewives from drama. During their drive to the Powerscourt Townhouse Centre, the women chat about light topics, like, you know, infidelity, divorce, and incarceration. (Where's the saucy Gandolfini talk from last week?) Jenn Fessler and her husband had previously split due to infidelity during their "seven-year itch" ("He scratched the itch," she revealed), but thankfully rekindled their romance: "I don't know if it hadn't happened would we be where we are now." The conversation then segued to Teresa's divorce from Joe Giudice amid their legal troubles and family loss. "We're very good now, though. I love Joe," she says. "You do it for the children."
Mention of "the children," though, is what resurrects Teresa and Melissa's already-beaten-dead in-laws drama. Rachel asks if the Giudice-Gorga kids are close, and Teresa brings up that Melissa's daughter Antonia skipped Milania Giudice's sweet 16 party. (She had a cheerleading competition in Pennsylvania, FYI.) "What do you want to prove that you'll go so low to even say your niece is doing something wrong now?" Melissa questions. The rest of the women agree: ""We're not helping the family situation by bringing the kids into it," Marge announces.

"It would help if I was in your wedding and you showed an example of what closeness is, so you're not helping the situation," Melissa snaps at her sister-in-law. "If I felt the love, I would've gave it right back to you," Teresa responds. And, again, Dolores with the clearsightedness: "One of the points for this trip was to get away from everything...including the fighting." Wherever you go, you take yourself with you, after all, and for this group that means that all of the green fields and Guinness pints in the entire Emerald Isle can't calm their spite.

Back at the castle, Melissa is officially drained from the two-decade drama and calls her husband. "I'm not playing the game, I'm not pulling in the next generation...to me, as a mom, all-time low," she explains of bringing the children into their feud. "At this point, I just feel so far-gone from her, Joe...it ran through my body, like, I'm not sure we belong at the wedding," she tells him. Foreshadowing, much?

And if you thought we were done with worn-out arguments this episode, over a traditional Irish dinner of, uh, Korean fried chicken and Vietnamese banh mi (Fessler: "Bahami? Bah-mi?"), Danielle and Rachel are back at it. When Danielle offers up her bathroom back at the castle for Rachel's use, Rach isn't taking the olive branch: "I appreciate that but after you called me a rat, I don't think we need to be sharing a bathroom." And off we go again. Check please!

Stray observations
If you're going to do performative cattiness, at least do it like Marge, who showed up to breakfast in an "ENDORSED" shirt. "I can't pass up an opportunity to stick it to Jennifer. The truth is I am endorsed, so I'm just being a bitch!"
Melissa Gorga not only thinks that Dublin is known as "Goblin City," but is also the hometown of Batman, all of which is hilariously relayed to Marge in a bad British accent. "First of all, Batman is from Gotham City, which is New York. Goblins aren't even from Ireland, we have leprechauns," Marge says. "The one thing that her and Teresa have in common—not the sharpest tools in the shed."
The women have very artful descriptions of their pre-enhancement breasts. "I had tubular boobs…it looked like an eyeball popping out of the socket," Danielle shared, while Fessler dubbed her "traumatic" pair as "tube socks with golf balls." Vivid.