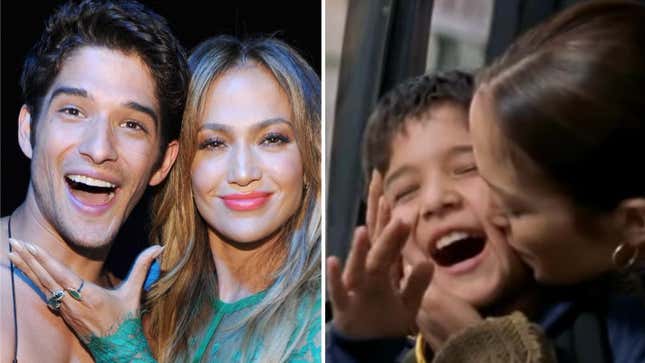 Being an actor means transforming into anything, be that a man into a beast or a childless woman into a mother. Tyler Posey is an authority on both subjects, having been both a famous fictional werewolf and a beloved romantic comedy child star. In a recent interview with The A.V. Club, he tells us about his time on the Maid In Manhattan set helping Jennifer Lopez prepare for her eventual foray into motherhood.
Even at ten years old, Posey says he was "so impressed by Jennifer" and the rest of the cast. "I just remember everything feeling so big. But also at the same time, not being nervous, and feeling so good, and confident. And I think it was because Jennifer made me feel that way," he recalls. "She was such a mom figure to me at the time. She didn't have any kids, so I think she was kind of experimenting with the role of being a mother, and she killed it. She did so good. She was so good, and all of them were so professional, and yeah, it was great. It was such a fun experience."
His biggest lesson as a child star was to treat everyone—on and off set—with equal respect no matter what their role, something he figured out from other adult actors demonstrating what not to do. But not J.Lo: "Working with Jennifer, I was like, 'Oh, you can be at a really high, respected level and still be a great person to everybody,'" he shares. "That's the most important lesson I've learned."
Other favorite memories of Posey's from the Maid In Manhattan set include the dog, Rufus ("He was so sweet! I miss that little guy") and another human co-star: "Stanley Tucci. Going into it, I knew Stanley Tucci was just this legend. All of them were legends, but my dad just kept talking about Stanley Tucci, so I had this—he was just this god figure to me," he remembers. "So getting to work with him, and him being so funny and sweet to me was just like, one of the greatest things in the world. I love Stanley Tucci so much, he's such a class act."
Now that he's an adult, Posey is primed to become a romantic comedy in his own right (something The A.V. Club fully endorses, as we named him one of our choices for the next great rom-com star). "I want to do more rom-coms. I would love that. I want to express my comedic side," he says, adding that he'd be happy to star alongside anyone of any gender. "I wanna do multiple!" Make it happen, Hollywood!