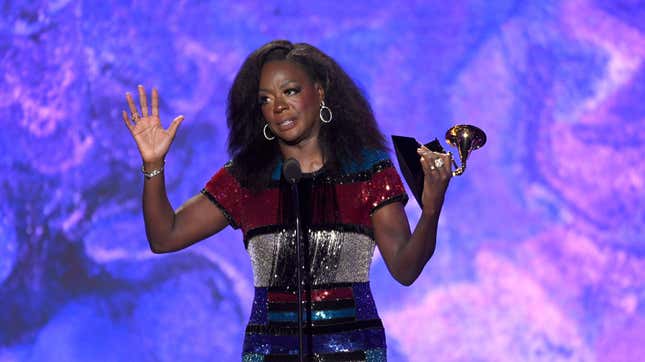 Ahead of tonight's Grammys, Viola Davis has already been named the winner of the award for Best Audiobook, Narration, And Storytelling Recording for the audio version of her memoir, Finding Me, which means she has officially achieved EGOT status. Davis is the 18th person to earn this honor, which was popularized by Tracy Morgan's character on 30 Rock, and the third to pull it off in the last four years—Jennifer Hudson won it last year and legendary composer Alan Menken won it in 2020. Other EGOT holders include John Legend, Whoopi Goldberg, Mel Brooks, Audrey Hepburn, and Rita Moreno.
Davis has two Tonys, one for King Hedly II and one for the revival of Fences, she got her Emmy for How To Get Away With Murder, and she got her Oscar for the film adaptation of Fences in 2016. Variety also notes that she was the first Black actor to have won acting's "Triple Crown," getting an Oscar, an Emmy, and a Tony (if you wanted to check the math on that, Hudson earned her EGOT before Davis did, but Davis won most of the individual awards before Hudson, and Godlberg's Emmy is not for acting).
Davis' next project, post-EGOT win, will be starring in a Peacemaker spin-off about Amanda Waller, which is pretty funny (and shows her range!). Imagine any other EGOT winner immediately moving on to a show about being Harley Quinn's boss. Actually… all living EGOT winners should be involved in the Suicide Squad to some extent, since that would be one way for Warner to set its DC Comics adaptations apart from what Marvel is doing across the aisle (is there even a single EGOT winner in the MCU?).
The rest of the 2023 Grammy Awards will be handed out gradually over the course of the rest of the day.