Thanks, in part, to Germany living up to its stereotype as Europe's kinkiest commonwealth, Fifty Shades Freed defied the critics by pushing its franchise total over the $1 billion mark this weekend. It also topped (pun, as always, intended) the U.S. box office, easily beating the week's other wide releases with $38.8 million. International markets—led, presumably on a leash, by Germany—added another $98.1 million to Freed's haul, bringing its opening-weekend total to $136.9 million worldwide.
Numbers like that usually lead to more movies, but Fifty Shades creator EL James has given producers a unique challenge in the form of a "sequel series" that's the same damn story told from a different perspective. On the other hand, the instantly infamous "chicken scene" from Darker: Fifty Shades Darker As Told By Christian has yet to be committed to celluloid, so we're sure they'll figure something out. Making the prospect of more Shades even likelier is the film's heavily female (75 percent) and majority under 30 (55 percent) audience, a once-dismissed demographic group whose power at the box office continues to grow.
Coming in on Fifty Shades Freed's well-shod heels, despite the humorless protestations of the "food allergies are serious business" lobby Peter Rabbit managed to outperform box-office prognosticator's expectations with a $25 million opening weekend, boosting it to No. 2 at the U.S. box office. Coming in with a thud at No. 3, meanwhile, was The 15:17 To Paris, which made half of Peter Rabbit's haul at $12.5 million and whose audience was, perhaps not surprisingly, 86 percent over the age of 25.
In terms of holdovers, Hugh Jackman's splashy-but-stupid The Greatest Showman is proving to have unexpectedly long legs at No. 5 in its eighth week. But it still can't compete with the sheer cinematic strength of Jumanji: Welcome To The Jungle, a movie to which we barely gave a second thought until it came in at No. 1 at the domestic box office for most of January and February. With an estimated $365 million domestic total to date, that makes it a bona fide box-office juggernaut, boosting Dwayne "The Rock" Johnson's confidence to dangerously elevated levels. Winchester, meanwhile, fell from No. 3 to No. 7 in its second week, causing a veiled Helen Mirren to weep softly, vowing whispered revenge as she clutches her Oscar in a darkened room. That's how we picture it, anyway.
For more detailed numbers, visit Box Office Mojo.
G/O Media may get a commission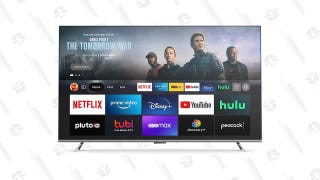 Save 46%
Fire TV 55" Omni Series 4K UHD Smart TV