1. "Lullaby Of Broadway," from Gold Diggers Of 1935, 1935
The introduction of sound to movies sent Hollywood on a musical binge in the early '30s, as studios cranked out scads of variety revues with sketchy plots and a cavalcade of new and old popular songs—many of them about making it big in New York. Busby Berkley's Gold Diggers Of 1935 came toward the end of the revue cycle, and it climaxes with one of the era's best salutes to the life of the stage, "Lullaby Of Broadway," written by Harry Warren and Al Dubin, and sung by Wini Shaw, who extols the virtues of staying up all night and sleeping all day, lulled by "the rumble of the subway train" and "the rattle of the taxi." Even now, "Lullaby Of Broadway"'s swinging tune—complete with scat lyrics about "the hidee-hi and boopa-doo"—calls to people who want to be where the action is.
2. "The Way You Look Tonight," Swing Time, 1936
It's hard to beat Swing Time for Fred Astaire/Ginger Rogers charm, between "The Way You Look Tonight" and the film's equally memorable but non-Oscar-nominated "A Fine Romance." But where the latter is wry and funny, the former is an unabashed, full-hearted love song, delivered to a subject who isn't even in the room. "That smile that wrinkles your nose / touches my foolish heart," Astaire sings while Rogers is off washing her hair; it's like he's reminding himself what love means, and keeping himself company by invoking her presence in her absence. It's the gentlest sort of '30s seduction: one that comes with grace, authentic feeling, and no demands, just a winsome declaration of adoration. It's also a really catchy tune.
3. "Thanks For The Memory," from The Big Broadcast Of 1938, 1938
The popular perception is that "Thanks For The Memory" is a happy tune, sung by Bob Hope at the end of every public appearance, with the lyric changed to suit the occasion. But in its original context in the middling seafaring musical The Big Broadcast Of 1938, it's a poignant showstopper, sung by Hope and his ex-wife Shirley Ross, as they recall awful vacations, bitter arguments, and the "lingerie with lace" that kept them together for so long. Ralph Rainger's music seems infinitely adaptable, but Leo Robin's original lyric describes the practical struggles and casual sensuality of young marrieds in frank, touching terms that wouldn't make sense at a USO show.
G/O Media may get a commission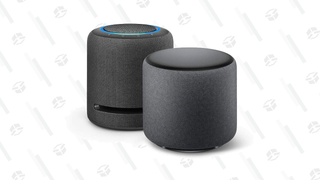 25% off - Prime Exclusive
Echo Studio + Echo Sub Bundle
4. "Over The Rainbow," The Wizard Of Oz, 1939
It's been overused, overplayed, and oversung during the past 65 years, thanks to its iconic status. So it can be hard to really hear "Over The Rainbow," instead of just tuning it out as "that song again." Especially since it's so slow and moany compared to Wizard Of Oz's other, perkier songs. (Film historians often say it was almost cut from the movie because of its lugubriousness, even though it was written specifically to showcase Judy Garland's voice and her presence in the film.) But it's worth the effort. On paper, the lyrics are pretty treacley, with their references to happy little bluebirds and troubles melting like lemon drops. But Garland infuses her performance with all the frustration of a girl longing for something she knows is impossible: escape from a dreary life, beauty in an ugly world, and an ease she knows she'll never have as a poor farm girl. Under the circumstances, the silly fantasy language just heightens the irony: She knows her dreams are childish and silly. But that doesn't stop her from dreaming them.
5. "When You Wish Upon A Star," Pinocchio, 1940
Walt Disney Studios has pulled off an impressive roster of genuinely good Best Song winners: the chipper "Zip-A-Dee-Doo-Dah" from the otherwise questionable Song Of The South, "Chim Chim Cher-ee" from Mary Poppins, "Under the Sea" from The Little Mermaid, "Beauty And The Beast" from… well, take a guess. But the grandfather of classic Disney songs is Jiminy Cricket's sweet little crooner "When You Wish Upon A Star." It's Disney at its best: simple and sentimental without being cloying, and emotionally effective without being manipulative. Now if only the Disney Studios of today could remember how it earned its reputation, and go back to those basics…
6. "Buttons And Bows," from The Paleface, 1948
Bob Hope returns, playing a cowardly dentist on the run through the Old West alongside Jane Russell's Calamity Jane. Hope expresses his disdain for the rustic life in Jay Livingston and Ray Evans' "Buttons And Bows," an infectious toe-tapper which has Hope crooning, "My bones denounce the buckboard bounce and the cactus hurts my toes." The year the movie was released, Dinah Shore cut a distaff version that became the standard, but for Frasier fans, the essential version of "Buttons And Bows" remains the one Dr. Crane destroyed on a PBS telethon, improvising the words, "let's all go to a taco show" and "a danda hop and pantyhose."
7. "The Ballad Of High Noon (Do Not Forsake Me, Oh My Darlin')," from High Noon, 1952
A great movie song should be catchy in its own right and suit the story, and while Dimitri Tiomkin and Ned Washington's "Do Not Forsake Me"—sung by Tex Ritter, and woven throughout High Noon—is directed at a wavering bride, the words apply to all the townsfolk who refuse to stand by Gary Cooper as he prepares to face his death. The song has an air of mythology, but it's also as plainspoken as a Western lawman.
8. "Three Coins In The Fountain," from Three Coins In The Fountain, 1954
The movie Three Coins In The Fountain is overly serious romantic piffle, but Sammy Cahn and Jule Styne's kitschy title song is fleet and likeably dopey, full of gushing lines like "Just one wish will be granted / One heart will wear a valentine." When the music swells and Frank Sinatra sings "Make it mine! Make it mine! Make it mine!", everything the movie means to say about giddy hope is wrapped up and done. No need to watch any more.
[pagebreak]
9. "Moon River," from Breakfast At Tiffany's, 1961
A great song usually doesn't need any vocal acrobatics to make its point. Case in point: this Johnny Mercer/Henry Mancini-penned number written for Audrey Hepburn, a non-singer with considerable vocal limitations. Better singers from Andy Williams to Morrissey have covered it, but the yearning, romantic spirit belongs to the song, not the singer. (Even if nobody has ever figured out what a "huckleberry friend" is.)
10. "Theme From Shaft," from Shaft, 1971
It's rare that a song puts its stamp on an entire decade, but what would the '70s have sounded like without Isaac Hayes' Shaft theme? From the snap of the hi-hat to the funky wah-wah guitar line, the much-imitated song was reworked and rehashed in film and TV scores for years to follow. And yet nothing quite touches the original, which still oozes tough-guy cool. Amazingly (or, sadly, not) Hayes' 1972 win made him the first African-American to win an Oscar outside of an acting category.
11. "I'm Easy," from Nashville, 1975
Robert Altman famously had his Nashville cast members write their own songs for their characters, and while some emerged with parodies of country music's populist simplicity, others produced music as good as anything the real Nashville hit factory churned out in 1975. The movie's best song is Ronee Blakely's aching "Dues," but it's almost matched by the song that won Nashville's only Oscar, "I'm Easy," written and performed by Keith Carradine. The "I'm Easy" scene is also a high point in the film, illuminating the ruthlessness of Carradine's lothario songwriter, who has convinced at least three women that he wrote the song for them.
12. "Last Dance," from Thank God It's Friday, 1978
The "disco musical" Thank God It's Friday is better than people remember—casual observers often confuse it with Can't Stop The Music, which really did suck. And "Last Dance," written by Paul Jabara and sung by Donna Summer, is one of the key reasons T.G.I.F. transcends its '70s-typical "a bunch of people hang out" anti-premise. Late in the film, a mousy Summer steps up to the microphone to belt out "her song," and the club goes wild, validating the anyone-can-be-a-star dreams of a million pop fans, and connecting the much-maligned disco movement to a venerable show-business tradition stretching back to, yes, Gold Diggers Of 1935.
13. "Sooner Or Later (I Always Get My Man)," from Dick Tracy, 1990
Stephen Sondheim's gifts for pop pastiche and sophisticated wordplay are so refined that it's surprising he hasn't been tapped more as a movie composer. For Warren Beatty's comic-strip-scaled Dick Tracy, Sondheim provides a seductive vamper for femme fatale Madonna that's so on-point it could pass for an honest-to-goodness '40s standard. But he also infuses "Sooner Or Later" with his typical love of language, letting the words in the line "sooner is better than later, but lover I'll hover" play off each other like instruments in an orchestra. It's a measure of the song's excellence that it was later retooled for the Sondheim revue Putting It Together, where it stands between—and up to—the classics "Pretty Women" and "Bang!"
14. "Streets Of Philadelphia," from Philadelphia, 1993
A fair case could be made that Neil Young's "Philadelphia" is the better Oscar-nominated song from the Philadelphia soundtrack, but that doesn't detract from the excellence of Bruce Springsteen's "Streets Of Philadelphia," which marries a haunting lyric about corporeal decay to a surprisingly effective pseudo-trip-hop track. At the time, Springsteen was in a relatively fallow period creatively, and trying out different genres in his home studio in order to revive himself. Reportedly, he recorded a whole album in the "Streets Of Philadelphia" style, but he must have shelved it when he realized that the song alone made a stronger statement. When he moans, "My clothes don't fit me no more," he justifies his skeletal sound and encapsulates the ravages of AIDS.
15. "Things Have Changed," from Wonder Boys, 2000
Since 1997's Time Out Of Mind, Bob Dylan has become a master of saying less by saying more. This track fits right beside that autumnal album both musically and lyrically. "Lot of water under the bridge," Dylan sings before doling out the deadpan punchline: "Lot of other stuff too." It's all in the delivery, folks.
16. "It's Hard Out Here For A Pimp" from Hustle & Flow, 2005
Hustle & Flow positively dared audiences to leave the theater not humming "It's Hard Out Here For A Pimp," the insanely infectious personal theme song of soulful pimp-turned-rapper Terrence Howard. In another context, Three 6 Mafia's sensitive exploration of a pimp's existential angst might reek of self-parody, but its use in Craig Brewer's atmospheric inspirational drama marked the perfect alchemy of song and film, subject and sound. Not even the overwhelmingly white, stodgy Academy could resist the song's visceral charm, leading to one of the most delightfully unexpected Oscar upsets of all time.