Every year offers music both good and bad, but some years have a special pull. In My Favorite Music Year, A.V. Club music writers choose the years that speak to them most deeply, however fresh in memory or far in the past.
Look at pop music through the lens of the Billboard charts and 1981 was—I believe this is the scientific term—in the pits. The bestselling album of the year was the breathtakingly redundant Hi Infidelity by REO Speedwagon. The fallout from the Urban Cowboy phenomenon of the year before was that easy-listening country became the biggest music in America. Juice Newton was a huge star. "Believe It Or Not," the theme from The Greatest American Hero, was a No. 1 jam, as were Eddie Rabbitt's inane "I Love A Rainy Night" and Stars On 45's "Stars On 45 Medley," a suffocating medley of (mostly) Beatles songs that sired rip-offs along the lines of the Royal Philharmonic Orchestra's Hooked On Classics. Air Supply was living up to its name; there seemed to be times when it supplied every song the radio aired, when it wasn't running Diana Ross and Lionel Richie's simpering "Endless Love" and the string power ballads and hack-rock (music for coughing up loogies) from Loverboy, Billy Squier, and Styx into the ground. There were bright spots (the Go-Go's, Hall And Oates, the Pointer Sisters, one-shot classics from Rick Springfield and Kim Carnes), but not many. And rock culture generally seemed to be shell-shocked from the murder of John Lennon the previous December.
Yet looked at from any number of other lenses, 1981 was, and remains, a never-ending feast. Frankly, that's unusual. Good pop years tend to be defined in part by how well both the mainstream (whatever your definition is) and underground (ditto) are doing (1984 being a prime example). When both seem to be jumping, that's a great year. One doing well and not the other tends to flatten things out. But 1981 was so teeming with energy from the post-punk and post-disco quarters alike that the mainstream's total bland-out grows more irrelevant with time, and the underground's growth and confidence become more important in retrospect.
I'm talking about singles because 1981 is understood best through them. For one thing, their social function had begun to change. Over the previous few years, the meaning of the 7-inch single underwent a shift. Before punk, it had meant you wanted a hit; afterward, it didn't, necessarily. Punk freed more people to use pop music purely for expression. During the same span, in a different world, the 12-inch single was becoming the canvas of choice for disco, R&B, funk, and early rap artists who wanted to get over in the clubs. The merging of those two aesthetics had been ongoing since the aftermath of punk, but 1981 was a peak for the idea that all kinds of music are welcome on the right dance floor.
Hip-hop grew its legs this year. Sugar Hill issued a handful of stone classics, including several collected in one of my Top 5 below. New-wavers tipped their hats to funk and rap, from the Clash's "Magnificent Seven" (a black-radio hit on New York's WBLS) and Tom Tom Club's "Genius Of Love" (which made its way onto several rap records) all the way to Blondie's chart-topping "Rapture," featuring Debbie Harry trying on a charmingly clunky South Bronx flow. And in the aftermath of the music biz's disco putsch of 1980, R&B went back to basics.
G/O Media may get a commission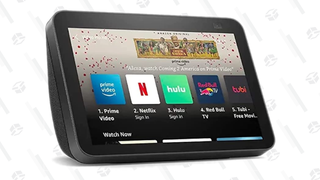 One-time disco labels like West End were slowing things down, most gloriously on Taana Gardner's "Heartbeat," which features one of the most widely sampled basslines ever. The extended remix by Larry Levan is a prime example of how the 12-inch came into its own in 1981. Remixers like Levan understood the giant single as a canvas to conjure drama with.
Increasingly, rock fans were hearing things that way as well. Art students danced to Kraftwerk's "Numbers/Computer World," Depeche Mode's "New Life," and New Order's "Everything's Gone Green." The Specials' mournful "Ghost Town" provided the soundtrack of England's summer of 1981. Even Yoko Ono—a prime influence on new- and no-wavers from the B-52's to Lydia Lunch—released an essential 12-inch with "Walking On Thin Ice," whose nervous pulse has never been surpassed as an evocation of walking the Manhattan streets, and which was the final recording John Lennon played on before his murder.
Looking back, that almost feels like a benediction of sorts. Lennon liked pushing forward, and the music that made 1981 great did just that. Not all of those records necessarily drew their energy from the ferment that came in the wake of punk and the ousting of disco from the public record, of course. History can put a patina on elements that didn't have all that much to do with one another in their time—except that so much of what has been documented about this period, particularly in New York, is about the crossover between audiences. People felt free to try new things. Punk hadn't taken over much of anything in the U.S., unlike the U.K., and while it created a new schism between what had been largely similar American and British charts, it also meant a wide-open acceptance of all kinds of approaches.
It isn't a stretch to say 1981 is when American indie rock begins. Black Flag's Damaged, which MCA turned down and the band released itself on SST, sounded the call for American hardcore—with the anarchic "Louie Louie" 7-inch right beside it. R.E.M.'s "Radio Free Europe"/"Sitting Still" 7-inch on Hib-Tone did the same for a gentler version of American indie rock. Between them, Black Flag and R.E.M. remade American rock by mapping out alternate routes for bands that wanted to make their own way around.
That was true in black music, too, which began stripping down and getting direct after the disco backlash. Funk historian Rickey Vincent calls this the "naked funk" era, and this is the stuff I feel most intimately connected with from the time. (I was 6; a close uncle was a disco DJ.) The sound emphasized small units and synths over horns—as with Prince—or, in Rick James' case, gave them equal prominence. Even the plush "Never Too Much," Luther Vandross' career-making hit, is spare at heart. But Prince's Controversy and Rick James' Street Songs were like twin dispatches from R&B's front lines—or, really, rival dispatches, since Buffalo-bred tough guy James detested the fey Minneapolitan. They were blunter about sex than at any point in the music's history, not even pretending to hide behind innuendo.
It was an edgy time: Unemployment was skyrocketing, the economy was in the tank, and the troubles hit the black community especially hard—and you can still hear it in the music. This was also true of R&B's position vis-à-vis the pop charts. There were fewer black Top 10 hits than at any time in decades in 1981; when the music crossed over to whites, it was usually via the clubs.
That knowledge, of course, is part of why 1981 glows so brightly now. So is another significant event that took place that year: the birth of MTV, which occurred at 12:01 a.m. on August 1. The repercussions of an all-music-video cable channel wouldn't take long to be felt. In a sense, 1981 was the final year pre-MTV. But one of the things I find fascinating is the way that a lot of things that would re-energize pop during MTV's mid-'80s reign were already beginning to mingle in 1981.
What would MTV's imperial period have been if not for the easy commingling of R&B and rock? Prince couldn't have made his move without reaching out to the new-wave crowd, and the British pop charts were revitalized in part by groups who wanted to emulate American R&B rhythms, from the Human League's "Don't You Want Me" to Soft Cell's "Tainted Love." They'd take their aim at America in 1982, more or less, but the groundwork was laid in '81.
[pagebreak]
My Top 5 albums for the year don't quite fit into this story, but they do nevertheless occupy a central place in the year's mythology for me.
1. Elvis Costello & The Attractions, Trust 
Costello has acknowledged that he was at the end of his tether in terms of drinking and drugs during the making of this album. But the performances by The Attractions are at once expertly controlled and same-room sweaty, and Costello sings like he means it even when the words are complete nonsense, which is often. (Start with "Fish 'N' Chip Paper" for proof.) It might be his most durably re-playable album.
2. Penguin Cafe Orchestra, Penguin Cafe Orchestra 
The brainchild of English eccentric Simon Jeffes, the Penguin Cafe Orchestra made the most delightfully airy music imaginable. You can practically smell the freshly cut English meadow when this album is playing: "Air A Danser" sets the tone with its steady guitar pluck, then is joined by sharply delineated sets of string and wind instruments. "Telephone And Rubber Band" is self-explanatory in title and bewitching in tone.
3. Various artists, The Greatest Rap Hits Vol. 2
You'll have to put this out-of-print Sugar Hill compilation together yourself, which is easy—here's the track list. I'm including it here not because I've played these six tracks as an entity (though once upon a time I'm sure I would have done it all the time) but in a lineup with no duds, two really stand out: "The Adventures Of Grandmaster Flash On The Wheels of Steel" and the Funky Four Plus One's "That's The Joint," which I've been known to call my favorite record of all time.
4. The Clash, Sandinista! 
Sticklers for release dates will cry foul, but I'm an American and this wasn't put out in the U.S. till a month after its December 12, 1980 English release. (On that technicality, it won the 1981 Pazz & Jop Critics Poll, just as London Calling took the 1980 poll despite its December '79 U.K. issue date.) No matter: this album sums up the tenor of 1981 as well as anything. It was The Clash's folly—a triple LP, including a third disc containing mostly dubs and experiments, with no obvious hit singles and a lavishly inclusive, more groove-oriented approach that alienated fans who wanted punk. It's my favorite Clash album; there's a looseness about it that I find engaging even on the sillier tracks.
5. Prince, Controversy 
Controversy isn't Prince's best album; it's not even one of his best albums. But it is a damn good one, and a fulcrum for where '81 was going. The title cut is an all-time groove, "Do Me, Baby" an all-time slow jam, but the cold synthesizers of "Annie Christian" are as of their time as Depeche Mode's.
Also
Street Songs is definitely Rick James' best album; if all you know is "Super Freak" you need to acquaint yourself with "Give It To Me Baby" pronto. (The slow stuff you might give or take.) Funkadelic's The Electric Spanking of War Babies was the final gasp of the George Clinton-led omni-funk troupe; it was planned as a double LP, and in its sprawl, it sounds it. The grooves are twitchier and odder than was usual for later P-Funk, and Sly Stone, then Clinton's coke buddy, appears on "Funk Gets Stronger." Clinton would achieve immortality (again) with "Atomic Dog" in 1982, but this strange album captures some of its year's weird energy, too. The second album from L.A. rockabilly punks X, Wild Gift, moved from the social unrest permeating 1980's Los Angeles into more personal terrain, casting a caustic, loving eye on relationships while adding some curves to its all-elbows sound.
Early warnings
Anyone looking for more proof that 1981 is where American indie begins needs only look at the astounding number of early releases from artists who'd go on to better things. Take a bow, Minutemen (The Punch Line), Meat Puppets (the five-song 7-inch EP In A Car), Minor Threat (the Minor Threat and In My Eyes 7-inch EPs), The Replacements (Sorry Ma, Forgot To Take Out The Trash), and Mission Of Burma (Signals, Calls And Marches EP).
Runners-up: 1984 would have been even easier to write up. Any year that Bruce Springsteen's "Dancing In The Dark" can't get to No. 1 because Prince's "When Doves Cry" won't budge for a month is automatically a good one. Throw in everything from the first Run-D.M.C. album to indie rock's own blockbuster year (Replacements' Let It Be, Minutemen's Double Nickels On The Dime, Hüsker Dü's Zen Arcade, Meat Puppets II) and the first stirrings of Chicago house and you've got an epic. 1969 is probably my pre-birth pick—the apocalyptic sense that permeated the year is captured fully on the Rolling Stones' Let It Bleed, its sense of redemption on The Velvet Underground.