Like a circle in a spiral, like a wheel within a wheel, Phil Whitehead's eight-minute video essay "Actors Playing Actors Acting" showcases those special moments in film and television when thespians are called upon to portray other thespians and must, in turn, act as though they are acting. If to act is to present an abstraction of life, then to play the role of an actor is to present an abstraction of that abstraction. It's a heady assignment, certainly, but one that stars like Michael Keaton, Jim Carrey, Gloria Swanson, Naomi Watts, Robert Downey Jr., and numerous others have handled with aplomb. Whitehead was inspired to create this montage after reading Nick James' article about Birdman, a movie all about actors acting, in the January 2015 issue of Sight & Sound. "When you think of how complicated the registers at play here are," James wrote at the time, "it's astonishing anyone tried to pull it off." But Birdman is hardly alone in taking on that challenge.
One of Hollywood's favorite subjects is itself, so there are plenty of movies and television shows about actors and what goes on between takes and behind the scenes. Among the excerpted films here, then, are Tootsie, Ed Wood, The Girl, Boogie Nights, and Bowfinger. If Whitehead's essay has a favorite mascot, however, it might be Matt LeBlanc's Joey Tribbiani from Friends, seen here being repeatedly spat upon by a fellow actor on the set of a dreadful-looking war film. The complex, internecine referencing becomes a little mind-boggling at times in this supercut, especially when it comes to the hyper-meta, fourth-wall-breaking series of Larry David.
This is particularly interesting in Seinfeld and Curb Your Enthusiasm. We have Jerry Seinfeld playing Jerry Seinfeld playing Jerry Seinfeld in the Seinfeld clip and then during the CYE clip, Jerry Seinfeld playing a different Jerry Seinfeld playing the Jerry Seinfeld from…. Seinfeld (if that makes sense).
And, after watching Whitehead's essay, it does, honestly.
G/O Media may get a commission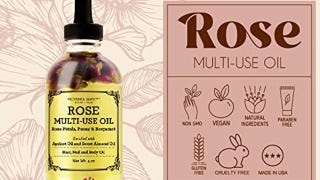 Provence Beauty Rose Multi-Use Oil
Actors Playing Actors Acting- Video Essay from Phil Whitehead on Vimeo.