In an effort to both serve our readers and help support The A.V. Club, we are going to post daily links to deals and interesting items that we find over on Amazon. If you use these links to click through and buy something—not just the thing you clicked—on Amazon, we will see a portion of that income. You don't have to do that if you don't want to, but if you do, know that we appreciate it.
So many of you have purchased The Stinky Cheese Man that it only seems fair to also remind you of the very existence of another excellent children's book: The True Story Of The Three Little Pigs. This fractured fairy tale is over 20 years old, but still delivers the goods where quality storytelling is concerned.
G/O Media may get a commission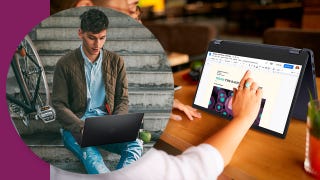 Ends August 15
Best Buy Anniversary Sale 2022
Ends August 15
Best Buy has a number of different promotions happening all for its Anniversary Sales Event. Laptops, tablets, TVs, you names it. Whether you're heading back to school or just trying to fill your home with some new tech, there is something here on sale that you've likely been waiting for.
Screw those chintzy little cheese packets that come in boxed mac and cheese. For about $9, you can pick up this one pound container of the cheesy dust, thus changing your quick and easy mac and cheese game forever.
If you're one of those people who drinks endless amounts of bottled water, consider that it's bad for the environment and costs way more than it should. This handy set could be your bridge to self-sufficiency, offering five water bottles plus a fridge tray, all of which are just waiting to be filled with the beverage of your choice.
We're not really sure what "manga colors" are, but these seem nice enough all the same.
We said this game "surprises with its silence."
If you're someone who repeatedly makes deviled eggs and just can't be bothered with plastic wrap, then this seems like the item for you.
This thermometer syncs with your smart phone or tablet, meaning that you can track your family's health history and, according to the description, get "real time guidance" on "best next steps."
If you've been watching our new Cocktail Club videos—and you should be—then you no doubt want to expand your cocktail-making abilities. Picking up this kit is a good first start.