There's a lot of music out there. To help you cut through all the noise, every week The A.V. Club is rounding up A-Sides, five recent releases we think are worth your time. You can listen to these and more on Spotify.

Note: We've started a new A-Sides playlist for the new year, so be sure to re-subscribe at the link above.
---
[Merge, January 9]
There's a sci-fi beach-party thing happening in "Cosmic Cave," the first new music from Ex Hex since the power trio's perfectly titled debut, Rips. Mary Timony makes overtures to a dance partner who's taken up in some sort of psychedelic refuge, which fits with the flange effects and mind-melding, light-fantastic-tripping lyrics Timony, Betsy Wright, and Laura Harris set to some hard-driving garage rock. But in the early days of the year, "Cosmic Cave" is also the sound of summer beckoning to anyone inside their own cavern of winter weather, early sunsets, and seasonal affective disorder, a rollicking message in a bottle riding the wake cast by a Go-Go's album cover. The Rips follow-up It's Real isn't out until the spring (March 22); until then, "Cosmic Cave" will be raising temperatures whenever Timony tears into that outro solo. [Erik Adams]
---
[Dais, January 9]
Across their 15 years as a duo, Xeno & Oaklander's evolution has been slow but steady, each album subtly refining and opening up their dark, minimal-wave-inspired synth-pop. This week they announced their latest, Hypnos, with "Angélique," a rush of blooming analog melodies and overlapping arpeggios that reflects the Brooklyn pair's return to polyphony after years of using only monophonic synths. Channeling Françoise Hardy, French/Norwegian singer Liz Wendelbo runs down a list of mellifluous wildflower names—anthémis (chamomile), ibéris (candytuft), and lis orangé (orange lily)—as she reflects on their ancient beauty. "I felt the desire to tell mythical stories," Wendelbo says of Hypnos, which shares its name with the Greek god of sleep, and "Angélique" is an alluring first glimpse into its underworld. [Kelsey J. Waite]
G/O Media may get a commission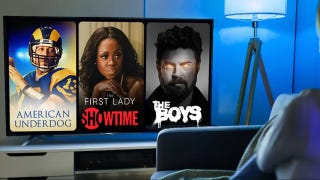 UNDER $1
99¢ Prime Video Channels
---
[Epic, January 3]
If you are attempting, for whatever reason, to be sober for the entire month of January, we regret to inform you that there is a new Future album coming out, and with it an entire suite of deeply inebriated new tracks, in which alcohol and marijuana are at best a steadying agent amidst a broader psychotropic cocktail of Xanax, molly, opulent retail therapy, motion sickness, sexual depravity, jet lag, velvety synthesizers, spine-rattling low end, probably big cigars, and so on. Of the two new tracks, "Crushed Up" seems a little more liquid, deeper in the pocket; Future turns both of the "O" sounds in the word "Lonzo" into multisyllabic odysseys, because he is Future, and even when he isn't saying much he's still saying it as extravagantly as possible. [Clayton Purdom]
---
We're collecting our A-Sides recommendations over on a Spotify playlist updated every Friday. Tune in and subscribe to the new 2019 list here.
---
Potty Mouth, "22"
[Get Better, January 10]
We have no idea how long we'll have to wait for that new Sleater-Kinney album produced by St. Vincent, and that sucks. But there's another all-female trio with a knack for big guitar hooks that has new music out now: Northampton punks Potty Mouth, who returned this week after a long hiatus—it's been three years since their last single, "Smash Hit," and six since their debut LP, Hell Bent—with news of their second album, SNAFU, due out on March 1. The announcement was accompanied by lead single "22," a tongue-in-cheek track about dreading your 22nd birthday; "The magic is gone and I'm all that's left / There's nothing new about 22," lead vocalist Abby Weems sings. Potty Mouth has always leaned toward the pop-punk side, but the cleaned-up production on "22" really highlights how tight the interplay between Weems and her band mates has become in the half-decade since their debut, for a vigorous, propulsive sound that can make even the over-30 set feel 22 again. [Katie Rife]
---
Krallice, Wolf
[Self-released, January 9]
For a band that's covered as much ground as Krallice has over the past decade, it's telling that Wolf is an EP of firsts. Not only is it the first release to feature no vocals from guitarist Mick Barr, but also it's the first time Krallice's other guitarist, and de facto producer, Colin Marston does sing on a record. It's also the band's shortest release ever, boasting the shortest song it's ever written, at 15 seconds. But Wolf doesn't suffer from this brevity. These five tracks are a perfect distillation of all Krallice has done over the course of its career, as "Wolf" and "The Mound" mix black metal, death metal, and prog without ever getting lost along the way. In typical fashion, Krallice released Wolf with little advance notice, and while the band's last surprise drop yielded two full-lengths exploring different facets of its sound, Wolf is the first Krallice album that's easy to put on repeat. [David Anthony]