Throughout the summer, Fountains Of Wayne's Adam Schlesinger will be offering periodic glimpses of life on the road as he and the band tour behind their new album, Traffic And Weather.
Hi, it's Adam from the band Fountains Of Wayne. The nice folks at The A.V. Club have asked me to write an occasional few paragraphs describing what our life "on the road" is like. I suggested they just watch the Mötley Crüe Behind The Music and imagine us instead of Nikki Sixx, Mick Mars, etc. But they knew that was bullshit. So I guess I'm actually gonna have to spend at least five minutes writing something. That's cool, though, 'cause it's not like I have anything better to do, like shooting alcohol into my veins or putting on elaborate face paint.
Anyway, about a week ago, we started our first tour in several years in typically grand fashion, playing at a computer store in New York City. We had to cut down on the pyro effects for this show, due to the low ceilings. But I think it was a nice way for people to get to see us up close and check their e-mail at the same time. We played a short set which was billed as "acoustic" because at least one of us played an acoustic instrument. The after-show debauchery included intense discussions with the sales staff about the upcoming release of the Apple phone.
Our first proper club show was the next day in Northampton, MA, not far from the Unabomber-like cabin in the woods where our lead singer Chris lives. Since Northampton is only a three-hour drive from NYC, it was impractical to take the private jet for this show. So we opted for an Econoline van instead.
G/O Media may get a commission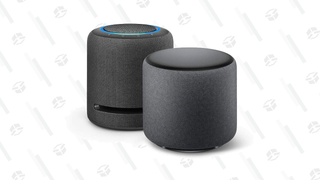 25% off - Prime Exclusive
Echo Studio + Echo Sub Bundle
Northampton is a great town, especially if you like colleges. The show was sold out, which I attribute mainly to the "possible Ani DiFranco guest appearance" rumors that we spread in the local press. The night went well, although Chris' voice was giving him a little trouble here and there, and at one point in the set, he ran offstage to take one of the many over-the-counter medicines he travels with. So our lead guitarist Jody, our drummer Brian, and I filled the time by playing the solo section of "My Sharona," as we are wont to do in a pinch.
Our next three dates were in Boston, NYC, and Philadelphia. The shows were fun and packed. Our new songs seemed to be getting recognized, which made me think that at least a part of the audience had bought (or burned, or found for free online) our new album by now. At the end of each night, we celebrated by standing around in our dressing room, watching people we didn't know steal our beer.
But the major event of our first week on the road was an appearance at the Coachella Festival, in the town of Sweltering Heat, CA. We flew cross-country, then sat in traffic for about six hours on the way out to the desert. When we arrived, Björk was kind enough to let us take the coveted 2:30 p.m. slot on the main stage, the point at which the temperature (105 degrees) to attendance (mostly empty) ratio is at its peak. She, in turn, settled for the so-called "closing" slot, when the place is uncomfortably packed and the temperature drops into the frigid mid-80s. I guess it's an Icelandic thing.
Coachella is a magnet for music-biz luminaries such as Tara Reid, Paris Hilton, and Cameron Diaz. For some reason, these and other celebrities spent little time in our trailer, despite our open-door policy and our "Free Hummus" sign. Since we finished our show early in the day, we were then free to spend the rest of the evening wandering around pretending we were in The Arcade Fire—signing autographs with assumed, Canadian-sounding names like Celine and Geddy.
After about 10 hours of doing that, and seeing a lot of great bands, we left the next day for San Francisco. We got in around 8 p.m. to discover that part of the Bay Bridge had collapsed after a truck exploded. We went to see Sean Lennon play at the venue we were scheduled to play the following night; he sounded really good and looked dashing as usual. We then returned to our hotel, located in a rather sketchy part of town that's populated primarily by the zombie extras from 28 Days Later.
We played our own show the following night. We invited a bunch of young kids from the audience onstage to dance during "Hotel Majestic." It felt like we had our own junior Solid Gold dancers. After the show, Sean Lennon and Jody spent many hours playing acoustic guitars in the hotel room right next to mine… and despite the complete lack of soundproofing, I slept through the whole thing.
Now I am in L.A., where we will soon tape a performance for a TV show that is popular with insomniacs and night watchmen nationwide. And then we have a short break from "the road" before heading off for a few shows in Europe, which has become overrun by Europeans in recent years.
I'll write my next installment as soon as the next A.V. Club check clears. Bye!