One of hip-hop's true pioneers, Afrika Bambaataa has made it his life's goal to break down barriers between genres and races alike. A onetime gang member, Bambaataa went on to form Zulu Nation, an idealistic, expansive organization that played a vital role in hip-hop's birth and development, putting on shows, helping define the culture, and generally helping expand the genre's music and ethos.
Bambaataa reigned as one of early hip-hop's most influential and sought-after DJ. He scored a seminal breakthrough hit with 1982's "Planet Rock," a perfect, oft-imitated single that helped define and perfect electrofunk by expertly blending old-school braggadocio with chilly Euro synthesizers straight out of Kraftwerk. The fusion of genres and sensibilities became an important theme in his music as he engaged in high-profile, genre-redefining collaborations with James Brown and Sex Pistols/PIL frontman John Lydon. Bambaataa's wildly eclectic tastes can be felt in his popular DJ sets, where he'll regularly throw AC/DC's "You Shook Me All Night Long" or the Andy Griffith Show theme song into sets otherwise dominated by more conventional dance fare.
Bambaataa continues to record and tour, serving as a respected elder statesman and goodwill ambassador for the genre he helped create and popularize. His latest album is 2004's Dark Matter Moving At The Speed of Light. The Onion A.V. Club recently spoke with the venerable icon about hip-hop, politics, and the secret messages behind movies.
The Onion: You joined a gang when you were very young, didn't you?
Afrika Bambaataa: Yeah, I was in a street gang.
O: What was the appeal of that? What did the gang have to offer?
AB: The unification. Unification and organization. Plus, I was in a group that didn't play no games with drug dealers. So they wasn't in our community.
G/O Media may get a commission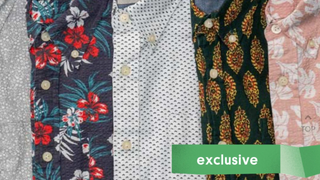 Grab three styles!
JACHS NY Summer Pack
O: They abided by a sort of code?
AB: Every group had stuff like their codes, all the way up to the United States Armed Forces, world forces.
O: How did you segue from that into forming Zulu Nation?
AB: [By studying] the great teacher, the most honorable Elijah Muhammad, and seeing a lot of the stuff that was going on with Martin Luther King, the Young Lords, the Black Panther party, the Woodstock era; things like James Brown, Sly And The Family Stone, John Lennon. Hearing all these messages in these songs that were happening at the time, that helped shape my mind. Also, seeing the movie called Zulu.
O: What kind of an effect did that movie have on you?
AB: A strong effect. Seeing these black people fighting for what was their land against the British Imperialists that were trying to take it over. At the end of the movie, the British forces spare their lives because they fought them as warriors, whereas in the next movie, Zulu Dawn, they just try to wipe out as many as they could. That played a strong effect on me. One day, I said, I would have a Zulu Nation that would be taken from many distant ideologies, nationalities, and visions put all together. When we started this movement called hip-hop, that was the time to put it forward.
O: What were the goals and the structure of the Zulu Nation when you were just starting out?
AB: First was to organize the black community; when we say black, we're talking about the Latino, Puerto Ricans, Dominicans, Mexican, whatever. As we progressed on, we started adding what we called the Infinity Lesson. When we started our travels, we started incorporating all different people from different races and nationalities. The Universal Zulu Nation stands to acknowledge wisdom, understanding, freedom, justice, and equality, peace, unity, love, and having fun, work, overcoming the negative through the positive, science, mathematics, faith, facts, and the wonders of God, whether we call him Allah, Jehovah, Yahweh, or Jah.
O: You started out in hip-hop when it was still very much an underground thing, before there were records. Can you talk about the very beginning of hip-hop, the early '70s?
AB: I helped formulate the architecture of it with Kool Herc. Everybody else came after us, the pioneers of it. The Universal Zulu Nation helped to shape it and give it its name and culture, and the core elements. Nobody knew anything about it; everyone was just doing what they were doing. We started organizing and making a culture. I went out there and said, "DJs, come on down. You're part of this element. All you breakdancers, b-boys and b-girls, come on down, you're part of this element. Rappers and MCs, come on down, you're part of this element. Aerosol artists, graffiti artists, come on down, you're part of this element." Then we added the fifth element, which is the knowledge, culture, and an understanding of what we were doing. Now we're celebrating the 30th anniversary of hip-hop culture and the 31st anniversary of the Universal Zulu Nation. November is Hip-Hop History Month, where we give celebration to what hip hop has done to bring together people of the world, people of all nationalities, young people, all the political systems and politicians on the planet.
O: Would you say that that's hip-hop's biggest gift to society, bringing people together?
AB: Most definitely. It has crossed many boundaries and racial barriers, broken them down for people to come together, to listen to the music or come out of their own social ills in each of the countries that it has went to. Thanks to my traveling, and keeping up from place to place, and pushing our ideology—peace, love, unity, and having fun—it has worked. In this time, we incorporate money and media, and it's split up like apartheid, where when you say "hip-hop," you think just rap records. People might have forgot about all the other elements in hip-hop. Now we're back out there again, trying to get people back to the fifth element, the knowledge. To know to respect the whole culture, especially to you radio stations that claim to be hip-hop and you're not, because if you was a hip-hop radio station, why do you just play one aspect of hip-hop and rap, which is gangsta rap? Where's the conscious rap? Where's the electrofunk? The go-go rap? The Miami bass? The trip-hop? The hip-house? Where's the international flavor of hip-hop music? Where's the DJ breakbeat records?
O: Would you say that's a negative thing, dividing this music into genres? That it has a negative effect on the music and the culture?
AB: That's true not just in hip-hop, but in all music. You put it in categories because you need to define a sound, but when you don't play it on your so-called radio stations that claim to be R&B or jazz or whatever… All music is dance music. But when people think of dance music, they think of techno or just house. Anything you can dance to is dance music. I don't care if it's classical, funk, salsa, reggae, calypso; it's all dance music. These stations only play a certain style of music for each of these categories. There are so many millions of records out there, you should always be playing old and new together. This way, people can respect what the early elders of certain musical tastes have given to what we are now, and where we're going in the future. I don't care if it's rap, metal, whatever. You still should play Beatles records mixed with Limp Bizkit mixed with Foghat mixed with Creedence Clearwater Revival, stuff like that.
O: Would you say that's one of your goals as a DJ, to get people to realize how broad dance music can be?
AB: That's definitely my goal, and always has been through the Universal Zulu Nation, is to show that music breaks down all that foolishness and can bring all types of people together, especially when you can mix it and shape it. That's the beauty of sampling: taking the old sound and recreating it and making something new, or bringing back the old sounds, mixed with some heavy grooves and beats, so people can remember. "Oh, I remember that, back in the day." The only thing is when people take these songs, and you don't give credit back to who you took it from, or put them down as even a publisher with you so they can get some of those publishers' royalties. That's a shame. You're stealing it.
O: It seems like more than any other form of music, hip-hop is derived from the past, directly through sampling. Do you think hip-hop has enough of an appreciation for its roots?
AB: Well, there are a lot of true culturalists who respect where they're from, but you have some who are just all about the benjamins, like, "I wanna get my money, I wanna get mine, you get yours, more power to you," and they don't care. That deals with the whole thing of life, whether you're agreeable or disagreeable, the yin and the yang, the evil versus good. That's how it is in the music industry. There are people who care for the whole culture and what they're doing, and have love for it, and are not into just making money. Everybody wants to make some money, but they really love what they do. You got others who are just "money, money, money," and fast life and women and everything. They go a whole other route. That's a fight of good vs. evil. A balance. It seems that more of these stations are pushing a negative side instead of keeping a balance, and to me, that's a conspiracy that's going on all over the planet.
O: Part of a larger social trend?
AB: There's definitely something going on, what we call in the Zulu Nation the Luciferian Conspiracy, that keeps people thinking negative, keeps gangsters killing and using the B- and the N-words, or keeping black against white, Muslim, Christian, Jew, Hebrew, Hindu, all against each other. Or like Italy, keeping the North part unlike the Southern part. The East Coast of the U.S.A. doesn't like the West Coast. Or be in a city like Chicago: I don't like the North Side, I don't like the South Side. I don't like her cause her hair is black and she has the vampire-looking clothes, and this one has the blonde hair and he looks more presentable. We're under a real Luciferian spell, as human beings, we've got to get back to reality. I'm not saying you have to run to any church, mosque, or temple, because your body is your first church, your first temple, and your first mosque. Because if you don't take care of that, all that other stuff is irrelevant. And if you don't respect Mother Earth, then we are becoming a cancer to the planet, and she'll be spitting our asses out. That's why there's all these earthquakes, and that movie The Day After Tomorrow—when that came out, it seemed like all hell started breaking loose, like in Florida, everything started looking like the movies. Russia, Florida, and terrorism, and tornadoes are starting to hit, waters are starting to flow over. There's a lot of deep stuff getting ready to go on for this millennium.
O: Do you think that it's in the best interest of the powers that be to keep people divided?
AB: Oh, definitely. You can't stay in control if you have everybody in love and in tune with each other and with the planet, and in tune with the electrons and the dark matter that's moving at the speed of light. That won't work in their interest. They gotta get you ready for your microchip. That's why those movies like Day After Tomorrow and The Matrix, people have to watch them 10 or 15 times to get a full understanding of what they're saying.
O: Do you think that they're not just entertainment?
AB: Oh no. There are a lot of things being put out to let people know. Even in the last 25 years, all these extraterrestrial movies are to let people know that we're definitely not alone, and there's going to come a time when they're going to go, "Here it is, here's what other people have been seeing, people have been getting abducted and stuff." Something's going on on the planet, that so many different people and places have the same story. You can't say it's brainwashing or mind control. Like they tried to make the joke that the crop circles were just two guys making these things. Not in all these places at the same time. Then you've got ancient pictures from way yonder, back in the ancient days, from Africa, Europe, Asia, that show certain things, or religious pictures and people can't figure out, what the hell was that? Or pictures on Egyptian walls showing planes and submarines a long time ago. Deep stuff.
O: Have you always been interested in UFOs?
AB: I'm interested in anything that deals with our planet, in our planet, outside our planet, the universe, universes, galactic, dimensional, subterranean. That's deep stuff that everybody needs to focus on: What is your niche on this planet? Why are we here? Why are there roaches and water-bugs and all that type of stuff? We could get together all over the world, all races, hold hands together, and hum to death, and try to move the moon where the sun is, move the sun where the moon is at, and send a little piece of a star down there and burn all our asses up. We could get into the science, and make bombs and all that stuff, but you still ain't gonna hit the supreme force or the power that put all this into motion.
O: When you first started dealing with record companies and putting out albums, were you skeptical of the people that you were working with?
AB: Yeah. 'Cause with us, we knew the story. It took me a while before I got a little bit into getting on a record label, watching Grandmaster Flash and a couple of other groups that were going through problems with their labels. I knew about what happened with the groups in the '50s and the '60s, and I was trying my best not to fall into that category. Yes, in the beginning, we all had problems with our labels taking us for a ride. So that's when I decided I would be like George Clinton and James Brown and become many groups on many different labels. And the companies didn't like that, but I'm glad I did it. It has blessed me from the supreme force that still be traveling around the world in this millennium from last millennium, with so many of the great pioneers might have faded or disappeared, I'm still going strong and playing all over the planet. I'm doing many different styles of records under different names.
O: Do you think the whole record industry is slanted against artists?
AB: It's not so much against it, but certain people are just wicked people that sit up in the industry who go against the artist. The thing is, if you're in the recording business, where's our health benefits? Where's the royalties from when you put stuff on labels in different countries? And now, with all these 500 cable channels, you want your mechanical royalties, your licensing. There's so much technology that you've got to stay on top. They always try to tell you, "Oh, don't worry about the business side, just do the music." James Brown told me that it's five percent entertainment and 95 percent business.
O: Do you think artists don't realize that?
AB: Oh, a lot don't. And that's why they keep getting taken, over and over again. It's been so much better now; they've had people going back and getting money for Little Richard and all those types of groups, or when something passes 20 or 25 years, it turns back everything to the artist. But there's a lot of people who don't know that, who don't know the law, don't know about copyrights, mechanical rights, royalties, and licenses, and all that. There's all types of people ripping you off left and right.
O: How would you say the hip-hop industry, and the recording industry in particular, has changed over the last 30 years?
AB: Well they're having a heart attack now because artists won't be known as artists. Prince was the first to go to the Internet and tell the company to kiss his butt. A lot of artists are seeing that that's a way they can go and do something. The Internet has played a big part in trying to get your music out there, and a lot of companies are nervous now because it's knocked them on they butt, where so many people can get things that are free.
O: Do you see that as a positive thing, that people are able to download music for free?
AB: It might not be positive for the artists to get royalties, but in some ways it's still good that people can get your music, and hopefully in the course of that, people will want to see you live, around the world shows. It might get you to where you get to travel all over the planet. 'Cause now people are hungry: "Oh, I wanna see this guy, I wanna hear this music live, I wanna see if they're gonna remix it or funk it up differently when I see them." Now with all these digital things, people just be remixing your stuff anyway, and put it on out there. But there's gonna be laws and regulations put on the Internet soon.
O: It sort of seems like a new frontier, like the Wild West. It seems like at the beginning of hip-hop, it was like that as well, like the rules were still being made up by the people as they went along.
AB: It was the same with hip-hop, new wave, punk rock, rock-metal, hip-rock. [Laughs.]
O: You've talked about how punks and new-wavers were the first white people to embrace hip-hop. Why do you think that was?
AB: Because they were also against what was happening in their style of rock music, saying, "Who says you have to play rock and metal this way? We're going to play it this way." They were right. They formed what they were doing, the same as people who formed hip-hop were trying to get away from the disco era and all that music. It was the first thing that really sounded like getting down. They were dressing in their wild style, we was dressing in our style. It just clicked on, especially with my whole thing that I was doing with the Universal Zulu Nation and the music that I was playing. A lot of them attached onto what I was doing.
O: As you said earlier, hip-hop has been around for 30 years. Do you feel like it's become part of the establishment at this point, that it's no longer this new, rebellious thing?
AB: We've still got some people out there who are trying to keep the culture and do it their way, but there's a lot who's under the mind control of corporation systems. You've still got your purists, who are still out there trying to keep all the five elements happening. Then you've got the ones who are just following the apartheid system of hip-hop that they claim to be just rap records.
O: You also organized the first big European hip-hop tour. Can you talk about how that came about and what it was like?
AB: That was a lot of work, and I struggled to bring music to Europe, because when we went through some of these countries, it was straight-up rock, or in countries like Germany, strictly metal. With myself and many other groups in the Zulu Nation, we had to go to some of these countries. And you know most artists play London and Berlin and Paris, and that's it. We had to go around to all parts of the country: cities, towns, playing cafés, halls. As we kept going and coming back, going and coming back, we became bigger and bigger. At first, they didn't understand. People look at you. Same when we went to Asia. People would be sitting down in their seats, and you'd be thinking you were rocking the house, and they're just sitting there. When you're finished, they clap. We had to get out and start pulling people onstage. This is funk. In Italy they'd say, "Oh no! This means this!" And we'd say, "This is funk! Get up here!" Grabbing them, running in the audience, and people started getting excited. Move! Do something! Then with the dance music and house and techno and everything, it all started playing a role. People started getting more funky, and it started taking off: the hip-hop, the house, the techno. And now all the places are rocking like crazy all over the planet.