Those who tuned into last night's Country Music Awards might have picked up on a few surprises, like Miranda Lambert's rare loss to Carrie Underwood for Female Vocalist of the Year, or the unrelenting grip that Yodeling Boy has kept on his 15 minutes of fame. Another pleasant shock came with one of the biggest wins of the night, as Kacey Musgraves, the designated underdog, snagged the Album of the Year award for her lovelorn, psychedelia-laced album Golden Hours.
Sharon Stone made a fraction of what Michael Douglas did for "Basic Instinct"
While AOTY might not function as the award of the CMAs the way it does for the Grammys (that honor belongs to Entertainer of the Year, which went to Keith Urban—a shock to all, including Urban) her win is huge for a number of reasons. For starters, her genre-straddling sound and bolder lyrics strongly depart from the traditional country twang, especially compared to her competitors within the category, Dierks Bentley, Chris Stapleton, Thomas Rhett, and Urban.

Another important point to note: Musgraves was the only woman nominated within her category, which is still a thing that we have to emphasize in 20-freaking-18. Despite how much of an eye roll that is, it's still better than the Entertainer of the Year category, which failed to recognize any women this year. We can just assume that all the ladies stayed home with their guitars.

It's likely that everything that sets Musgraves apart is was clinched the AOTY honor for her last night. Golden Hours is beautifully vulnerable and, more importantly, something different—a likely side effect of the LSD trip she admittedly underwent during the creative process, but whatever. It worked.
G/O Media may get a commission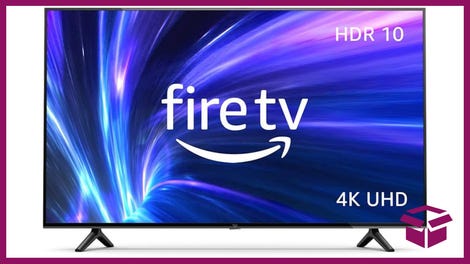 42% Off
Amazon Fire TV 50" 4K Smart TV
[Via Stereogum]