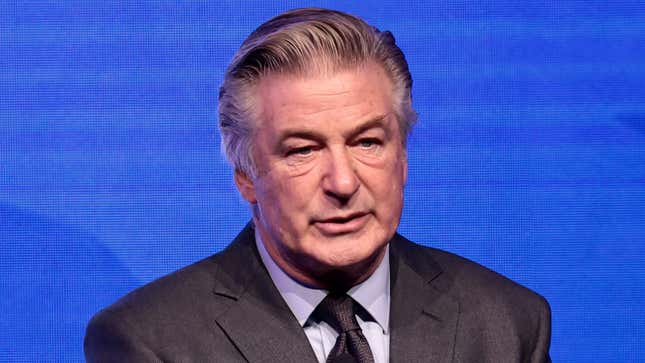 Update [1/31/21 5:43 pm]: In a statement, special prosecutor Robert Shilling provided insight into how prosecutors plan to charge Alec Baldwin. In addition to lacking sufficient training, Baldwin "putting his finger on the trigger of a real firearm when a replica or rubber gun should have been used," per The New York Times. The statement continues, "This reckless deviation from known standards and practice and protocol directly caused the fatal shooting."
Armorer Hannah Gutierrez-Reed was also accused of "not checking the rounds she was loading into the firearms," "allowing live rounds on scene" and "allowing ammunition to not be secured," per the Times. The prosecution also added that she "took an armorer position she was not qualified to accept."
Original story: Alec Baldwin and Rust set armorer Hannah Gutierrez-Reed have been formally charged with involuntary manslaughter, the Santa Fe District Attorney announced today, per The Los Angeles Times. Baldwin was also charged with "an enhancement for the use of a firearm"—if he's found guilty, the charge comes with a mandatory minimum sentence of five years.

Each charged with two counts of involuntary manslaughter, Baldwin and Gutierez-Reed face a maximum penalty of 18 months in prison and a $5,000 fine if found guilty. "The District Attorney and the special prosecutor are fully focused on securing justice for Halyna Hutchins," a spokesperson for First Judicial D.A. Mary Carmack-Altwies shared yesterday, per Deadline.
After a lengthy and wide-ranging investigation, the Rust actor and crew member were met with charges in mid-January over the October 2021 shooting of cinematographer Halyna Hutchins. While filming the indie Western in New Mexico, Baldwin discharged a prop weapon (that he has maintained misfired) that contained a live round, fatally striking Hutchins and wounding director Joel Souza.
Since the tragedy, Baldwin has consistently maintained his innocence while settling lawsuits and soldiering forward with Rust production, which now has its sights set on moving to California from New Mexico after firing the original production team. As part of a settlement for a wrongful death lawsuit from Hutchins' estate, Hutchins' husband Matt Hutchins has since joined the project as an executive producer.
Earlier this month, The A.V. Club consulted legal experts on what Baldwin can expect following an official manslaughter charge. Ultimately, they generally shared a conclusion: Baldwin is unlikely to enter a guilty plea, and he's also unlikely to serve any prison time.
"I don't see Mr. Baldwin pleading guilty to this," James J. Brosnahan, Senior Of Counsel at the law firm of Morrison Foerster, opines. "Look at it from the defendant's standpoint; he is a famous man and a movie actor of considerable talent and has been for years. Let's assume that he would like to have more, more roles and things. The nature of the crime is that there's no bank robbery here. The atmosphere of the case, and if his lawyer marshals the mood of the case, is this a terrible accident."