Welcome to Development Hell, the fiery pit into which we fling recent developments in casting, distribution, and everything else that's new and mildly interesting in the Boschian phantasmagoria of the entertainment industry.
The TCA press tour rolls on this week, serving up a steady downpour of fresh TV news, not all of which can make it into its own individual Newswire. And so, Development Hell is here to burn off the excess, ensuring that there's always a place for smaller shows and minor casting news to have its paragraph-sized day in the sun. Let's dive in:
First up: FX has announced that it's making a limited series TV version of James Clavell's Shogun—long voted as the Book Most Likely To Make A Dad Look Wistfully Off Into The Distance And Then Murmur "Shogun. Great book." Per Deadline, the series is being developed by Ronan Bennett, Rachel Bennette, and director Tim Van Patten, and has been ordered for a 10-episode season (a.k.a. a fleet 100 pages or so per episode). NBC previously adapted Clavell's beloved doorstopper as a miniseries in 1980, with Richard Chamberlain in the starring role.

Variety reports that Ava DuVernay is continuing to line up a top-notch cast for her Central Park Five series at Netflix. Niecy Nash, Aunjanue Ellis, Kylie Bunbury, Marsha Stephanie Blake, and DuVernay's Wrinkle In Time star, Storm Reid, have all signed on for the project in supporting roles. Michael K. Williams, Vera Farmiga, John Leguizamo, Felicity Huffman, Jharrel Jerome, and Jovan Adepo were all previously announced.

Here's an odd little treat for classic comedy fans: Slashfilm has our first look at John C. Reilly and Steve Coogan in costume for their upcoming Laurel and Hardy biopic Stan & Ollie. The make-up work is honestly, eerily good; you can still tell its Reilly and Coogan, but it takes a second for their recognizable features to peek through. The film is being produced by BBC Films, and will chronicle the tail end of the two men's careers and comedic partnership.

And if your visual tastes run a little more toward "alien space monster" than "classic pratfalls," well, we've still got you covered: Here's the latest poster for Shane Black's The Predator, showing off some cool thermal vision graphics, some nasty looking blades, and also the absolutely massive forehead this latest breed of Predator is apparently rocking.
G/O Media may get a commission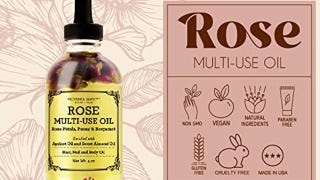 Provence Beauty Rose Multi-Use Oil