Dirty Projectors' Amber Coffman seeks new weirdo-pop life in City Of No Reply
Grade: B
[Columbia]
As a member of Dirty Projectors, Amber Coffman made the avant-garde almost mistakable for Top 40. Coffman's melismatic lead on "Stillness Is The Move" was a breakout moment for the Brooklyn band, and in harmony with Angel Deradoorian and Haley Dekle, she formed a vocal powerhouse that could either provide a radio-friendly counterpoint to David Longstreth's Arthur Russell-esque bleats or urge songs like "Useful Chamber" and "The Gun Has No Trigger" deeper into alien territory. On her solo debut, City Of No Reply, Coffman flips this equation with 11 straightforward numbers about independence and isolation that reveal, in time, an experimental edge.
It'd read like a breakup record even without an official statement from Coffman, who confirmed that her romantic and creative partnership with Longstreth ended prior to his 2017 record, Dirty Projectors—a breakup album whose diary-ripping mournfulness does everything but cut Coffman's face out of old press photos. There's minimal spite in City Of No Reply, and no dirty laundry is aired on the seaside breeze of tracks like "Dark Night" and "Nobody Knows." Rather, the attention turns inward from the first line of the first song, "All To Myself": "I can't just sit around, feeling upset / Doting on my loneliness." There's ache in that swooning ballad, and in side-two standouts "If You Want My Heart" and "Brand New" as well. The latter steeps the album's refrains of self-reliance in barroom smoke and IDM glitch, a slow jam about burning everything down and starting over that builds itself into rich vocal harmonies and one lingering sentiment: "Your memory can't fade fast enough for what you did to me." That's as stinging as City Of No Reply gets.
The memory of some of these songs would fade quickly, too, were it not for their bric-a-brac flourishes. Some—like the winding-and-unwinding percussion of "Nobody Knows" or the vocoder hum of "All To Myself"—harken back to Coffman's old gig and bear the traces of Longstreth's production work. (The duo collaborated on the record, though their friendship soured near its completion.) More frequently, the compositions give off a sense of untethered exploration. From the Motown-meets-'70s-soft-rock vibe of "No Coffee" to the string intro grafted onto its dancehall title track, City Of No Reply is an album of stylistic hybrids. Coffman's voice stitches all of these disparate influences together, at home among glistening neo-soul and phaser-pedal funk. City Of No Reply has no fixed location. No longer doing vocal calisthenics over somebody's else's music, Amber Coffman has given herself plenty of options for what her music sounds like.
Purchase City Of No Reply here, which helps support The A.V. Club.
---
Gucci Mane and Metro Boomin bring out each other's best on Droptopwop
Grade: B+
[Guwop/Atlantic]
G/O Media may get a commission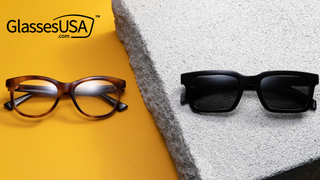 60% off frames
GlassesUSA.com Back to School Sales
Since 2015, one of the surest signs of quality in rap has been the sound of Future warbling, "If Young Metro don't trust you, I'm gon' shoot you." The tag belongs to the producer Metro Boomin, whose dystopian electronic beats are inextricable from the rise of Future. After their conjoined meteoric 2015, Metro has, in the past year, gone on to to provide the enormous drop for Kanye's "Father Stretch My Hands Pt. 1" as well as megahits like Migos' "Bad And Boujee," Kodak Black's "Tunnel Vision," and Big Sean's "Bounce Back." He also produced the entirety of last year's Savage Mode EP with 21 Savage, a brutally cold ambient exploration that found the middle ground between Anticon and The Infamous and is, among rap nerds, increasingly discussed as a minor modern classic.

All of which is to say that Metro Boomin is the star of Drop Top Wop, a 10-track collaborative project with the ever-mercurial Gucci Mane. Ostensibly recorded over a two-day session, the record finds Gucci continuing to shake off the rust since his release from prison last year. The notoriously prolific Atlanta emcee has released three records since then, all of generally commendable consistency; the revelation, thus far, has been how the erratic emcee's newfound commitment to health (he's sober and 75 pounds lighter) has clarified his flow. The loopy sense of pure, syllabic wordplay that once defined his style is gone, but the immediacy remains: Check the way he sets the scene on "5 Million Intro" ("I'm just slidin' down the 'crest on a hot summer day") or the sly cadence of pretty much every line on "Helpless." Gucci's got a magical way of finding a rhythm he likes and riding it for pretty much an entire track without ever wearing it out, and since his release from jail, he seems to be getting even more minimal and tasteful with his cadences.
If there's an evolution here, it's melodic: Many of Drop Top Wop's best moments are Gucci's bleary-eyed sing-song hooks, like the cracked hurt in his voice on "Helpless" or the simmering sense of tension in "Dance With The Devil." It all congeals on "Finesse The Plug Interlude," which is, at just under five minutes, the longest track on the record, with a malfunctioning toybox melody and absolutely narcotic beat pulling a baleful vocal turn from Gucci. His simpering second verse ("Gun bust you with the draco, now you need dentures") suggests that sober Gucci might have better filmic performances in him than his somnambulant presence in Spring Breakers. Whether "Finesse The Plug" or anything else off Drop Top Wop gradually takes over rap radio—as Future's "Mask Off" quietly has this year—the entire project is another chapter in the burgeoning legend of Metro Boomin, who, at 23, is one of the most exciting figures in popular music.
Purchase Droptopwop here, which helps support The A.V. Club.
---
Beach Fossils delivers its best album yet with Somersault
Grade: B+
[Bayonet]
Across two full-lengths and multiple lineup changes, Beach Fossils have developed a consistent sound revolving around watercolor-faded, jangly guitars; unfussy arrangements; and Dustin Payseur's wry, weary vocals. But on its third album, Somersault, the Brooklyn band—now a trim trio comprised of Payseur, Jack Doyle Smith, and Tommy Davidson—tastefully explores a broader musical palette.
The results are gorgeous, propelling Beach Fossils into new and ornate sonic territory. Crisp orchestral touches fortify the coiled, chiming guitar riffs of "This Year"; insistent harpsichord gives way to pizzicato strings on the delicate "Closer Everywhere"; and "Social Jetlag" is a Massive Attack-esque throwback with sprinkles of piano and trip-hop beats. Better still is the '70s soft rock/R&B homage "Saint Ivy"—a song about disillusionment and resignation, centered on bold orchestral strokes and featuring a bridge with jazzy flute—and "Tangerine," on which Slowdive's Rachel Goswell adds sighing, breathy guest vocals.
These elaborate details exacerbate Somersault's hazy emotional state, a purgatory of sorts where protagonists wrestle with how to reconcile past heartaches and regrets. On the R&B-tinged "Rise," guest rapper Cities Aviv tries to make sense of times (and relationships) gone by, as meditative saxophone curls smokily around him. "This Year" is a stunning song about grappling with self-recrimination ("By now, I told myself I'd be a better friend / I'll meet you on the other side of life") and the lyrics of highlight "Sugar," a song surging with Ride-esque intertwined harmonies, are plagued by uncertainty and aimlessness.
This foggy feeling is an even bigger boon to Beach Fossils' more straightforward, rock 'n' roll compositions. Somersault's final two songs, "Be Nothing" and "That's All For Now," employ psychedelia-tinged guitars as they express being haunted and paralyzed by the past. It's vague what these experiences are, but their lingering scars make for a poignant foundation. The same can be said for all of Somersault, far and away Beach Fossils' finest record yet.
Purchase Somersault here, which helps support The A.V. Club.
---
On Gone Now, Bleachers goes deep, but not quite deep enough
Grade: B-
[RCA]
Jack Antonoff's effervescent synth-based confections, especially for his outfit Bleachers, are deceptively cheerful: They have a buoyant pop sensibility, but come weighted with an unmistakable sense of loss. For his new Gone Now (it's all right there in the title), Antonoff continues his exploration of the tragic, life-defining events of his youth, which include 9/11 and the loss of his younger sister Sarah to brain cancer while he was in high school. That remorse pervades the whole album, heard especially on songs like "Everybody Lost Somebody," where he turns it into a gospel spiritual, complete with impactful choir and horn accent. On "All My Heroes," his regrets turn inward as he knocks himself around the room, promising, "I'll be something better yet."

Unfortunately, poignant moments like these are so successful, they make some of Antonoff's other, lighter efforts look shallow by comparison. In particular, a highly touted collaboration reunion with Carly Rae Jepsen, "Hate That You Know Me," really needed to be fleshed out more beyond just repeating the title phrase over some electronic music-box accompaniment. In "Goodbye," Antonoff sounds like he's singing about changing apartments ("Goodbye to my upstairs neighbor / Goodbye to the kids downstairs"), a somewhat banal story of life's shifting backgrounds that's elevated only slightly by some sentimental piano. And in "I Miss Those Days" he attempts a world-weary tone that falls flat, especially coming from someone whose music feels so young.
As readers of gossip mags know, Antonoff's other muse is his live-in partner, Lena Dunham, and her presence is felt throughout. You can only wonder which of her many offers the bouncy, yet repetitive "Don't Take The Money" refers to. (The accompanying, Dunham-directed video, which finds Alia Shawkat officiating Antonoff's arranged marriage, is a hoot). The persuasive "Let's Get Married" is almost too good an invitation to turn down, even if Antonoff's reasoning is that he doesn't "want to walk alone." "Nothing Is U" is even an even more straightforward ode, a ballad about everything his love has brought to his life that no one else has.
If Antonoff's songwriting has an Achilles' heel, it's that he tends to fall into a certain groove or lyrical pattern and get stuck there. He obviously has the talent to take his pop to a higher level, and he's successfully done so for other artists like Lorde and Taylor Swift. But while Gone Now features a few cuts that are much more piercing than you might expect, it doesn't quite go all the way. [Gwen Ihnat]
Purchase Gone Now here, which helps support The A.V. Club.
---
On Mutoid Man's War Moans, some Converge veterans get in touch with their fun side
Grade: B
[Sargent House]
A lot of bands have crawled from the crater Converge put on the punk and metal landscape; set aside every group simply influenced by those crushing Massachusetts veterans and you'd still have a gallery of "associated acts": Doomriders, Old Man Gloom, All Pigs Must Die, and a few other ragtag outfits featuring once and future members, keeping themselves occupied during the downtime between albums and tours. But Mutoid Man is different. A three-piece featuring Converge drummer Ben Koller, former Converge bassist (and current Cave In guitarist and vocalist) Stephen Brodsky, and bassist Nick Cageao, Mutoid Man is too robust—and too straightforwardly accessible—to fit the profile of a traditional side project. War Moans, the band's sophomore LP, is a giddy pile-up of monster riffs, charging breathlessly from one track to the next, marrying hardcore's speed and sludge's heft to a lot of cock-rock attitude. These guys don't sound like they're killing time waiting for their day job to start again. They sound energetic and hungry, like maybe they're ready to graduate from cramped clubs to a bigger stage.
Not that the hooks on War Moans always land. These 12 snaky anthems run together a little more than the ones on Bleeder, the band's powerhouse full-length debut from two years ago. Still, from the head-down charge of the opening track, it's clear that Mutoid Man is aiming for pleasure centers; the song may be called "Melt Your Mind," but it's more likely to just get stuck there. War Moans passes in a dexterous blur, the rhythm section rumbling heavily under the cheetah sprint of Brodsky's shredding. There are a few mid-song speed traps (like the break-pumping bridge of "Open Flame"), and one standout detour, the crunchy power-ballad closer "Bandages," featuring some eerie backup from doomy folk goddess Chelsea Wolfe. Mostly, though, Mutoid Man seems comfortable at a mad dash.
Brodsky is the star—not just for the speedy acrobatics of his riffing, but also for the way his clean croon so frequently tightens into a quick yelp, punctuating verses, as though every song pushes him to a crescendo of animal enthusiasm. When the three manage to drop a truly memorable melody into the fray, as on centerpiece "Irons In The Fire," that excitement becomes infectious, and suddenly they've hit that perfect sweet spot between their hardcore past and a more flying-V arena future. Last year, Mutoid Man hit the road with Torche and Kvelertak, which says a lot about the band's sensibilities; like their tour mates, these guys seem determined to bring the fun back to metal. This is giddy guitar rock at heart—not for nothing has Cageao namedropped Van Halen. And for all that Converge and Cave In have done to stretch the limits of "heavy" music, they can't offer a lot of opportunities to turn the pit into a party.
Purchase War Moans here, which helps support The A.V. Club.
---
Chastity Belt mines self-doubt and post-punk minimalism on its stellar third album
Grade: B
[Hardly Art]
Chastity Belt's brutally honest take on what it means to exist in the modern world has always been refreshing, largely because the Seattle band tempers its observations with irreverent humor. But its third album, I Used To Spend So Much Time Alone, is largely devoid of lighthearted asides, instead dwelling on indecision, self-doubt, and figuring out what you really want out of life and relationships. It's a markedly more serious record, though still a relatable one.
The languid "Used To Spend" is about balancing insecurity and the impulse toward self-destruction, while "What The Hell" encapsulates the experience of dating or being friends with someone who's totally inscrutable and inconsistent. "Stuck," meanwhile, shrugs while pondering the nature of change, leading to a philosophical conundrum ("Are you finding something better? / Or leaving behind what's best for you?") that's steeped in ennui. Unsurprisingly, the path of self-examination isn't easy or straightforward.
While the lyrics can be blunt, even casual in their demeanor, they're paired with plenty of sonic turmoil. The quartet recorded the album live with producer Matthew Simms, who these days plays with post-punk legends Wire. Consequently, the band members' own similarly gloomy guitars, crisp rhythms, and simmering bass feel even more pronounced here. "Caught In A Lie" even closely resembles Wire (and boasts an insidious, burrow-in-your-head chorus hook to boot), while other moments on the album echo early Cure (the cloudy "5am") or Sonic Youth's cleaner, tension-coiled moments ("This Time Of Night").
I Used To Spend So Much Time Alone's emotional dichotomies are best captured by the unsettled "5am." The song describes the disorienting feeling of late-night overthinking, when self-flagellation, anger, and enlightenment are heightened by the late hour. After a particularly incisive line ("What makes you bitter makes you old"), the music crescendos to include screaming, distortion-drenched guitars that emulate the boiling-over frustration described. It's a perfect way to end the song, and it embodies the subtle, smart gestures that make the album so irresistible.
Purchase I Used To Spend So Much Time Alone here, which helps support The A.V. Club.
---
Dan Auerbach finally gets over the blues on an eclectic, summery solo outing
Grade: B-
[Easy Eye Sound]
"Good sounds come back around" is the slogan for Dan Auerbach's new record label, Easy Eye Sound. Not only is it a cute if profoundly obvious motto, it's also a nice summation of Auerbach's musical output. As frontman of The Black Keys, he and drummer Patrick Carney ended up finding tremendous success from a foundation of gritty, stripped-down blues rock. For his second solo album—and Easy Eye's first release—Auerbach has shifted that base from beefed-up Delta blues to a '70s singer-songwriter pastiche. Despite the broader scope of influences, it's somehow even more reverent than any of his other original work.
Waiting On A Song sees him chasing a bigger, more jubilant sound, mixing and matching Southern twang, gospel choirs, and swelling strings across the album's 33 minutes of upbeat comfort-food rock. As an impression of the kind of '70s songwriter standards that populate classic-rock radio to this day, it's pleasantly familiar stuff, and the nostalgia its tunes elicit are perfectly at home with its bright, sunny demeanor. (Its release here on the eve of summer was not an accident.)
Speaking of familiar, the big-name collaborators Auerbach brought in here all add to their respective songs with recognizable sounds. Mark Knopfler's guitar, rubbery as ever, helps anchor the almost cloyingly cheerful "Shine On Me," while Duane Eddy's raw, buzzy riffs provide another old-school hook to the swinging "Living In Sin." As a singer, Auerbach is up to the demands of all that variety and displays some impressive range, moving from the down-home charm of the title track to the airy soul of standouts "Malibu Man" and "Undertow."
Still, competent and charming as it is, Waiting On A Song never quite has the spark to rise above homage and carve out something distinct. The closest it comes is the somber undercurrent that seeps into "Malibu Man" and "King Of A One Horse Town," songs that hide stories about sad figures whose outwardly happy lives aren't all they're cracked up to be. As the lone traces of tragedy among a relentlessly glistening album, those tracks turn out to be more meaningful and reflective than they were perhaps intended. Catchy and clean as they are, they're also just kind of benign. Good sounds will always come back around, but they can do more than just sound good.
Purchase Waiting On A Song here, which helps support The A.V. Club.