Sunday night is one for prestige television. At least that's what the last decade or so has taught us: HBO's series almost always air on Sundays, as do Showtime's and AMC's, and PBS has long had a stake in Sunday nights with its Masterpiece programming. In the '90s, the major broadcast networks would air a movie on Sunday nights; those days are behind us. The broadcast networks, in recent years, have learned to step up their game on Sundays, to meet the increasing expectation from viewers that something good will be on TV.
CBS, for example, airs the most decorated reality television show in the business, The Amazing Race, on Sunday nights—the show debuted on Wednesdays, but the same year the network dropped the CBS Sunday Night Movie they moved Amazing Race. Today, after football, the reality show kicks off a programming block that includes the critical darling The Good Wife and the dependable procedural The Mentalist.
ABC, meanwhile, saves the spot for some of its bona fide hits: Alias, Desperate Housewives, and The Practice; all soapy, but in a good way. Today, Once Upon A Time and Revenge anchor the night, with their new drama Resurrection hopefully and optimistically dropped in the middle.
NBC has had trouble finding a voice on Sunday nights. Ostensibly, that voice is football, but football doesn't last as long as the broadcast television season. Sundays in the spring on NBC are a scary, strange land. Brett Gold at The Motley Fool, who often writes about the business side of television, points out that The Celebrity Apprentice picked up the slack left by Sunday Night Football. Law & Order franchises and short-lived dramas have populated the night for a long time; Crossing Jordan is probably the closest NBC came to a scripted Sunday hit.
G/O Media may get a commission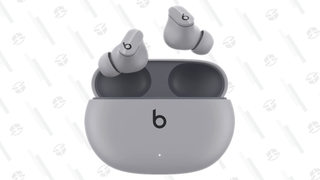 NBC's latest attempt to build a Sunday night block that can compete puts two new serialized dramas in the 9 and 10 p.m. hours—Believe and Crisis, which both have plenty of big names attached to them. But perhaps unsurprisingly, both shows got a C+ from The A.V. Club, and Gold, in the above article, raises a relevant question: What frequent television viewer, with Sunday nights already stacked, is going to choose to invest in two more shows that conflict with current favorites?
Gold shies away from adding a third point, though: NBC's creative process in developing new shows has become increasingly suspect. The problem isn't Sundays—it's NBC.
Take, for example, the show this review is theoretically about: American Dream Builders, which would open up the Sunday night block at 8 p.m. The show has potential—it's an unassailably good idea, as far as reality television goes. Capitalizing on the ratings success of home makeover shows—which go as far back as Trading Spaces and Extreme Makeover: Home Edition, and now include the success of dozens of shows on HGTV—American Dream Builders is about two teams of interior designers who each renovate a new home every week. A panel of design "experts" and the neighborhood council judge their success. As the competition progresses, contestants are eliminated and houses for producer-appointed needy families are renovated. The pilot episode, which is all that was released to critics, zooms through all three aspects of the show—the competition, the renovation, and the approval of the families—in an enjoyable if confusing breakneck pace.
It has a nice ring to it, from far away. Watching families come home to new kitchens and updated bathrooms is heartwarming, and the contestants do their best to drum up some good old-fashioned drama out of the nuts and bolts of renovating a house in just five days. But it's a show that tries to succeed by following the reality television rulebook—it feels focus-grouped to death.
Take the title: American Dream Builders. There is no title that is more emptily patriotic and glittering with promised warm and fuzzy feelings than that one. It has NBC written all over it—this one goes in the hall of fame, next to Ready For Love and Million Second Quiz and even 2002's American Dreams. It's canny of the show's producers to tap into the woes of the housing market as material for a show that offers renovations to families who apply, but in its self-satisfaction, the pilot gleefully revels in repeated shots of happy families returning to their homes. A man cries; a kid burrows into his new bed, which has a hip new throw cushion; a woman sincerely says to the camera, "God bless you." The producers seem to have discovered that viewers like reality television with a human element. Well, the human element is definitely there. But this isn't a charity mission; this is an attempt for NBC to make a lot of money, and the insincerity is palpable. How self-important does a production have to be, in order to pat itself on the back for the last 15 minutes of an episode and then sell ad space on it?
Along with "the human element," there's house porn at the other end of the spectrum, which can create catty, obnoxious personalities. Designers squabble with each other over table sizing and progress; one contestant yells at another over a hand gesture that she interprets as rude. The show is offering two different kinds of reality-show junk food, but like jellybeans and potato chips, the two don't quite pair together.
The premise is ambitious and messily executed, as several contestants and judges are introduced without any clear metric of accomplishment or difference between the two. Is Eddie George—judge, former NFL player, and current landscape architect—more qualified or informed than Elaine Griffin, who recently wrapped up a project with Oprah? Probably not, but the show assumes otherwise. The only immediately recognizable name is Nate Berkus, who often stars on The Oprah Winfrey Show as a design expert and has a name-brand line of home goods at Target. And when the renovations are done, the production crew of American Dream Builders stages a huge reveal, with mural-sized pictures of the houses' "before" states hanging from cranes in the middle of the street. Someone hits a button, the pictures roll upward, and friends and neighbors gasp as their new and improved home is shown to them.
And this is what NBC offers to you across from The Simpsons.