The only surprising thing about Andy Samberg and Adam Sandler making a movie together is that it took this long to happen. Beyond the fact that people constantly conflate their similar-sounding names, both men found fame on Saturday Night Live, and they share a similar sense of humor—unsurprising, since Sandler is one of Samberg's comedy idols. Inevitability finally catches up with them in the new That's My Boy, in which Samberg plays Sandler's uptight, estranged son. That's the simplified description of a movie in which Samberg is the result of a sexual relationship Sandler had with his teacher at 15, Vanilla Ice plays a meaty supporting role, and a recurring gag involves people being smacked in the head with bottles. The movie opens amid a flurry of Samberg news: first, his decision to leave SNL after seven seasons; and second, his new BBC series. And now, with That's My Boy, he's officially part of Sandler's Happy Madison club: He and Lonely Island collaborator Jorma Taccone are working on a script for Sandler's production company, and Samberg has a role in Grown Ups 2. Just before the film opened, The A.V. Club spoke to Samberg in Chicago about campaigning for the That's My Boy role, the lessons of Hot Rod, and how you're never 100 percent sure you're doing the right thing leaving SNL.
Sharon Stone made a fraction of what Michael Douglas did for "Basic Instinct"
The A.V. Club: How did you end up involved with That's My Boy?
Andy Samberg: I read the script. I knew it was at Sandler's company. I was like, "I really feel like I would be good for that part," so I called him and I said, "Are you going to do this movie? Because if you do, I'll give you my left nut to be in it," and he said [Sandler voice], "Hopefully, you won't have to do that," but he didn't know if he was making it yet. Then they did decide to do it, and I called him again, and I was like, "Pleeeeease?" And he, yeah, brought me in.
AVC: When did you meet him for the first time?
AS: The first time I met him was over the phone. He called me when I first got on SNL, like four or five shows in, and was just like, "I figured our names were so similar, I should just call you." [Laughs.] I think he already knew I was a huge fan of his, but it was for me, at that time, the greatest thrill ever, because I've been such a huge fan of his since I was young, and sort of memorized everything he'd ever done. It was real nice of him. It was a cool, welcoming thing.
G/O Media may get a commission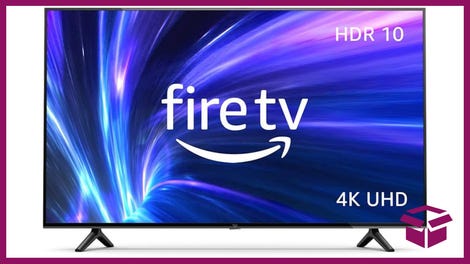 42% Off
Amazon Fire TV 50" 4K Smart TV
AVC: Did you just stay in touch?
AS: Yeah, a little bit. Me and Kiv [Akiva Schaffer] and Jorm [Jorma Taccone], the Lonely Island guys, went and had a general meeting at Happy Madison and hung out with him and his buddies there, and then I'd see him at the show every now and again, or I'd see him out at an event, and he'd always be super-nice. I knew he was watching the show, and every now and again, I'd get a call from him being like, [Sandler voice.] "That Reba thing was funny." [Laughs.] Stuff like that, so I felt comfortable enough to cold-call him about the movie.
AVC: You've said you were pretty nervous when you got to the set, because you didn't want to be the guy who screwed up the Sandler movie.
AS: Yeah, for sure. But it became clear pretty quickly that we were going to have fun with each other, regardless of what happened. [Laughs.]
AVC: When did you start loosening up?
AS: Probably like a day or two. It didn't take much. The first scenes we were shooting were like me, him, and Vanilla Ice getting hammered and running around town, you know? So it was a pretty fun environment to jump into. Definitely a lot of me looking up and seeing Sandler on one side and Vanilla Ice on the other and shotgunning beers and, like, running away from a guy with a shotgun, and being like, "Yeah, my life's pretty rad. I don't know that I can ask for more than this." [Laughs.]
AVC: How much of it was cast by the time you came on?
AS: I think I was pretty early. I think I was, like, the first puzzle-piece after him. But he goes hard with his shit. When he decides to start working on a movie, it comes together fast. Because he's always working on something else, and then he's like, "What's next?" He starts working on the next movie while he's shooting the other thing. He's shooting Grown Ups 2 now, and doing press for this movie at the same time, and prepping Hotel Transylvania, which is the animated film we're doing together. He works his ass off. It's pretty crazy. But yeah, the cast is incredible in this movie. [Laughs.] On the one hand, you have Vanilla Ice and Todd Bridges, Dan Patrick, and on the other hand you've got, like, James Caan and Susan Sarandon. And then you've got [Will] Forte and Milo [Ventimiglia], [Rachel] Dratch and all these amazing comedians, Ana Gasteyer…
AVC: Tony Orlando.
AS: Tony Orlando, yeah. Incredible. I always forget how many cool people—oh, Rex Ryan! [Laughs.] And he's super funny in it.
AVC: Were they always hoping to do that kind of stunt casting?
AS: They usually do, but I don't know. I think people, especially people that like seeing his movies, enjoy that kind of thing. I definitely connect with that, because Lonely Island, one of our favorite things is taking people you don't expect to be funny, and doing something kind of crazy with them. I think it's definitely part of graduating from the SNL model. That's the bread and butter of all those people coming on and doing unexpected things, which, with comedy, is a great weapon.
AVC: Did David Caspe's script change a lot as other contributors went through it?
AS: Definitely. The basic premise of it, and the characters and everything, and a lot of the jokes. I mean, he wrote a really good first draft of that script. It was very funny. It definitely got a lot added to it. David Wain and Ken Marino did a pass, and they're the greatest. And then Sandler and all his buddies, [Tim] Herlihy and [Robert] Smigel, I think everybody worked on it with him, [Allen] Covert. At one point, he even sent it to me and was like, "Hey, see if you want to throw some shit in there for your guy," and I was like, "Thank you!" [Laughs.] As a writer, that was just such a compliment, and such a vote of confidence. I sent it back, they kept some, and they didn't keep some, and once we started shooting, we'd be changing stuff every day. You shoot it as scripted, then you go back and watch playbacks, then everybody pitches new jokes, and you try and top the joke that was in there. There's a lot of really good alts in this movie. There's a lot of jokes tried.
AVC: Sandler encouraged you to come up with stuff for him too?
AS: Yeah, and vice versa. He pitched me jokes for my guy, and vice versa. It was definitely a very satisfying experience to be like [soft voice], "What if your character is like…," being all coy about it, and him being like [Sandler voice], "Oh, that's funny!" and then doing it, and the crew laughs, and he's like "Good one, buddy!" There were times I felt like Jared Leto in Fight Club, and he was Tyler Durden. [Laughs.] Except he didn't end up being two guys and beating the shit out of me, so that was nice.
AVC: It was always going to be a hard R, right?
AS: Yeah, just the subject matter alone, I think it was destined, and once that was determined, I think Sandler and everybody were like, "Let's go whole-hog R with this thing." Which has been cool. It's been cool watching it with big audiences reacting to the sort of raunchiness and dirtiness and outrageousness of it. It's definitely the kind of thing—when you watch it in a theater with a lot of people, that reaction makes you have a lot more fun. It's that sort of summer-movie thing I kind of have missed for a while.
AVC: A lot of times, you'll be in a screening and people will laugh at something you didn't expect, or something gets a bigger laugh than you're expecting. Has that been the case at all?
AS: Yeah, definitely. Well, the craziest thing for my guy is getting a huge laugh on a reaction shot, because the situation is so ridiculous, or because Sandler is being so insane, that just like a little mutter under my breath gets a huge laugh, because people are just dying for a voice of reason to let them in, like, "Yeah, he is crazy, right?" Old-school comedy dynamics, but it's satisfying when it works, no doubt about it. At some of the screenings I've been to, sometimes people laugh at what we consider to be the setup for a joke. We're like, "Oh right, I guess that's already a joke, just that that's the premise." I feel like if you work in comedy long enough, you want there to be three things on top of the joke that take you further and further and get more and more complicated, so you don't feel like you're treading old ground. Then you get into screenings, and you realize most people don't spend every day thinking of jokes, and they're still happy to laugh at the first thought. Pleasantly, even some of the jokes in the screenings I've been to have been laughed through, because the initial idea of things got a big laugh.
AVC: When we spoke to you for Hot Rod, you said once you get to SNL, everyone wants to take a meeting, in case you turn out to be something. Did your meetings ebb and flow over the years?
AS: Yeah, I think if you work in entertainment, it always ebbs and flows. Even the biggest movie stars in the world have dips, and then they come back with something that scores, and everyone's like, "We never left!" Especially in these times, there's so much media surrounding things that it's easy to be like, "They're done! They're back! They're done!" And all you can really do is take it as it comes and try to do things that you like—and in my case, that make me laugh. That's pretty much the main criteria for what I do and don't do. So when you're doing press, it tends to feel like your career is hotter because you're more places, so you get recognized on the street more, and it feels like you're more famous. In truth, it's really more about when you've done good work, and the general public sees it and appreciates it.
AVC: When we talked for Hot Rod, you felt like you were sort of famous because it was following "Lazy Sunday" and "Dick In A Box." When did you feel like you became famous famous?
AS: [Laughs.] I don't know that I am yet. I think when you first get any level of being in the public eye, it feels like you're way more than you are, because it's gone from zero to something. And you don't know what that something is, but getting to make a movie like Hot Rod and being on posters and billboards, for me, I was like, "Hey, I'm a little famous now!" But looking back to that moment now, I really wasn't. People didn't really know my name. Mainly just young people had seen "Lazy Sunday." "Dick In A Box" was another thing, but they all just knew Timberlake and "the other guy in the beard." It took seven years on SNL to get where I am now, and I'm still not a household name or anything. I'm working on it. I think there's always going to be somebody more famous than you, and there's always going to be somebody less famous. I've kind of abandoned trying to gauge where I'm at in the fame spectrum, because I feel like any time I guess, I'm just wrong. [Laughs.]
AVC: You felt like a lot was riding on Hot Rod, and when it didn't perform as well as people had hoped, was it tough to bounce back from that?
AS: It was disappointing for sure, but that was the beauty of having the job at SNL. We came back first episode and did "Iran So Far" with Fred [Armisen] as Ahmadinejad and Adam Levine, and it didn't erase the fact that Hot Rod didn't make as much money as we wanted, but it certainly was like, "Oh, we're still funny. It's not going to be the end of our careers because it didn't make some set amount of money that people are expecting." And I will also say, every year that goes by, I get more and more people telling me they love Hot Rod. Which, when we made it, before it came out, I was saying even then, the intention of that movie was to be one of those movies. The movies that we loved were like The Jerk and Billy Madison: movies where anything can happen, and high school and college kids love them. You bump into people on the street and they go, "Oh my God, we quote that part from Hot Rod all the time." For me to look back on it and look at the cast and see me and Jorm and Bill Hader and [Danny] McBride and Isla Fisher and [Will] Arnett, you know what I mean? It's funny, great people all working and doing great stuff, so I'm super-proud of it and I'm glad we made it, and I realize there was less riding on it than I thought, maybe, in that regard.
AVC: Was there a lesson you could take from that?
AS: The only lesson I could say I've arrived at is, if you make stuff you find funny and stay true to what you want to do, you're going to at least end up being approached by the people you like on the street. [Laughs.] Which, you know, the reason I wanted to get into comedy is that I've been obsessed with comedy my whole life. When I think about a kid watching something I've made and quoting it with his friends, the way I did with stuff that Sandler did, or Monty Python or Mel Brooks or whoever, [Will] Ferrell, the people I've looked up to, it's a really awesome feeling. It's cool to be at all a part of that. To go places and meet Bob Odenkirk and David Cross, and they know who I am, and I'm like, "You made Mr. Show. You changed my life." Or the guys from Stella. It's just cool to be a part of the comedy community now, for me. I feel like that was always my main goal, and I'm going to be happy with that no matter how it shakes out.
AVC: You came back from Hot Rod  and went straight into "Iran," but now you don't have the safety net of SNL anymore.
AS: I'm hoping we'll make another Lonely Island record. [I have] this movie, Celeste And Jesse [Forever]. I'm going to go do a series in England for the BBC. I'm excited about it. I still haven't met almost anyone that is working on it, but they sent me the script, and then they sent me the second script, and I was like, "I love this." Who knows what happens with it, but I'm staying busy.
AVC: You play a sort of New Age character in it?
AS: Yeah, the best way I can describe it is as kind of a Burning Man, backpacker, faux-Zen, American weirdo that marries into a British family and moves in with them in England.
AVC: Going back to that safety-net thing, you said you felt that it was time to leave SNL, but at the same time, you were still pretty conflicted about it. Could you ever have been 100 percent on the decision to leave?
AS: No, never. I've never talked to anyone who was 100 percent sure when they left. Because it's the best job in comedy, in a lot of ways. It's intense and hard, but you're part of such a storied tradition, and having your name included with the names that have come through there is such an honor. It's insane. The fact that I worked there at all is insane. I think I could have stayed another five years and still had a great time every year in a new, cool, and interesting way, but I also think that my existence there was different than a lot of other people's, specifically because of the shorts and the amount of energy it took to churn them out every week. I did so many of them with Akiva and Jorma, and they both have reached their max point. They came back and helped me the last two seasons, but they had both technically left. So I felt like it wrapped up really nicely for me. I did "Laser Cats" and the 100th short and "Lazy Sunday 2." It felt like a satisfying run, like a complete piece of having been there.
AVC: What would you like to do?
AS: I don't really know. As long as I'm doing something I think is funny, you know? Obviously I want to make money and be comfortable, but more importantly, I want to make things that people laugh at. [Laughs.] That's kind of always been the mission statement. And I know it sounds corny, but my career really has already gone so much better than I ever expected. I already have enough stories that my kids will think I'm pretty cool. [Laughs.]