Here's what's up in the world of TV for Sunday, January 17. All times are Eastern.
Top pick
Angie Tribeca (TBS, 9 p.m.): Former Fox head Kevin Reilly has never been one to shy away from bold proclamations—such as his proclamation that pilot season was dead a few years ago—and he's been similarly bullish in his new role as the head of TNT and TBS, ready to take them from their perceived place as second-tier cable networks and "muscle our way right into the top consideration set of the very best of what's on television." (He canceled Rizzoli & Isles, so you know he's serious.) The first creative step in this process is Angie Tribeca, a comedy from Steve and Nancy Carell starring Parks And Recreation's Rashida Jones (Ann Perkins!), styled as a parody of the police procedural in the mold of Police Squad! Because they know the kids love that binge-watching thing, TBS is dropping the entire series tonight, and then rerunning it until 10 p.m. on Monday., and then premiering the second season (which they're branding as 10 new seasons of one episode each) next Monday. It's a splashy release for the show, and Erik Adams's pre-air review says it's a show that deserves it, as it manages to establish "its own territory along the fine line between stupid and brilliant." Sounds like the perfect place for this kind of comedy to stand.
Also noted (series premiere edition)
Billions (Showtime, 10 p.m.): It's been a few years since Paul Giamatti's turn as Ben Bernanke in HBO's Too Big To Fail, but he's once again taking on the wolves of Wall Street via the world of cable drama. Here, he's a ruthless U.S. attorney trying to convict a cocky hedge fund manager played by Damian Lewis, returning to his old Homeland stomping grounds. With these actors (as well as Trophy Wife's Malin Ackerman and Sons Of Anarchy's Maggie Siff) and a creative pedigree that includes author of the original Too Big To Fail book Andrew Ross Sorkin, Showtime's banking on having the first top-shelf drama of 2016. Erik Adams had something of a different opinion after the first few episodes:
As much as Billions strives to be about all of the people in Chuck and Axe's orbit, those two celestial bodies are really all the show has going for it. At least their performances keep the Machiavellian soap opera propped up: Giamatti with his simmering intensity, Lewis with his understated cockiness. … The tight focus keeps Billions from spinning completely out of control, but it also leaves the impression that all fluctuations in the securities market are the results of pissing contests among the 1 percent. Even after half of a season, it's difficult to tell what a second, third, or fourth season of Billions would look like, beyond the latest volley between Southern District Javert and private-jet Valjean. It's a TV show with seemingly no TV show in it.
G/O Media may get a commission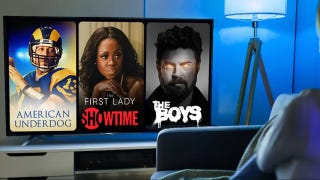 UNDER $1
99¢ Prime Video Channels
Despite early projections, Joshua Alston's decided to invest in the show with weekly coverage. Be sure to follow along to see if it produces dividends or turns into a toxic asset.
Mercy Street (PBS, 10 p.m.): PBS is trying out a brand new series as they get closer to saying goodbye to Downton Abbey, focusing on a Civil War-era hospital in the occupied town of Alexandria, Virginia. Noel Murray's already sampled the first few episodes, and despite the intriguing period trappings, found the entire story more contrived than compelling:

Mercy Street offers a mishmash of standard-issue medical drama storylines and self-conscious attempts to tackle the social issues of the 1860s. For the most part the performances are stiffly formal, marred by bad Southern accents and the cast's inability to make lines like "Blood is not gray or blue, madam" sound natural. (To be fair, that's kind of an impossible task to begin with.) The Downton Abbey influence isn't just evident in the period setting and class conflict, but also in the general indifference toward artificiality. In Downton, the exaggerated soapiness is part of the charm (sometimes). Here, it feels more like a misjudgment in tone.
Also noted
Bob's Burgers (Fox, 7:30 p.m.): Gayle brings a new boyfriend to Bob's dinner party—a boyfriend with whom Louise apparently has an ongoing feud. Louise has so many ongoing feuds that Alasdair Wilkins thinks this could be any number of fine gentlemen. We may not know, but as Gene put it, we can wildly speculate! Your What's On Tonight correspondent is deeply hoping Gayle's new squeeze is science teacher/Edison impersonator Mr. Dinkler from "Topsy," if only because "Electric Love" is one of the show's musical zeniths.
Galavant (ABC, 8 p.m): "Sid meets Woodworm in the Forest of Coincidence." We sent Dan Caffrey out to find out if this forest truly exists, and not only did he find it, he also met up with an old friend he hasn't seen since college! And he found that notebook he lost two weeks ago, which it turns out had his review already written in! What are the odds?

The Simpsons (Fox, 8 p.m.): At first we read tonight's episode title and thought that The Simpsons writers had finally run so low on ideas that they'd begun reusing titles and we were returning to the dark days of Proposition 24. But no, tonight's episode is called "Much Apu About Something," and focuses on Apu's nephew turning the Kwik-E-Mart into a health food store. Dennis Perkins will accept this, but he's keeping a "Get Eurass Back To Eurasia" sign at hand just in case a rally breaks out.
Downton Abbey (PBS, 9 p.m.): While Emily L. Stephens has noted that the cracks in Downton Abbey's timeless existence are growing ever more prominent this season, tonight's episode seems determined to keep its head down and focus on the trivialities: "An issue with the wedding dress arises; the disagreement over the breakfast is put to rest; Edith meets a deadline." The message here seems to be that they'll be dragged into the real world outside their walls kicking and screaming.
Shameless (Showtime, 9 p.m.): Showtime has paired this show with Billions, possibly in an attempt to give its audience vertigo by sending them from the economic nadir to the zenith. Tonight, Debbie tries the tried-and-true method of carrying around a bag of flour to prove she's ready to have a baby, but things go awry as indeed they must. "Don't worry Debbie," says Myles McNutt. "There's no way you can botch it as badly as Gene Belcher did."
The Good Wife (CBS, 9 p.m.): "Alicia's neighbors threaten her with eviction for operating her firm out of her apartment." Given all the various legal and political campaigns that have been waged out of that spacious Chicago apartment over the last five and a half years, Kayla Kumari Upadhyaya is surprised it took this long for the straw to break the camel's back. And she'd like to let Alicia's neighbors know that she would make a perfect neighbor to take over the lease, as her worst disturbance would be excited squealing during new episodes of UnREAL or Broad City.
Classic coverage
The Simpsons (3 p.m.): Zack Handlen tackles the penultimate episode of season nine, "Lost Our Lisa," and is mostly upset that he has to write a review instead of going to the Egyptian Treasures of Isis exhibit. Hey Zack, we're sorry we ruined your Egyptian thing. We're still buds, right? Okay be that way, be a big stupid jerk. Oh, you're not the jerk, we are. Forgive us? Oh, like you're Mr. Perfect. Mom, Zack's making us feel bad!
Tomorrow in TV Club
Sure, there's plenty of TV on tonight, but it's also the last week of marking time for many of us because we know what next Sunday is: the long-awaited return of The X-Files to television. Alex McCown's already seen the first three episodes (lucky bastard) and he's got our first take on just what it feels like to see Fox Mulder and Dana Scully once again looking for the truth. Which is, so we're told, out there. And if you can't wait that long to see Gillian Anderson again, the BBC's recruited her along with Paul Dano and Brian Cox for a miniseries adaptation of War And Peace, which Molly Eichel's sampled and has some thoughts on.

What else is on?
NBC News Special: Democratic Debate (NBC, 9 p.m.): You could be forgiven for thinking after all the debates and all the coverage that's already passed, the election is over. Turns out it's just getting started! Now that President Obama's delivered his final State of the Union address, Hillary Clinton, Bernie Sanders, and Martin O'Malley are sure to be even hungrier for the chance to be his Democratic successor. As always, continue to hope that the debate ends with the lowest performer eaten by the other participants. (We've been suggesting this for months as a great way to thin out the Republican candidate herd, but no one listens to our ideas.)
21st Annual Critics Choice Awards (A&E, 8 p.m.): If the interminable three hours of the Golden Globes didn't burn you out on award ceremonies for at least a few weeks, A&E has you covered! And tonight's proceedings are hosted by Silicon Valley's T.J. Miller, so you also have the exciting promise of a show even more profane and provocative than anything Ricky Gervais could deliver.
Madam Secretary (CBS, 8 p.m.): Elizabeth's work takes her to Myanmar to finalize a Pacific Rim trade agreement. Since we continue to imagine this show as far more exciting and epic than it probably is in reality, we're hoping that she wins the agreement by bringing a Jaeger to the negotiation table.
Cooper Barrett's Guide To Surviving Life (Fox, 8:30 p.m): Cooper and Kelly get invited to a wedding in Mexico, but getting to the ceremony proves to be harder than anticipated. Well, that's what you get for having your show so close to another Fox comedy that's all about the tensions at the U.S.-Mexico border.
Bordertown (Fox, 9:30 p.m.): Speaking of which, if walking a narrow line on racially insensitive jokes wasn't enough to make Bordertown offensive, now it's broadening its portfolio to religion, as Bud's reverend tries to attract Mexican parishioners to increase donations much to Bud's consternation. If it turns out that it's the same church in both Cooper Barrett and Bordertown, that's a bit of cross-promotion we'd be legitimately impressed with.

The Royals (E!, 10 p.m.): Did you know that all of those long and elaborate titles for episodes of The Royals came from Shakespeare? Tonight's season two finale, "The Serpent That Did Sting Thy Father's Life," takes its title from Act 1, Scene 5 of Hamlet. Who are The Royals's equivalents of Rosencrantz and Gildenstern?
Worst Cooks In America (Food Network, 9 p.m.): The recruits are busy with "unique ice cream sandwiches" and "interesting fillings for empanadas." Bonus points are awarded for using one as the filling for the other.

Finding Bigfoot (Animal Planet, 9 p.m.): The team's in New Hampshire this week to hunt their elusive prey, and this close to the presidential primaries they'll need to be careful not to get tangled up with various candidates. If they're not careful, they might end up catching Ted Cruz in a net and trapping him in the woods! … Actually, not the worst idea.

Cutthroat Kitchen (Food Network, 10 p.m.): "A sumo showdown when making yakitori." Hopefully if they're wearing sumo suits, they're not using inflatable ones, as having those around skewers sounds like a recipe for disaster. Then again, since every one of these challenges sounds like a recipe for disaster, maybe that'd be for the best.
Work Out New York (Bravo, 9 p.m.): "Lena, Courtney and Joe compete at an audition." Perhaps for Hamilton? We're not sure how that fits into gym culture, but Hamilton's the hottest ticket these days.

X-Men Origins: Wolverine and The Wolverine (FX, 5:30 pm and 8 p.m): There's a lot of networks that are showing multiple films in a series tonight in a bid to truly capture your lazy Sunday attention. FX is giving you the saga of Hugh Jackman's Wolverine outside of the X-Men with these two films, one of which is awful in the most entertaining of ways and one of which is a sturdy solo adventure. We won't spoil which is which for you.
The Godfather: The Complete Epic (HBO, 5 p.m): A truly gargantuan seven-hour viewing experience of the entire Godfather trilogy, reedited in chronological order and incorporating deleted scenes. The best part of it is that there's so much good stuff here, you can check in and out throughout the evening and your odds are good you'll wind up on one classic scene or another. (This does not apply after the five-hour mark.)
First Blood, Rambo: First Blood, Part II, and Rambo III (AMC, 8:30 p.m., 10:30 p.m., 12:30 a.m.): While Sylvester Stallone said that he's hung up the machine gun of his iconic role—and would hand it over to Ryan Gosling if he had his choice—the fact that he just became Golden Globe winner Sylvester Stallone for playing his other iconic role (and seems to have a lot of ideas about what to do with that new storyline) means we can't rule anything out. Plus, with that Rambo series in development at Fox, this is definitely a franchise with some ammo in the clip.
Ghostbusters and Ghostbusters II (IFC, 5 p.m. and 7:15 p.m.): The Paul Feig-helmed female-centric Ghostbusters reboot is getting closer and closer to reality, over the whinging protests of that neckbeard guy who mumbles when he types at the coffee shop, gets mad at the barista for not making small talk when she hands him his quadruple mocha, and seems to only own one T-shirt. Spend a little time with the originals to whet your appetite—yes, even the second one, which your What's On Tonight correspondent likes a lot more than most people seem to. Or at the very least, read this fascinating history of the actor who played Vigo the Carpathian and was apparently ten times the bastard that his medieval tyrant character was.
The Hunger Games (Freeform, 9:30 p.m.): Did you catch that ABC Family just rebranded itself as Freeform as of last Tuesday? Well they did! And to truly show how independent they are, they're only showing one film in a series this Sunday! None of that lazy marathon routine for this network, they're going big!
Sportsball!
NFL Playoffs, Seahawks at Panthers (Fox, 1 p.m.)
NFL Playoffs, Steelers at Broncos (CBS, 4:30 p.m.)
College Basketball, Michigan State at Wisconsin (CBS, 1:30 p.m.)
College Basketball, Oregon State at Utah (ESPNU, 5:30 p.m.)
College Basketball, Virginia at Florida State (ESPNU, 9 p.m.)
In case you missed it
Degrassi: Is there a single writer amongst The A.V. Club, or amongst the entire Internet for that matter, more qualified to pick the 10 most representative episodes of Degrassi than Pilot Viruet? The answer is no.