Last week's Another Period was an episode full of rape and spousal abuse jokes—a fact that sounds absolutely appalling out of context—and also one that displayed the massive amount of potential the young series has. In order to fully live up to that potential, or even be half as funny, episode three would somehow have to pull out all of the stops. "Funeral" doesn't quite reach the highs (and pleasant, debaucherous lows) of last week's "Divorce," but it still continues Another Period's streak of being a strangely smart show full of terrifically dumb gags. It also serves as a template for the sitcom's rather serialized nature, something that again speaks more to its soap opera "roots" than its reality television ones.
After the decision to fake Victor and Albert's death last week, it's obviously important for there to be the very public funeral (and hunt for most eligible bachelor, in Lillian's case). The show hand waves the seven year wait to declare the husbands' deaths, with the Commodore (who is still more of a force than a presence in the show) pulling strings to knock it down to three days and to get right down to the spectacle that is the funeral.
And it really is a spectacle, as Lillian tells the riveting story of how Victor died (complete with the 19th century version of a mic drop), Beatrice bids her husband farewell with an interpretive (which most likely could never be interpreted by anyone) dance, a dog show makes Frederick the most excited he's even been in a non-sexual capicity, and they don't even get to the "black person caricature contest." The fact that it's all ruined by the surprise appearances of Peeper's Native American family ("You violated the treaty," he tells them), one of the Bellacourt sisters' sons, and the still very much alive Victor and Albert is the figurative icing on top of those funeral cakes.
The funeral is also another a pretty clever use of the show's setting. It's a Tom Sawyer situation, complete with Mark Twain's (Rich Fulcher) appearance as a drunkard with a comment—whether it be nonsensical or incredulous—for every bizarre situation in what Lou Diamond Phillips' character calls a "veritable asylum." While "Funeral" is slightly below the first two episodes, it's at least an episode where outside observers are given the chance to call out how insane the Bellacourts are, even when they're just as much as part of the complete lunacy. Even Tim Heidecker's role as Lillian's potential love interest has no problem going along with the inappropriate behavior until it somehow gets too weird.
G/O Media may get a commission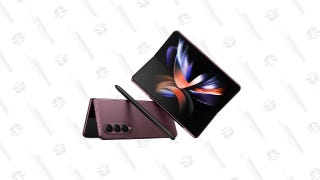 Save Up to $300
Galaxy Z Fold4
But Another Period is not just about the upstairs, as the downstairs storyline is what brings in the social commentary of the week in the form of Peepers' Native American family (led by Lou Diamond Phillips). Unbreakable Kimmy Schmidt recently came under fire for having Jane Krakowski's character play a Native American passing as white, and it immediately feels like Another Period will go the same route with Peepers. Instead, it immediately zags where the audience thinks it will zig: Peepers was adopted. There's not much of a focus on the plot, as it's more of a story about his new life as a servant, but it does provide a priceless gem in Peepers' response to one of his nieces wanting to try on his butler's "costume":

"You know, many people find it very offensive when you adopt the garb of another culture. No, this is not a costume. It is a way of life."
Now if only the niece's name were Adam Sandler.
Then there's Chair's sublot with Beatrice and Lillian's children—including "Susan," "also Susan," "What's a name?" and "Little Asshole"—which offers up a few choice quotes, especially Chair's line about "working 17-22 hours a day" and her realization that the Bellacourts even have children. But it's really all leading up to the best end credits segment of the series so far, the Charles In Charge style sitcom It's Hamish. Brett Gelman's creepy brand of humor can rub people the wrong way, but in Another Period, that fact is absolutely welcome. "That's me!" Yes it is, Hamish. Yes it is.
For the second episode in a row though, it's Jason Ritter's Frederick who manages to pull out a win as the stealth MVP of the episode. His role as the over-privileged, highly uneducated momma's boy is even more delightful as he fears he's being haunted by Albert's ghost, culminating in him defensively chucking a tomahawk into Albert's chest. He and Riki Lindhome's Beatrice are two very strangely fitting pieces in an incestuous puzzle, one that only becomes impossibly stranger with the final beat of him breastfeeding from her. Somehow, it's far from the strangest thing this show probably has to offer for the pair, which actually makes it funnier. Lawnboating and breastfeeding are somehow just scratching the surface in Another Period.
Stray observations
"Beatrice Tiffani Amber Thiessen Downsy" sounds about right.
Victor and Albert's honeymoon phase not even lasting three days is delightfully passive aggressive, especially as Victor gives Albert grief for playing a victim and gaining some weight. Marriage is hell, you guys, no matter the situation.
Mark Twain: "Tom Sawyer was based on my boyhood lover. You can look that up."
I haven't written much about Dodo in these reviews, but I think it goes without saying that Paget Brewster is amazing in this role. She is especially great in the final scene, where she informs Peepers that even "Garfield could be trained to be the butler."
Dodo: "Oh, Garfield! You're the new butler now!"
Peepers: "White people show their love in a different way."
Moshe Kasher has arrived as Dr. Goldberg, the new light of Victor's life. "Let the healing begin."